Charts
19+ Management Chart Templates
A chart is used for the graphical representation of data. Management charts are used to represent the structure of the organization. This includes the hierarchies, the ranks, the positions, etc. Such charts are also used to represent statistical data for company meetings. Management Chart Templates are used in the making of such charts.
Table of Content
7 Steps on How to Make a Management Chart
Step 1: Determine the Software Application
There are a lot of software applications available for use to make the chart. Generally, such charts are made with the help of Microsoft Office applications. It is most advised to use Word to make the management chart as it provides designing and editing options, unlike the other applications. You can also choose to make the chart in a drawing tool such as Paint.
Step 2: Make a Canvas
Once you have selected the application, you need to open it and make a new document. To do this, go to the application and then select Blank Document from the following menu. After that, you need to insert a canvas to preserve the chart. You can also choose to not follow this step.
Step 3: Select a Chart
Charts are of several types: there are bar charts, pie charts, line charts, circular charts, etc. Word's SmartArt tool offers a wide range of charts for use. You can choose any one of them for your work. To do that, go to the Insert tab at the top of the page. Then select Illustrations from the drop-down list and then click on the SmartArt option. The range of charts will appear here.
Step 4: Choose and Implant Shapes
This step is to be followed if the Word software in your PC does not have the option of SmartArt. In such a case, you have to insert the Shapes for the chart manually. The type of shape you add will depend upon the type of chart you are making. For instance, for a bar chart, you need to insert customized bars to the canvas.
Step 5: Make Gridlines Visible
To enable the grid in Word you have to click on the View tab and select the Gridlines check box. Gridlines allow you to design forms to match widths and heights, as well as make aligning forms simpler when you have to edit the chart. This is step is also optional. You can choose not to make the gridlines visible.
Step 6: Input the Details
The next step is to input the details. Before this step, you need to determine the reasons for making the chart. The reasons will determine what details you would include in the chart. So before you start with your chart, determine the required objectives. Once you have established this, you just need to click on the chart boxes and start typing.
Step 7: Format the Chart
Word provides a lot of options for formatting the chart. Such as you can resize the boxes, add background color, change the font, change the border styles, etc. Once you have completed the chart, you need to make sure that it is error-free. Also, make sure that the chart does not have any missing information.
19+ Management Chart Templates
1. Management Organizational Chart Template
Charts help in the proper representation of the required data of the organization. If you want to make a proper such chart, then you need to make use of this chart template in Word. This template will help you make good organizational charts for your needs. The other file formats available for this template include Pages, Google Docs, and PDF.
2. Project Management Organizational Chart Template
The best way to manage a project is to make an organizational chart. However, we understand that everyone is not adept at making such charts. That is why we are offering you this professional chart template in Google Docs. This template has been created especially to help you make organizational charts for the proper management of projects.
3. Free Project Management Gantt Chart Template
Henry Gantt had developed the Gantt chart to help schedule the processes and procedures of an organization. A Gantt chart can also be used for project management. If you want access to the ready-made management Gantt chart, then you need to download this chart template in Excel. This template is available for download in sizes A4 and US Letter.
4. Free Yearly Project Management Gantt Chart Template
The management of a project needs to be done on a yearly basis. Otherwise, the project will not get updated and lack the proper details. You can use our Free Yearly Project Management Gantt Chart Template in Numbers to make your work easier. This template can help you make Gantt charts for your needs to help you manage your projects better.
5. Management Organization Chart Template
energy.gov
This organizational chart template comes with a ready-made flow chart that you can use to represent your organization's data. This template features original headings and content in the form of a hierarchical flow chart that explains the positions within the office. You can download this template easily on your PC from anywhere, anytime.
6. Departmental Management Organizational Chart Template
usda.gov
Departemental charts are required to manage, organize and explain the work structure of the different departments in a company. If you want to make a departmental management organizational chart, then this chart template is the best tool for you. All you need to do is click on the download button beside the file and you will be ready to make your organization chart.
7. Group Management Organizational Chart Template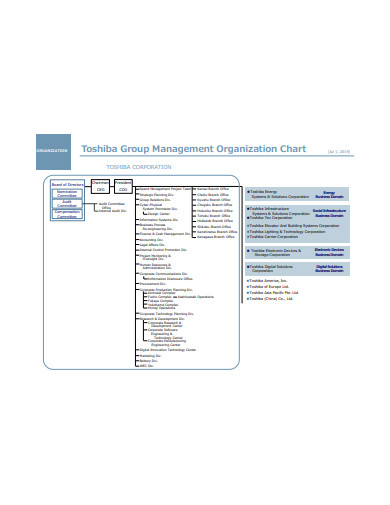 toshiba.co.jp
It is anyway difficult to manage one person in an office; the work seems like a nightmare when instead of one there is a group to be managed. Which is why we are here with our Group Management Organizational Chart Template. This template has been created solely to help you make charts to help you manage your group or team. You can also use it to make a company flowchart.
8. Sample Management Organisation Chart Template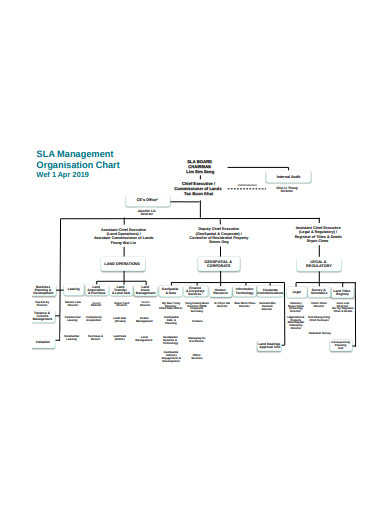 sla.gov.sg
If you have never made an company chart, then it is very much understandable that you will be facing trouble when making it for the first time. But do not worry, because we are here to help you. With this chart template, you will be able to make charts for your organization just like a professional. The template contains a sample of an organizational chart.
9. Management Chart Template in PDF
sahealth.sa.gov.au
Are you looking for a tool to make your company's organizational chart? Then you have come to the right place! With this chart template, you can easily albeit efficiently make an organizational chart that is suited to your needs. The template is available to be downloaded in PDF format and the given contents can also be edited and printed. You can also use the template to make a risk management chart.
10. College Management Organizational Chart Template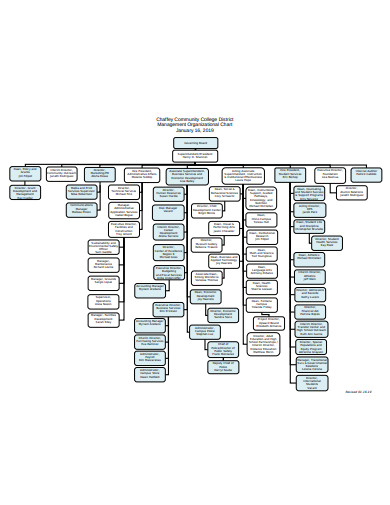 chaffey.edu
Who said management charts are just required by giant corporations? Even educational institutions such as schools and colleges require such charts for their management. Do you want to make a proper organizational chart for your college? Then what are you waiting for? Download this organizational chart template for college now!
11. Nutrient Management Plan Flow Chart Template
uky.edu
Nutrition is something that everyone requires to be mindful of. Which is why we are offering you this Nutrient Management Plan Flow Chart Template. This template helps you make charts to manage your nutrient intake and ultimately ensure that you remain healthy. The template contains an editable creative and colorful sample nutrient flowchart.
12. Sourcing Management Organization Chart Template
phsa.ca
Making an organizational chart requires the maker to know the specific format to follow. Even if you are not aware of this format, don't fret, this chart template in PDF is just the thing for you. This template provides a sample chart that is very simple and easy to interpret and use. The template features original fonts and images that are yours to keep forever once you download it.
13. Chain Management Organizational Chart Template
ucalgary.ca
A chain management chart helps to compile and organize the flow of goods and services in an organization. If you are not being able to make this management chart, then this chart template is the perfect tool for you. Use this template to make solid working management charts for the requirements of your company. You can also customize the template to form a hierarchy chart.
14. Flow-Chart Management Template
jlab.org
Charts are used for various purposes in a company. The chart provides a graphical representation of the data. No matter the purpose for which you are making the chart, this free chart template can help you create great task flow charts for your company. All you need to do is download the template and make the necessary edits.
15. Hospital Management Chart Template
calhospitalprepare.org
Organization charts are mandatory to be made in all companies. If your need is to make a chart for the organization of the hospital you work in, then you have to make use of this printable chart template. This template gives the option of making a chart that will help you compile all the important elements. The template is compatible with both Mac and Windows operating systems.
16. Incident Management Team Chart Template
npaonline.org
17. Event Management Chart Template
npbculturalalliance.org
18. Facilities Management Organizational Chart Template
virginia.edu
19. Emergencies Management Flow Chart Template
daneurope.org
20. Chain Management Logistics Organization Chart Template
supplychain.ucsf.edu
More in Charts