In a wedding, gold can be associated with the fiftieth anniversary of a couple together. Gold simply connotes luxury, sophistication, and class. When one opts to use this metallic color in their simple wedding, it simply helps translate a sophisticated and luxurious idea to those invited.
With that said, if you are someone or know of someone who is planning to celebrate their fiftieth anniversary or simply a wedding with a gold motif, here are gold seating charts you or they can use to help in the organization of the wedding.
Wedding Seating Chart Elegant
Gold Foil Wedding Seating Chart Template
Hand Lettered Seating Chart Gold
Why is a seating chart important in a wedding?
For those couples who have spent an immense time planning their wedding, all they could just ever wish is for it to go according to plan for it to be as organized as possible and for it to be simply memorable. Sometimes, it becomes such a daunting task for couples to organize their wedding all on their own. That is why there is the inevitable option to acquire the help of wedding organizers. These individuals or groups of people assure their husbands-and-brides to be of a stress and worry free wedding.
They make sure everything goes the way it is planned. And, seating charts just simply help achieve that. They help aid the struggle of keeping everything organized and keep everyone from being stressed on the very day. With that said, here is a list of benefits a seating chart entails that make it a really important feature of your wedding. You may also see classroom seating chart.
1. It allows the guests to be at ease and feel comfortable
A seating chart has the capability to make each and every guest feel at ease and comfortable during the entire duration of your event. And, this is because they will be seated with the people they know and are most familiar with; if it ever happens that they are not, there is the high probability of them being seated in a table with people of the same interest. The beauty of having a seating chart for your wedding is that you get to carefully plan or think thoroughly where each guest will be. It allows you to segment guests accordingly: family members in a table with family members, friends with friends, colleagues with colleagues, and so on.
With this feature, you will be able to avoid guests from feeling uncomfortable or uneasy from having to sit at a table with people they are unfamiliar with. You will also, with a seating chart, be able to prioritize both your event's organization and your guest's comfort and well-being. And, when they feel that way, guests will be able to allow themselves to enjoy the whole event. You may also see table seating chart templates.
2. It assures every guest of a seat at your wedding
Having a seating chart on your wedding assures every guest that there will be a seat reserved especially for them. Since a seating chart contains both the information of the seat and for whom it is, people who are invited (and RSVPed) will be provided a seat with no question. It will not give them the distress of whether they will have a seat or not as the information is already provided. Speaking of which, will also secure them a seat, whether they decide to roam around the room, without having it taken or replaced by other people. But, not only that, as seating charts allow you to divide the guests properly for a well-balanced number of guests per table. There will be no imbalance division, where one table is filled and others only have fewer guests. You may also see guest seating chart templates.
3. It gives guests a sense of security in the event
There is no denying that on the day of your event, not everyone is familiar with everyone. Some will inevitably feel left out due to their unfamiliarity. This is why a seating chart comes most handy, as it gives guests who are unfamiliar with most people in the event a sense of security. With a seating chart already providing and assuring them of a seat, it will help avoid them from feeling out of place as there will be a seat already allocated for them, which will help keep them from being frantic or uneasy. You may also see modern seating charts.
No one can ever deny the feeling of intimidation and awkwardness in an event with people you are mostly unfamiliar with. So, for guests who do not know anyone, it will simply help avoid them from feeling such as they will be seated at a table with people they can easily talk to due to shared interests. It will simply help make them feel secure and will allow them to enjoy the event with nothing to worry. You may also see printable chart templates.
4. It provides formality to the event
By nature, a wedding is a formal event unless decided not to. It is the goal of every bride and groom, and even wedding organizers to keep the formality of the event intact. That is why, when there is a seating chart on your wedding day, it will help keep the event from going to a place of disorganization, which can also diminish the event's formality. Having such, will simply keep the flow smooth and will also instantly give more formality to the entire event. Also, with a seating chart at the ready, it will help convey the idea of a well-thought-of and well-planned-out wedding.
5. It helps avoid drama from people with conflict
It is a natural course for each family member or friends to have feuds, misunderstandings, or arguments between each other. But, what is unnatural is when they cannot help control themselves when they see the person they despise in an event like a wedding. So, to help keep that from happening, a seating chart is highly advisable as you get to carefully and thoroughly plan where guests will seat and who they will be sitting with. You may also see sample charts.
With a seating chart on your wedding day, you will be able to avoid disputes and physical altercations. It will simply keep the drama from even erupting on the day of your wedding, which will also help keep the wedding from being disrupted by chaos and violence. You will simply have nothing to worry about with a seating chart, as it will simply help you to enjoy your event and not help you not to worry about anything from happening.
Gold Seating Chart-Instant Download
Trendy Gold Dots Seating Chart
Elegant Gold Seating Chart
Sample Wedding Seating Chart
What is the best way to acquire your very own seating chart for your wedding?
There are a lot of ways to get your very own seating chart for your wedding, but among the different ways, two are more prevalent and common. You can either go to a professional graphics artist and have your seating chart custom made or you can simply buy one that is premade and readily available online. The option will be yours and it will solely depend on where your budget will take you. Although both having it custom made and buying it premade will be able to provide you with the seating chart you need, the difference lies in their affordability; one is simply more affordable than the other. You may also see chart templates.
Having it custom made, although is a very enticing and fancy option due to the idea of custom-making only for you, the price tag simply does not cut it. However, buying one that is already premade online definitely costs a lot less. And, there are reasons for these. For the option of having it custom made, there are certain factors that are being taken into account that will lead to the price to skyrocket. As such are the consultations that will be taking place before the graphics artist will start making your seating chart, the resources he or she will be using to fully materialize it, and of course the numbers of hours they will be spending in creating your seating chart. All these are the driving factors of a custom-made seating chart's price tag, which is inevitably expensive. You may also see chart templates in PDF.
On the other hand, the premade option costs a lot less because it does not have the demands of the custom-made option. The designers who create these equally beautiful designs make them in an assumption to what the customers might want, which only means they are not under the obligation of any requests, which also gives them ample freedom to do whatever they want at their own pace and time. Also, taking into account the idea of a customer finishing the initial design of the designer, it ultimately helps cut off its price, making it more affordable than its counterpart. You may also see sample chart templates.
Truly, going for the premade option is a lot more ideal and practical. But, it is not only its affordability that helps make it ideal, as it also comes with other advantages that help make it a better option than its custom-made counterpart. For the premade option, it comes in many different designs that fit any person's preference. For example, in this case of a seating chart, there are simple designs and templates, there are also minimal designs, even floral and modern designs, and there also gold designs perfect for anniversary weddings.
The premade option is also easy to make or create, considering that is already designed and laid out by the designer, how they did it initially can work as a guide for you. With this in mind, it almost works like a collaboration between you and the designer. To also note, these pre-made designs and templates come in a file that is easy to edit and customize. At times, it comes with smart object layers that enable you to move around elements of the design to create a more unique and personalized seating chart. You may also see time chart templates.
In conclusion, buying a seating chart that is premade and readily available online is the better option for it is equally practical and efficient. Also, with its affordability, no quality of design is being compromised. Whit the premade option you also get to tap into your creative side. You may also see blank chart templates.
Gold Wedding Seating Chart
Wedding Seating Chart Gold Vintage Floral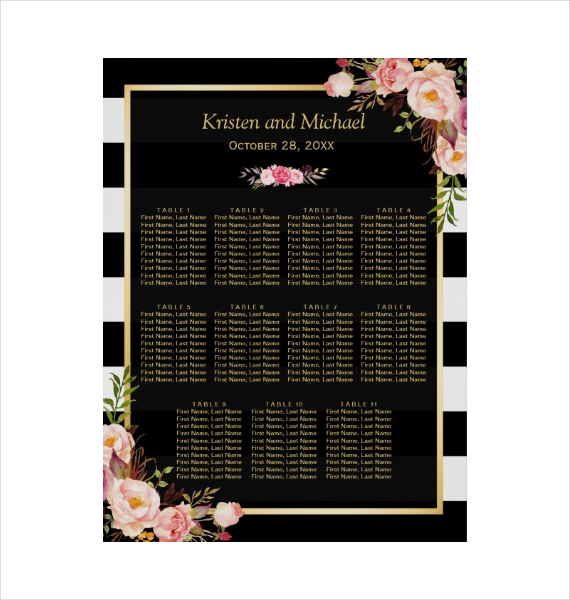 If you found this article helpful in any way, do not forget to bookmark this page for future references. And, kindly share this with other couples or wedding organizers that you know of is seeking the perfect gold seating chart to use on their wedding day. You may also see music chart templates.