Charts
5+ Baby Growth Chart Calculator Templates
Using a Baby growth chart calculator, it becomes easy to know if a baby is normal based on their growth measurement values. The calculator for baby growth is designed to help parents to easily determine the growth of their babies and understand the result by giving explanation afterwards. It makes the workload of parents lesser and with this, it gives you an accurate and realistic data results about your baby. You can also see Baby Growth Chart Templates.
Baby Weight Percentiles Calculator
who.int
To see where your babies' development belongs to the average population of his or her age with some prediction to its increase or decrease in figures, then baby growth chart percentiles calculator will help you provide the result of probable result of a baby's height and weight that can be compared to that of the general population of babies.
Baby Girl Growth Chart Calculator Free Download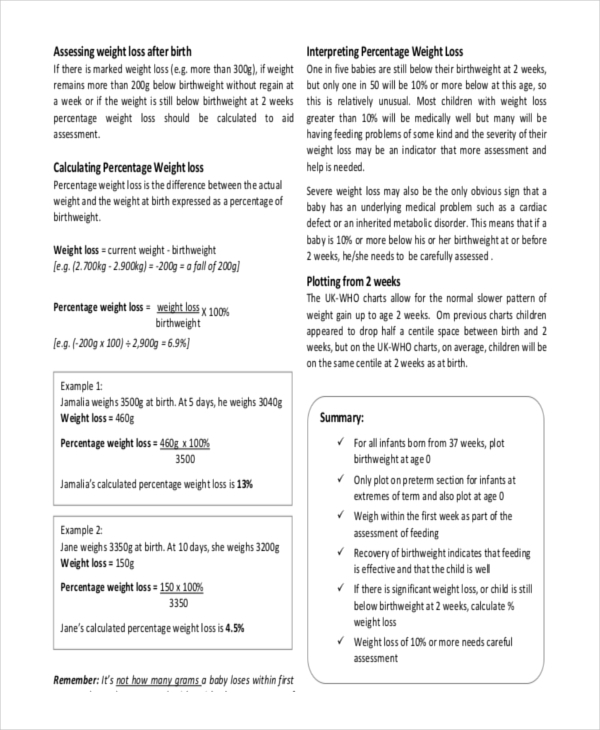 rcpch.ac.uk
Baby Fenton Growth Chart Calculations Sample Format
members.shaw.ca
Example of Breastfed Baby Growth Calculator
loveyourbaby.com
Breastfed baby growth chart calculator will help you to take the necessary calculation to the babies'height and weight that are taking breast milk as their food. Here the formula is set to add some additional figure in contrast to the typical baby that is taking formula milk making it uniquely for breastfed babies.
Baby Infant Growth Chart Calculator
infantchart.com
Premature baby needs more monitoring and assistance for having a premature cases can affect their normal growth and development as a child later on. As parents, you can be guided even at home and even without the presence of doctors, as long as you equip yourself with skills and knowledge in caring your own baby.
> Did you Know?
Calculator like these is best used for medical purposes where the condition of a baby must be observed and be predicted whenever they are experiencing some medical problems that their height and weight must be foreseen.
> Benefits of Baby Growth Chart Calculator
Parents and medical practitioner can see if their baby is growing as expected like the others by utilizing the formula for gaining estimated growth for a baby to have in their current age.
All of the figures here are mainly estimation so accurate measurement of the actual weight and height of the baby is needed.
> Steps for Baby Growth Chart Calculator
Get the latest formula that is available online where you can apply it in a spreadsheet where you can enter the features you want. You can put some headings and instruction in the formula you are having so the user will be guided to its purpose.
> Tips
By using the formula given by the World Health Organization you can take be guaranteed that you applied a reliable equation in your sheet.
In sample format of the document, you can download the whole sheet then use it in many medical purposes that require it. The formula and set up of the sheet are based on what is used in medical setting that uses baby growth calculator.
More in Charts