Fonts
Fonts of the Week (February 8th – 14th)
When you talk about the perfect design, you can't just stick to your color palette and images. To make the long lasting impact and bring your customer back to your content, it is very important to have the perfect typeface which adds to the interface. You can also see Modern Fonts.
And in an attempt to provide you with the perfect calligraphic style which catches the eye of the visitors, we bring to you our selection of fonts which will add to the charm of your design and make the impact you always hope for. Here is our selected fonts for the week to help you so. see this also Western Fonts.
Sunday Font : 14th (La Citadelle Des Papillons)
This valentine, write a letter to your loved one in the perfect font of La Citadelle des Papillons with the right amount of curves. Developed by Greg Medina, it includes both upper and lower case characters, and a bunch of symbols. You can also see Infographic Fonts for Designers.
Saturday Font : 13th (Gang Graffiti)
Designed by Burim Loshaj, gang Graffiti is for those who want to break out of the mainstream, and shout out loud with their style. Perfect attention grabber, this font is a variant of style that has been around since the 1930s. Mostly all caps, this typeface uses block lines in a zig zag pattern, with very little space between the characters.
Friday Font : 12th (Laqonic 4F)
Available for desktop, web, app, and server, this typeface comes in six different weights. It is a multilingual font which includes even eastern European languages, Turkish, Baltic and Cyrillic. Unicase font, which makes use of both upper case and lower case characters in a single style, and gives you the unique style that will bring users back to your content. Download Here
Thursday Font : 11th (Coop Blackletter)
Like the name suggests, this font is a friendly blackletter typeface that gives your content a funky look. It includes both calligraphic contrast, as well as weight in its style, that will make it perfect for you to use in your designs. Metal heads can relate to it easily, and use it design their t-shirts or album covers. Download Here
Wednesday Font : 10th (Calaboose)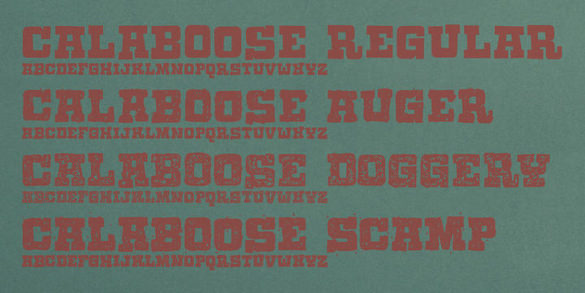 All the cowboys in the house know what we are talking about. Calaboose includes four versions of graffiti and provides you the perfect air brush feel to your content. If you are thinking of designing the rugged posters, then calaboose is the font you are looking for. It makes use of in-built ligatures that take care of the characters if repeated or used in alternate spacing.
Tuesday Font : 9th (Ribeye Pro)
This week's cartoon styles font is Ribeye Pro. Designed by the duo of Brian J. Bonislawsky, Jim Lyles, this typeface includes both upper and lower case characters, full set of inferiors and superiors for limitless fractions and stylistic alternatives for caps to smallcaps conversion. these features give this font a more diverse design voice and makes it a real charmer.
Monday Font : 8th (Scratch That)
Start your week with one of the 16 different styles of Scratch that. Giving the style of pencil sketch, the font is consistent in width, position and spacing, thus allowing multiple fonts to be layered on the design. This makes the use of this typeface more widespread. And if you are looking to impress with your fashion, headlines, flyers, posters, souvenirs, web design or invitations, just try this Beautiful fonts.