Fonts
Most Popular Google Fonts to Beautify Your Website
Google Fonts first came into existence in 2010, when web designers lost every hope of working safely with fonts on the web (the idea of safety being confined to prior installation on the server of the website they're using). Google solved this problem bringing in a variety of fonts that can be accessed from anywhere on the web without installing them on the respective servers.
Google Fonts was formerly named as Google Web Fonts. It is an interactive platform of web font APIs (Application Programming Interfaces). It's absolutely free, which is contrary to the concepts like Typekit services.
Most Popular Google Fonts – Infographic
Most of the fonts come under the SIL Open Font License 1.1 while the others are released under Apache License; both of them being free, don't really mean anything different for the general public, though serious web developers should be aware of the terms and conditions of these licensesto be on the safer side. Font Views per Week quantifies the total number of times the font was served by the Google Font API.Other platforms may have a wider range of fonts till now, but Google Fonts being an open platform will have its database increased in an exponential fashion: that's the recent prediction. And the most common 21 fonts on the Google platform are as follows

Open Sans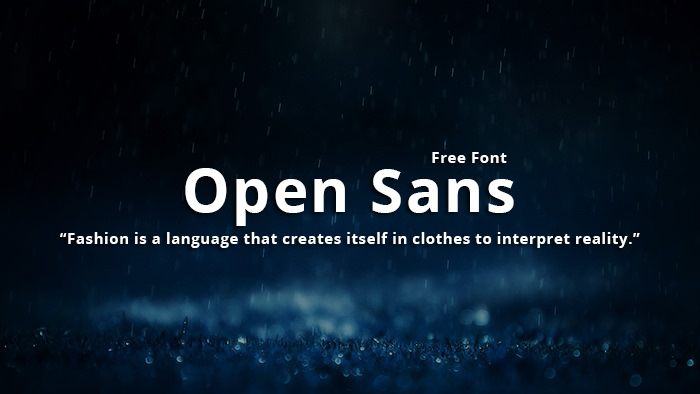 This type has the complete set consisting of 897 characters, which incorporates the Latin CE, standard ISO Latin 1, Cyrillic and Greek character sets. Open Sans was outlined keeping an erect nature, open structures and a very neutral, yet comfortable appearance.
Roboto Font
It has got a mechanical structure and the patterns are by and large geometric. But on the other hand this font provides an open curved comfortable typeface as well.
Lato Font
This font provides a transparent typeface when utilized as a part of body and displays its unique characteristics when enlarged, lending itself to easy readability with some style.
Oswald Font
The alphabet has been re-structured and transformed to adjust the pixel grid of advanced digital screens. Oswald is outlined to be accessed freely over the web by web browsers on modern gadgets.
Slabo 27px Font
Slabo is a character-set of proportionate fonts for utilization in online advertising and other web-basedtools. Each character is properly balanced in size and shape, hence bringing in a uniform style to the font.
Lora Font
The typeface has got driving serifs contrasting the bold edges. The typographic texture of Lora as a whole, emits an impeccably fresh aura to set the mood for a modern-story.
Roboto Condensed
While a few grotesk-fonts force their letterforms to be tuned in an unromantic unison, Roboto lets its letters to maintain their original tune resulting in an inexplicable harmony.
Source Sans Pro Font
It's Adobe's former-most typeface family, but continues to be relevant. It has its origin in the sans serif genre, and was designed to perform well on interactive platforms.
PT Sans Font
PT Sans pays a tribute to the traditional Russian sans serif types, but has a contemporary design as well. The typeface has 2 captions, 4 basic and 2 narrows styles.
Droid Sans Font
Droid Sans is attributed with upright stress, flexible structures and a cozy appearance. Droid Sans was outlined for modern devices and interfaces, and is a favorite among modern designers.
Open Sans Condensed Font
This sort has the alphabet comprising of 897 characters. This cool and classy font includes all the attributes of Open Sans. Actually it's a modification on the existing Open Sans.
Raleway Font
This strikes a chord between the geometric san serif typefaces and the neo-grotesk lettering, with its traditional yet flexibly stylish approach which provides it with a different hue altogether.
Droid Serif Font
Droid Serif is attributed with a compact typeface to provide a wider view on small screens, which makes the font a good choice for mobile centric web content. Its highly legible design complements its half-brother Droid Sans.
Montserrat Font
The objective was to rejuvenate what is in Montserrat and make it free, under the SIL Open Font License. This is a Regular family, which has two more derivatives, namely the Subrayada and Alternates families.
Ubuntu Font
The new Ubuntu Font Family was outlined to get the user a unified feel of Ubuntu. The family falls under sans-serif, uses OpenType attributes and is quite customizable for mobile computing screens.
Roboto Slab Font
Roboto Slab follows the principles of Roboto Condensed in general. Moreover it offers the user a more comfortable reading experience being very close to the humanist and serif flavors.
Merriweather Font
Merriweather maintains a very large proportion, quite compact lettering, thick serifs and flexible structure. It's undergoing constant modification and is increasingly gaining popularity because of the compact styling.
PT Sans Narrow Font
It is just a narrower version of PT Sans, guided by the same motivation, but more applicable where the screen space is quite limited. Perfect for mobile centric content, because of easy readability.
Arimo Font
Arimo is very close to the Arial typeface, offering a cross-platform compatibility, perfect readiability despite compactness. an on-screen legibility and a rare incorporation of pan-European WGL set of characters
Lobster Font
This new OpenType disciple doesn't compromise with the notion of connecting letters. It reorients the letter-to-letter connections depending upon their contexts. As close to classy cursive as it gets.
Bitter Font
Bitter varies little in stroke-weights with the Regular being bolder than a conventional 'Regular' style. This has a huge impact on the complete essence of a paragraph, adding to the style quotient.