Charts
Timeline Chart Template – 9+ Free Word, Excel, PDF, Format Download!
When a project is being worked upon, it is really important to record the developments that take place with time regarding this project. A chart is usually made for this purpose, to record the changes that take place through time while a company or an organization is working on a project. You may also like Chart Timeline Templates.
Timeline Chart Template
Free Timeline Chart Template
Free Timeline Infographic Chart Template
Timeline Static and Dynamic Chart Template

criticaltosuccess.com
The timeline static and dynamic chart shows the various static dynamic stages of a project in a chronological order. It provides an idea about the amount of time required to complete every stage and thus helps a company while undertaking similar projects.
Timeline Gantt Chart Example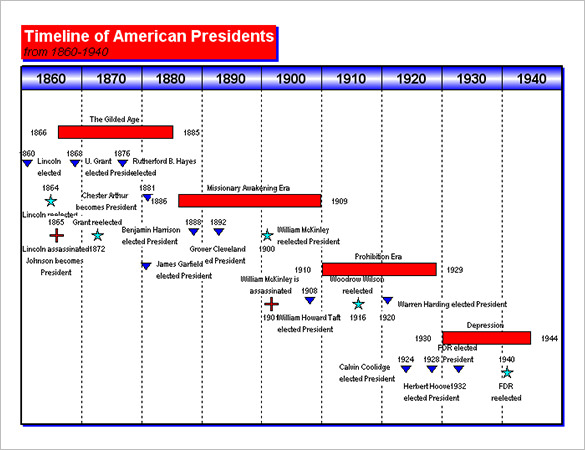 ganttchart.com
The timeline gantt chart is a combination of both gantt chart inside the timeline chart. In the sample we can see the timeline of American president represented by timeline chart and the era are denoted by gantt chart.
Timeline Chart With Overlapping Events

jan.ucc.nau.edu
The timeline chart with overlapping events is used to document events which occurred at one particular time. This chart helps us to understand and also keep track of the overlapping events of a particular time interval.
Free Teething Timeline Chart PDF Download

secretofthieves.com
The teething timeline chart provides an insight to the time required in growing teeth. The sample shows both primary teeth of babies and adults and the time at which they erupt from the gums.
Biblical Timeline Overview Chart Free PDF Download

solascriptura-tt.org
The biblical Timeline overview is a timeline chart from eternity past to eternity future and denotes all the events that took place in between, like noah, moses, church age, great tribulation, etc.
Bible Timeline Chart Free PDF Template

answersingenesis.org
Health Care Reform Timeline Chart Free PDF Template

aktcpa.com
A timeline template chart is just that – a chart that records events that take place around a project with time, be it meetings or any other work that progresses with time while working on this project. Making a timeline project is an important process of getting ahead with your project.
A timeline chart template is designed based on the necessity of the project and the parameters to be measured. Before you download one of the sample timeline chart templates that we have got for free, you should know what a chart such as Free Chart Templates that is usually made up of. Here are all the components of a timeline chart template listed out.