Charts
15+ Word Guitar Chord Chart Templates Free Download
If you are a guitar player or someone who has recently taken up the instrument, then you know the absolute necessity of writing down chords and frets to practice. It so happens that using Microsoft Word to create your own Guitar Chord Chart Template in word format has its perks. Firstly, it makes for a more organized approach to writing chords and secondly, it is available as a free download on the internet. Interested? Read along.
>

Importance of The Chart and What it Means to You
Ask any guitar player and they will confess that making a word document as opposed to writing their music on a piece of paper is far more secure as it provides backup and a better user interface. Printing out your music charts is friendly on your time as compared to scribbling and losing track of your progress. Chord charts create a pattern and structure to follow as compared to Sheet Music. They are easier to follow and easy on the eyes and can come in multiple free designs which are downloadable. It takes just a few minutes to convert written music to printed format in a software like Word 2010. If you are in a choir or band, it makes it that much easier for everyone to follow one printed format. You may also see Chart Templates
> Different Type of Chord Sheets That is Available
Chord charts for guitar come in various formats in MS word. They can be saved as word doc files or converted to other formats. Let us observe some of them. You may also see Excel Chart Template
Guitar Pentatonic Sheet – A sheet that lists minor and major scales using five pitches every octave.
Fingerstyle Solo Chord sheet – Lists the fret arrangement specially made for the fingerstyle players. It is often written for a solo performance.
Chord progression chart – Is often a beginner type sheet that is used to let new players know what frets are being used in what manner.
Diminished Guitar Chord sheet – Unstable chords or chords that you won't be using often while playing.
Guitar Chord Chart for Beginners in Word Format

easiestwayguitar.com Use our innovative guitar chord for beginners template to create the right pattern and structures for the chord charts. The template is available for free download. The template comes with a perfectly structured format to make it easier for you to develop the chord charts. The template can be downloaded in word format.
Guitar Chord Chart Songs Word Template

guitaristmarkmarshall.com Creative minds will find this template extremely effective. Using this template, you can easily note down the newly created guitar chord chart songs. The template comes with perfect format to make it easier to jot down the tune. The template is free to download. It can be downloaded in Word format and is totally printer friendly.
Word Basic Guitar Chord Chart Template

guitarchordsmagic.com It can be difficult to create word documents for guitar chords. To make scenarios easier, we have introduced the word basic guitar chord chart template. This template comes with perfect format to make it easier in creating the documented version of the guitar chords. These templates are free to download.
Free Blank Guitar Chord Chart Word File

music-for-music-teachers.com Use our free to downloadable blank guitar chord chart to create and document the musical notes. The template can be downloaded in word format. It is easy to use and customize. The formatting is niche in terms of design and simple to use. This kind of a template would cater largely to musicians and guitar artists.
Word Acoustic Guitar Chord Chart Template Download

hubpages.com
Bass Guitar Chord Chart Word Format Download

traditionalmusic.co.uk
Classical Guitar Chord Chart Word Doc Template

mtwline.com
Chordie Guitar Chord Chart Word Format

waverunnersfastpitch.net
Half Diminished Guitar Chord Chart Word File Template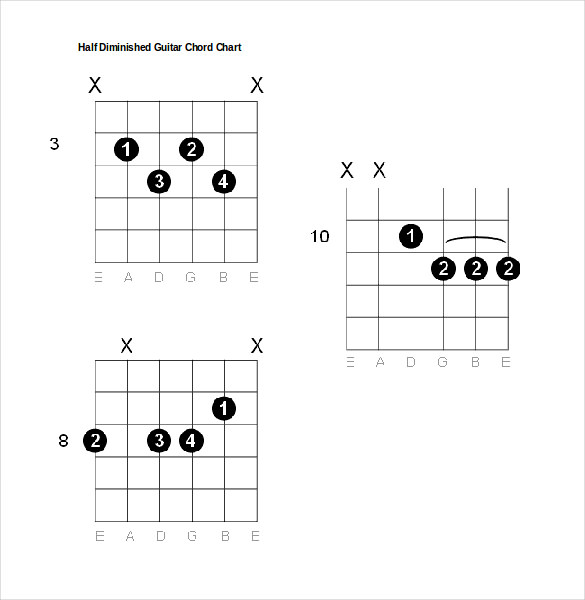 Jazz Guitar Chord Chart Word File

guitarlessonsbybrian.com
Jingle Guitar Chord Chart Word Template

easymusic.altervista.org
Lead Guitar Chord Chart Word File Template

pickupjazz.com
Rock Guitar Chord Chart Word Format

dummies.com
Triad Guitar Chord Chart Word File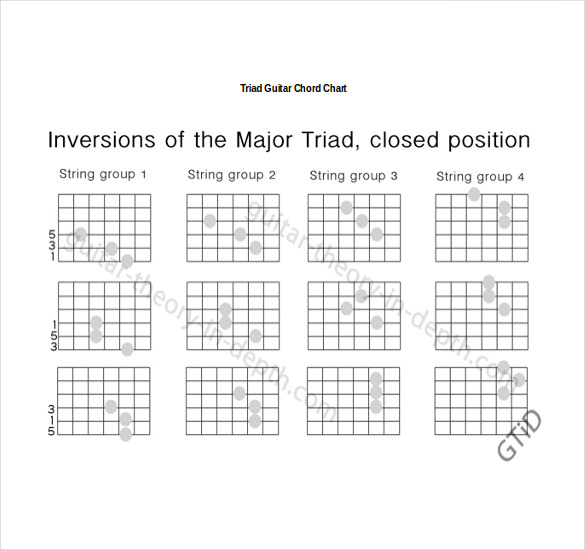 guitar-theory-in-depth.com
> Informational Content That Most Guitar Chord Charts Come With
Some features that share a common feature with most guitar charts are listed below
Fingerboard diagram
Open chord notes
6-line tablature
Low and High keynotes.
Finger placement notes
Minor and Major chords
Suspended Chords
Guitar neck chords
Acoustic/Jazz/Electric/Bass Guitar specific chord sheet
> Guidelines to Printing The Ideal Chord Sheet With Word
For Word based chord charts it is a good idea to have a progressive approach and list out the chords in a constructive phase that are subject to change. Once you are fully convinced that you are happy with the Word File you can either choose to save/download or print it for backup. Make sure the structure you follow is in line with what you are writing for easier understanding. It is a good idea to experiment with different styles of chart samples on Word before you conclude and choose. It has to be easy to understand for beginners and veterans alike. Different playing techniques require different styles of writing to convey the music.
> Target Audience for Guitar Chord Chart Templates
A niche and clear guitar chord chart template can make your work a lot easier. These templates are perfectly apt for musicians, both professional as well beginners. These templates are perfectly apt for the students of music industry. Those who are taking up guitar learning course will find it easier to maintain the chord charts using these templates. These templates are perfectly well formatted to suit your requirement. Music teachers will also find these templates highly beneficial and can make sure that the chords and tunes are perfectly managed as per the requirement. These templates are free to download in word format. They also promise to be printer friendly.