Sheet Templates
16+ Training Sign-In Sheet Templates – Word, PDF
Training is an essential part of an employee's professional life. It enables him or her to have more knowledge about the job that he or she is doing. It also allows employees to master all the processes that are needed to be done in the daily operations of the company where they work. There are different reasons why training has to be done but it is for sure that it will benefit the employees in many ways possible.
Hence, it is very important that doe a company track the attendance for a specific training class, it is necessary to have these training sign-in sheets. These sheets have a very specific purpose. They track the attendance of their employees whenever training is being done.
Training Sign-in Sheet Template
Keep liability at a minimum and have complete documentation of any training undergone by your employees through the use of this sample training sign-in sheet. This document helps you have evidence of competency for employees at their jobs in case of an audit. Be confident knowing that employees are equipped with the knowledge and skills they are supposed to have to perform their duties and responsibilities after undergoing training. Have an official record to show in cases of certification and other inspections of regulating bodies that control work standards. Try it out now!
Safety Training Sign-in Sheet Template
Conducting safety training for employees every once in a while is very important for businesses. If you are conducting one for your company, make sure you get to list all of the attendees through a sign-in sheet. You don't have to spend time creating one because we have prepared one for you with all the information you need. The above-mentioned sheet template is one such document that will be of great use to you. All you would have to do is download the template, edit and customize it to suit your needs perfectly. Check it out now!
Training Sign-in Sheet Excel
Remember attendees for your training with the help of this sheet that is available in many file formats. This highly editable template comes in standard business fonts and portrait style orientation. Another added advantage of this daily sign-in sheet is that this template is that it is not just limited to the computer, but you can also download it on any electronic device with ease. Choose the file format that suits your preferences best, download and edit as you wish. Download it now!
Employee Sign in Sheet Template
Staff Sign in Sheet Template
Daily Sign in Sheet Template
Blank Sign in Sheet Template
Sign In Sign Out Sheet Template
Importance of a Training Sign-In Sheet:
A sign-in sheet is not any ordianry sheet of paper. It is a document that may be used for specific reasons. A few important reasons that ne should have a singin sheet are mentioned below. They are:
Some training actually happen during working hours. Having a training sign-in sheet will assure the employer that their employees are using their working hours in attending the seminar they are intended to attend.
A training sign-in sheet can be used as a reference needed by the human resource in documenting all the training that their employee has undergone. You can also take the help of blank sign-in sheets that would be of great help to you as and when needed.
Employees can use a training sign-in sheet as evidence that they attended the training they were supposed to attend.
It allows the company to know if the training has been efficient and helpful in terms of the number of people who have attended. The more people who have written in the sign-in sheet, the better the feedback they can get regarding a special or any specific training.
A sign-in sheet logs in the time that a certain individual/employee came in to attend the training.
Apart from these sheets, you can also have a look at event sign-in sheets, in case you plan on hosting an event sometime soon. They would be of great use to you.
Employee Training Sign-In Sheet Template
hr.mvnu.edu
Safety Training Sign-In Sheet Template
purdue.edu
Sample Training Sign-In Sheet
ncdoi.com
Group Training Sign-In Sheet
hcinteractive.com
Training Class Sign-In Sheet Template
hdoa.hawaii.gov
Blank Training Sign-In Sheet
pmmi.files.cms-plus.com
Printable Training Sign-In Sheet Template
codot.gov
Annual Staff Training Sign-In Sheet
michigan.gov
Generic Training Sign-In Sheet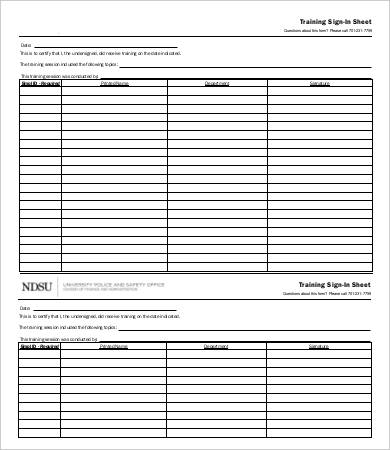 ndsu.edu
What is in a Training Sign-In Sheet?
Since it is essential for attendance documentation, the basic information that a training sign-in sample sheet should have are as follows:
The topic of the training
The location where the training was held
The date that a specific training occurred
The time that the training is expected to start
Blank spaces to be filled with the name of the attendees
The time a specific attendee went to the venue
However, other training sign-in sheet may include more information like the following:
The work position of the employee who is to attend the training
Contact information may it be a mobile number or an e-mail address
Signature of the attendee
The employee number of the employee
Be sure to write all the needed details included in a sign-up sheet for documentation. It is not only for the benefit of the company but for the employees as well. Kindly take a look at any of our sign-up sheets and easily download it should you be needing it for future events or projects.
More in Sheet Templates
| | |
| --- | --- |
| 28+ Sign Up Sheets - Free Word, Excel, PDF Documents Download ... | Attendance Sign In Sheet Template - 9+ Free Word, PDF Documents ... |
| Volunteer Sign-In Sheet Templates - 9+ Free PDF Documents ... | Sign In Sheet Template - 12+ Free Wrd, Excel, PDF Documents ... |
| 10+ Sign Up Sheet Templates – Free Sample, Example, Format ... | Meeting Sign In Sheet Template - 8+ Free PDF Documents ... |
| Event Sign In Sheet Template - 8+ Free Word, PDF Documents ... | Sign In Sheet - 14+ Free Word, Excel, PDF Documents Download ... |