Word Templates
58+ Sign Up Sheets
If you are struggling with a number of participants in a competition, or a number of employees working under you, and you want to get them all managed under a single sheet of paper, or in a single document, then we bring you the sign up sheet templates. These sheet templates are mainly used for making a list of people and the projects they are dealing with, their phone numbers, their contact details etc.You can also see Sign in Sheet Templates.
Signup Sheet Template
Donation Sign Up Sheet Template
Sports Sign Up Sheet Template
> Great Sign Up Sheet Templates for Your Impromptu Events
When it comes to planning out a list then you usually do not exactly know what are the key details you need to keep in mind. Hence we are here to help you with organizing a list that has all the contacts and details of the members signed in, and the number of members withdrawn or have signed out. This way you are having a rough estimate of the number of people up for your team or whatever is the situation. A sign in sheet is an organized way of keeping track of all those interested in your event, or keeping a tab on things in general. In fact, there are sign out sheets as well. These can help you keep an eye on people and their movements during your event.
Volunteer Signup Sheet Template
Blank Sign in Sheet Template
Potluck Sign Up Sheet Template
Sports Sign Up Sheet Template
Employee Sign in Sheet Template
Training Sign in Sheet Template
Daily Sign in Sheet Template
Open House Sign in Sheet Template
Volunteer Sign in Sheet Template
Event Sign in Sheet Template
Sample Sign Up Sheet Template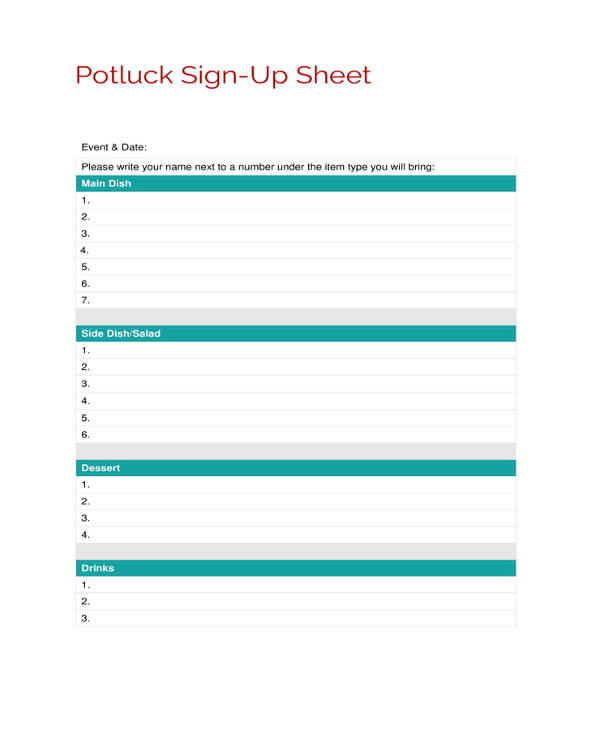 Volunteer Sign Up Sheet Template
Sports Sign Up Sheet Template
Sample Sign Up Sheet Template
Sign Up Sheet Template PDF
Email Sign Up Sheet Template

Email Sign Up Sheet Template is a minimal designed but highly editable and is very well-suited for storing names and email addresses for a mailing list. But with some editing you can also use it for other purposes.
Mailing List Sign Up Sheet Template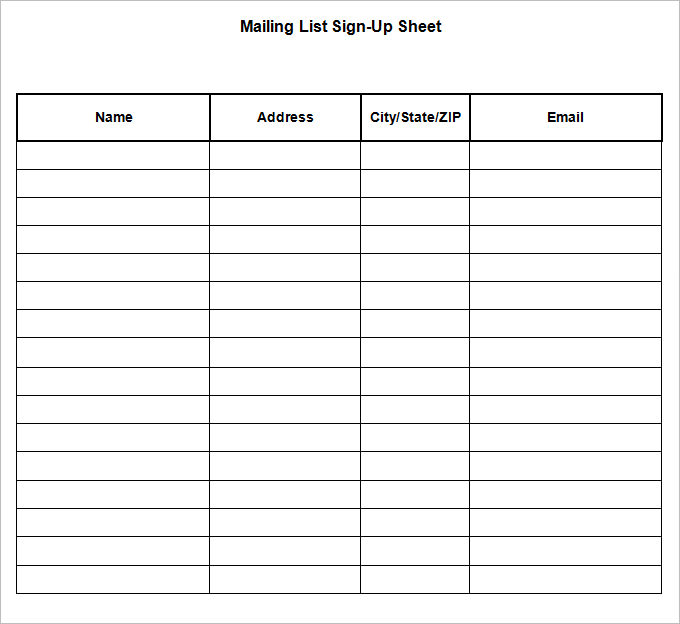 Mailing List Sign Up Sheet Template is a very organized and professional sign up template. Information can be stored in a neatly organized table with the possibility of adding new columns or deleting existing columns.
Potluck Sign Up Sheet

Printable Potluck Sign Up Sheet Template is a sign up template with a list type template. You can store various details under their respective headings and there are color codes to let you know where a particular list ends.
Sign Up Sheet Template Printable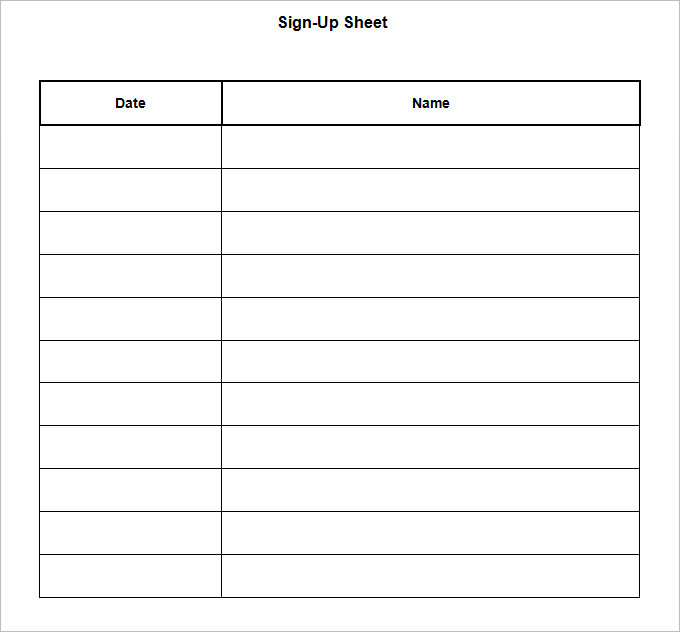 Potluck Sign Up Sheet is a printable sign up template with minimal and neatly organized tables. You can store details against names in horizontal columns. You can also add or delete columns according to your needs.
Food Sign Up Sheet Template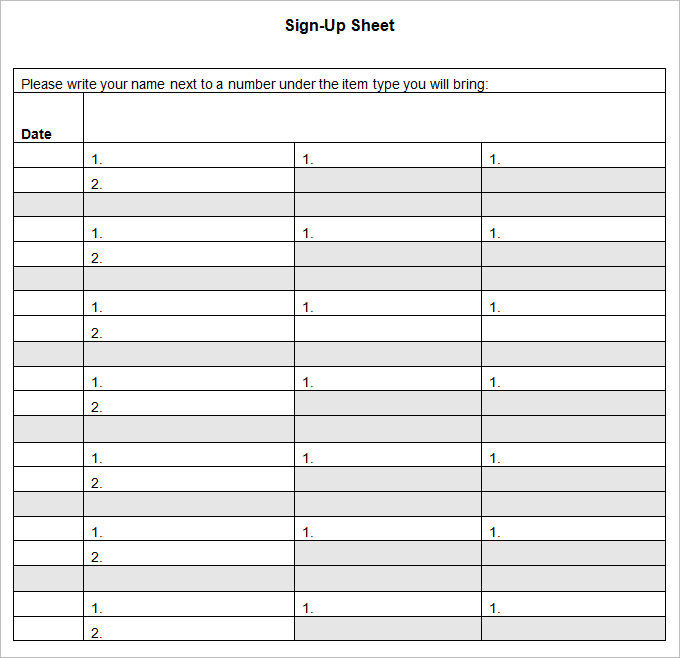 Sign Up Sheet Template Printable is a minimal design printable sign-up sheet. It is clean and uncluttered, and comes with two columns for sign-up dates and names but it can be easily altered to suit your needs.
Word Sign Up Sheet Template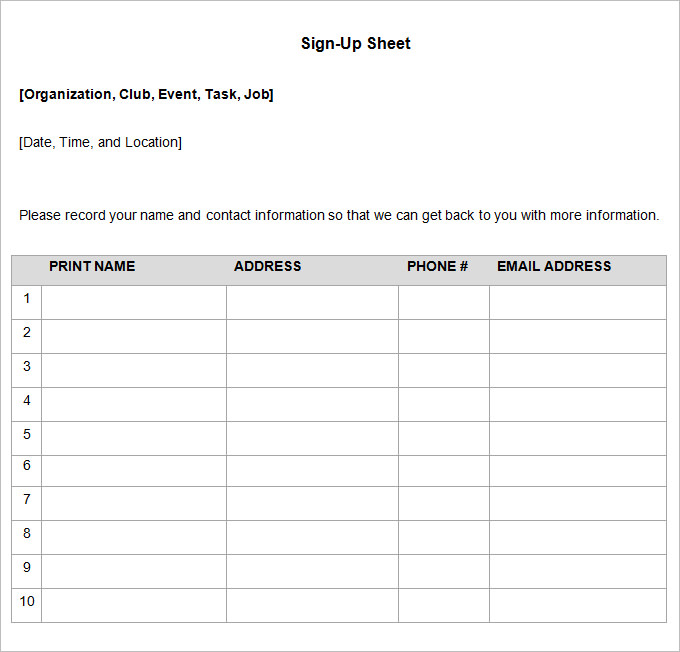 Sample Sign Up Sheet
Sign Up Sheet Template Free Download
Online Signup Sheet Template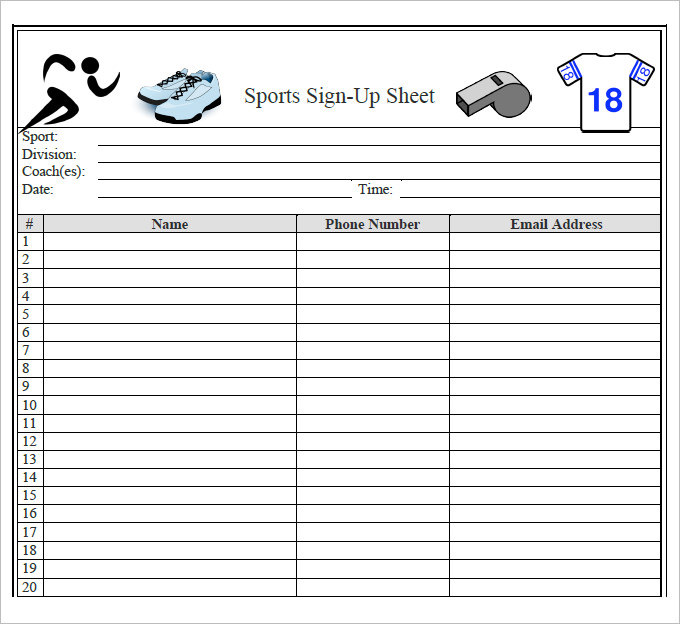 Club Tournament Signup Sheet Template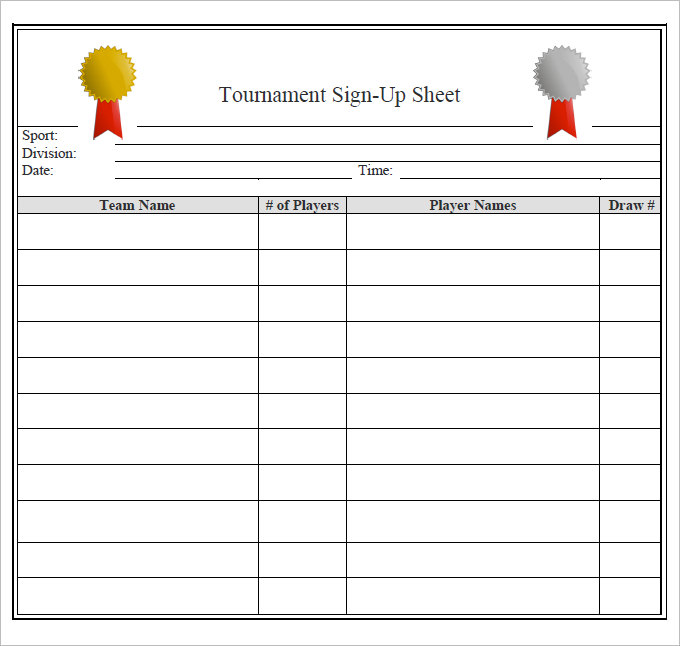 Sign Up Sheet Template Free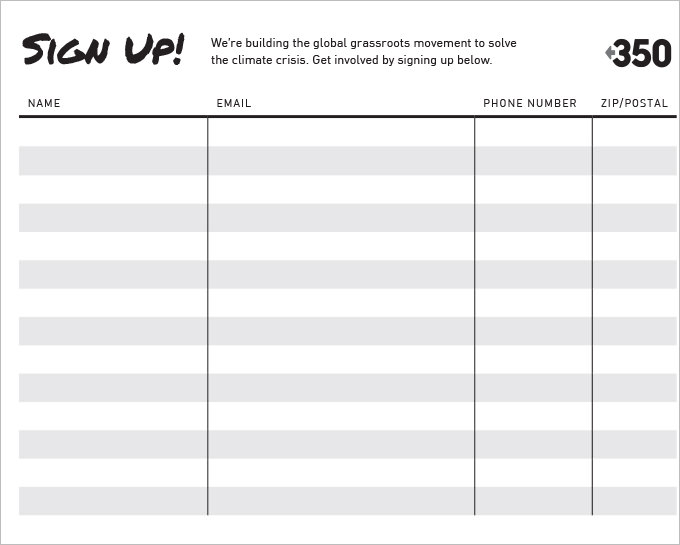 Potluck Sign Up Sheet Template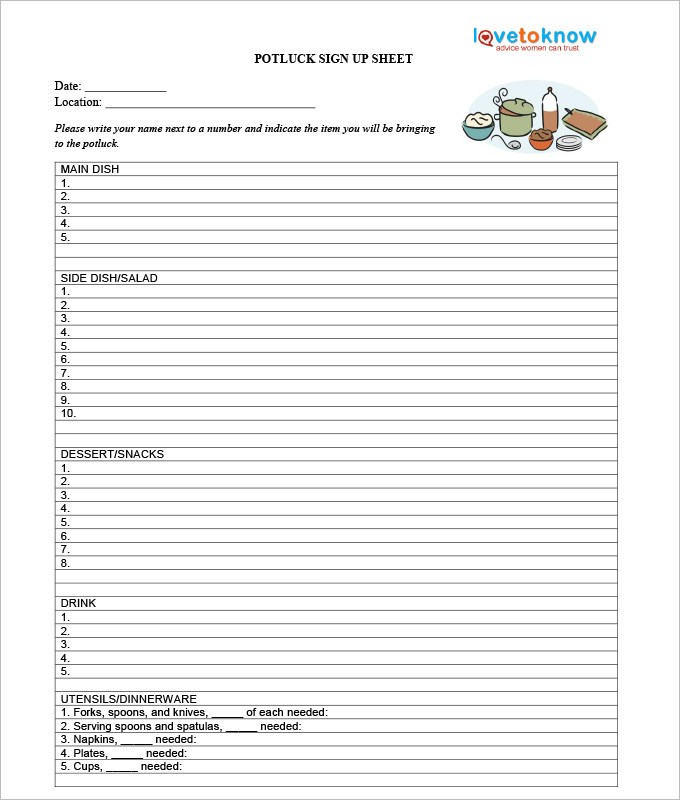 Template For Volunteer Sign Up Sheet
maintenance for events and contests. With Sample signup sheet templates at your disposal, all you need is to take out the number of prints you want and then just fill out the relevant fields on the sheets. You will be able to find free signup sheet templates as well as Premium ones; here, we have compiled a list of some of the most widely used signup sheet template word that you can safely rely on for organized records taking.
> Why Is A Sign In/ Sign Up Sheet Important?
A sign in or sign out sheet can be used for any event, be it something as simple as a dinner or something as important as a party by a large company. These are some of the reasons why a sign in /sign out sheet is so important –
Event sign up sheets are a must for any event on a large scale. How else are you supposed to keep a tab of the people coming and going? If you have people from outside participating in your event, you need to make sure they all sign in on time. Also, to keep a track on when they leave you could use sign up sheets. That way, you can ensure that people stay through the whole event.
Food packets are often distributed at such events. Snack sign up sheets would be helpful in this case. In such sheets, the person's name is mentioned along with his preferences. Based on that, he is handed over food packets.
The importance of a sign in or sign up sheet is known when a party comes up, or you need to organize an event. This is the time when the sign up sheets help you keep a track of all the additional details. It helps you keep contact with all the members that are in with you for this job. You find it easier to communicate with others. Your pace of working increases and you get a boost for your organizational skills.
Every organization, including business, schools, colleges, real estate companies, are all resorting to sign in sheets as it reduces their hassle and workload, making their lives easier.
Golf Tournament Sign Up Sheet Template
mensadvance.org
Snack Sign Up Sheet Template
quickscores.com
Example of a Send Off Potluck Sign Up Sheet Excel
documents.dgs.ca.gov
Lottery Pool Sign-up Sheet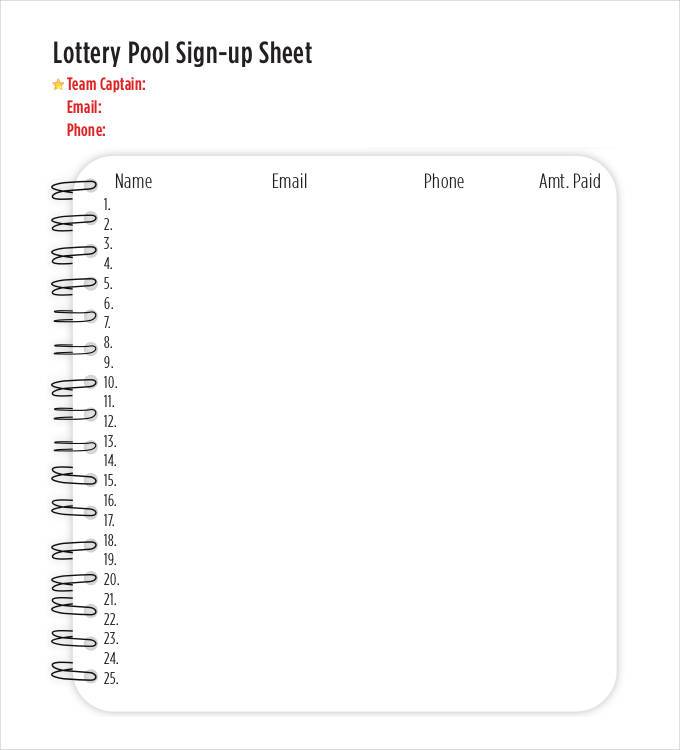 lucke-zone.com
Sign up Sheet for Lunch/Dinner
math.illinois.edu
Member Guest Sign-Up Sheet
rollingmeadowscountryclub.com
2017 Open Mic Signup Sheet
victoriamiracles.com
T Shirt Sign Up Sheet Template
soill.org
Key Contact Sign-Up Sheet
c.ymcdn.com
Cute Birthday Party Sign Up Sheet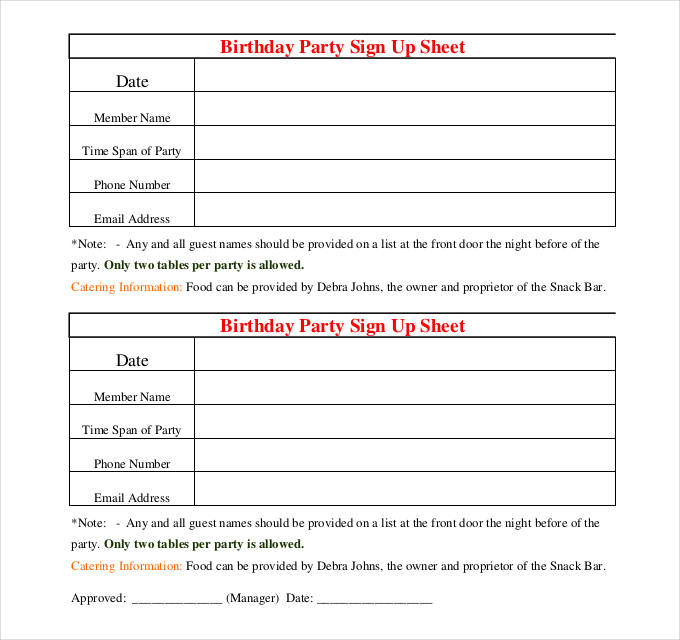 nppool.org
Monthly E-Newsletter Sign-Up Sheet
extension.umd.edu
Church / Christmas Cookout Sign-Up Sheet Template
s3.amazonaws.com
Printable Contest Sign Up Sheet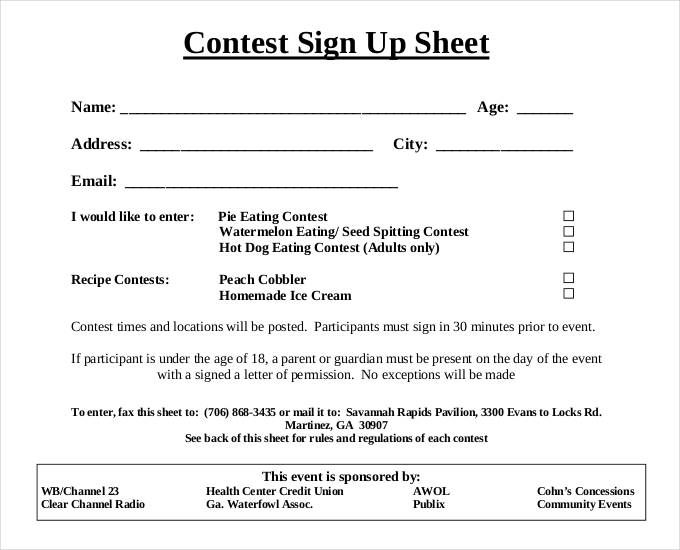 columbiacountyga.gov
Name Email Sign Up Sheet
yali.state.gov
Blank Group Sign-Up Sheet
carolinaocoee.com
Downloadable Kids Club Sign Up Sheet
mysouthlandmall.com
Generic Sign Up Sheet Template
villageatstoneridge.com
Work Program Sign Up Sheet
austinsportscenter.com
Customer Sign Up Sheet
aa-self-storage.com
Holiday Potluck Signup Sheet Template
stefannibecker.com
Halloween Party Volunteer Sign Up Sheet Printable
terracepeaks.ca
Sample Meal Sign Up Sheet
esd113.org
Team Sign Up Sheet Free Download
alz.org
Summer Class Sign Up Sheet
eagleridgeclub.com
Electronic Waiver Sign-up Sheet
lexingtoncatholic.org
Basketball Sign Up Sheet Template
calgarycorporatechallenge.com
Standard Activity Sign Up Sheet
scoutlander.com
Week Trips Sign-Up Sheet Form
heights.edu
Special Events Committee Sign-up Sheet
oc-aa.org
Parent Involvement Sign-Up Sheet
stfrancisdesales.net
> How to Create Sign in/Sign Out Sheets?
Creating such sheets is actually very simple, since you do not have to insert too much of information. However if you think it would be time consuming, you could simply go online and look up sign up list template. It would certainly make your job easier.
> Tips While Creating Sign In and Sign Out Sheets
A sign in sheet is not something as simple as just maintaining a record of names. No, there is much more to that. That is why these tips might come in handy the next time you make one for an event
First, decide what you want in the sign in and sign out sheet. Do you simply want the guests to sign in their names? Or do you want them to put the time of entry against their name? Every piece of information you require should have a separate column for it.
What do you need the sign in and sign out sheet for? What kind of event is it? Is it a competition of some sort? In that case you need to be strict when it comes to these sheets pages, to maintain discipline amongst participants. Or do you need it for a school picnic? Then you need to be extra vigilant. You can also see Potluck Signup Sheet Templates
Do not make it cluttered or disorganized. The whole point of a sign in sheet is to make sure the event goes off in a smooth fashion, not to cause further chaos and confusion! One small mistake on your part may lead to complete pandemonium.
> Do's and Don'ts
Do's
Do look up the format of hourly sign in/sign out sheets beforehand.

Look up online templates of sheets that can be customized.
Don'ts
Try not to put the sign in and sign out columns in separate sheets
Don't forget to check and cross check.
> We are Here to Help!
If you're confused about how to create a thanksgiving potluck sign in sheet, we at template.net could come to your rescue. We have hundreds of options when it comes to such templates, and you could choose any of them. You can even look up a sample sign up sheet on template.net. Need some help in designing a sign up sheet? We offer a wide range of Sample Sheets in Excel which have been designed by experts and thus, look extremely professional. Check these out and pick the one that would be perfect for you. These sample sheets are easy to download and can be quickly personalized, thus enabling you to design a unique signup sheet in a jiffy. If you have any DMCA issues on this post, please contact us!