Word Templates
Multipurpose Rubric Templates to Add Life to Your Data Intensive Presentations
Rubrics tables are a useful tool that you can use to depict data in a structured format. The best part is that can use Free blank rubric templates for anything from classroom presentations to work-related data. They are a great way to create a better understanding among your students, peers, subordinates or even clients. Apart from your data, you can even use these Grading Rubric templates for grading, assessment rubric template for assigning or even scheduling your tasks or information so as to make them more clear and concise. These Sample blank rubric templates, Rubric Template Examples render rubric table creation an extremely simple process by giving you a blank, predesigned Rubric template word that only needs to be filled in with the relevant information or content. These templates are the perfect solution is you're wondering how you can showcase your data or grades in a manner that is easily deciphered and are the perfect tool if you're not sure what format to use in your data display.
Use Blank Rubric Templates to:
Create informative and uncluttered data or grading sheets that anyone can understand.
Depict data in a much more objective and consistent manner.
Keep a track of key responsibility areas and be able to back-track at any time.
See more : Sample Rubric Templates, Blank Survey Templates
Blank Rubric Template Word
Blank Assessment Rubric Template
Blank Rubric Template PDF
Blank Rubric Frame Template
Sample Blank Rubric Template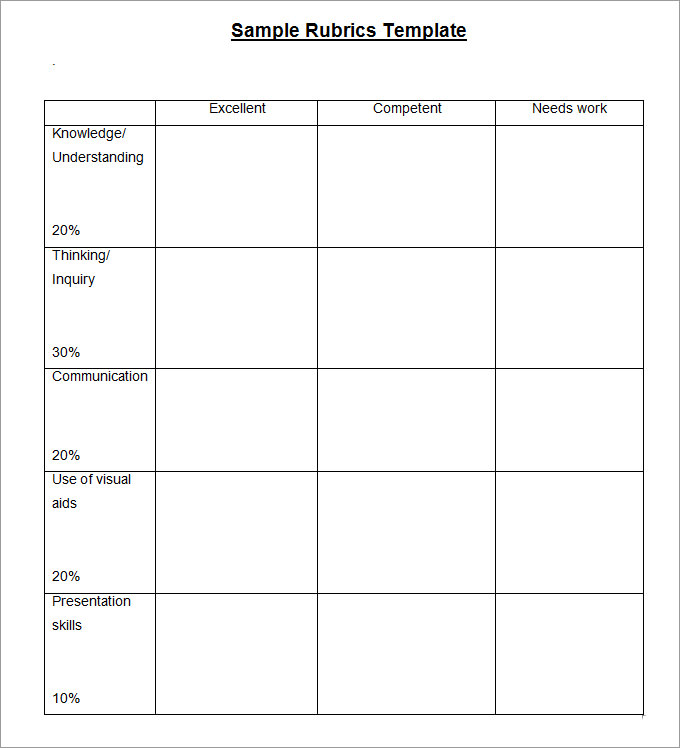 If you have any DMCA issues on this post, please contact us!