Having a business card is a must for professionals and freelancers. Moreover, when you're interacting with somebody professionally and they request you to give them your business card, etiquette states giving a business card is first sign of association building. If you don't have a business card ready as yet, why not take advantage of free blank business card templates? You can design all and any kind of business cards using the templates!You can also see business cards.
You can also customize these Printable Blank Business Card templates by adding your own fields or removing some unwanted ones and then fill in the details to get your business card ready at the touch of a button.
Blank Business Card Template in Publisher, PSD, Illustrator Format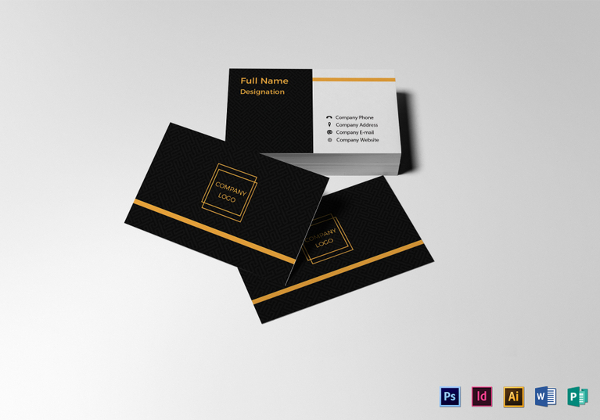 Download
Free Blank Business Card Template
Blank Business Card Template PDF
Hands Holding Blank Business Card
Blank Business Card Template Word
Blank Printable Business Card Template for Word
Blank Stationery Layout Business Card
Pink Modern Blank Business Card Template Customizable
Wooden Business Cards Blank with Star
Editable Blank Business Card Mock-Up
Blue Pattern Blank Business Card Template
This is a sophisticated and essential business card template that will help you align all of your text in a professional manner. The template has a transparent border along with a soft shadowed body for insertion of text. The template can be used by anyone in ecommerce businesses or anyone looking for professional proficiency. Download the template for $3 here:
Blank Studio Business Card Template
Kraft Brown Bag Paper Blank Business Card Set of 40
White Blank Business Card
Business Cards Blank Mock up
Blank Business Card Template
Colourful Blank Business Cards
Stack of Blank Business Cards Vector illustrated
Hand Hold Blank Business Card
Business Card White Blank Template
Llama Poo Paper Blank Business Cards
Blank Vector Business Cards
Blank Business Card in Black Colour
Photography Blank Business Card Template
White Paper Blank Business Cards
Blank Business Card On Transparent Background
Get Smart Business Cards with Professional Help
Blank business card template Word are made by professionals and experienced people and hence just by selecting the category you can get many ideas of how your card should look and what details are to be printed.
Using the blank Business Cards templates you can also customize the individual parts like the logos, names, numbers and other things and make them more attractive by individual editing.
Also, you can create colorful, formatted and textured business cards by editing the templates and then taking prints of the final cards.
If you have any DMCA issues on this post, please contact us!