Word Templates
27+ Pay Stub Templates – Samples, Examples & Formats Download!
Payroll management can be a very time-consuming affair, and if you've had the pressure of getting through a month's payslip generations' task, you'd know how difficult life can be without a good format. More importantly, you need a proper pay slip stub template that you can rely on to quickly generate pay slips for different employees. With some of the best paycheck stub templates coming to you from the world of premium and free utility templates, you can put your mind at ease. Like our invoice sheet templates, we have a variety of pay stub templates applicable for a small business, construction, school event, etc.
Clickable / Shareable Pay Stub Templates for You to Use
A pay stub is known by a lot of different names, like a paycheck, payslip, pay advice, and even pay-to-check stub. Undoubtedly, it is one of the handiest and most efficient, not to mention, important pieces of document in the corporate world. Managing the payroll of your employees can be tricky, time-consuming, and extremely complicated. What can complicate it further is if you do not know how to proceed with a pay stub, which has a more or less fixed format that is accepted throughout the world. Having a pay stub template handy will allow you to perform your functions with ease and in a shorter period.
Basic Pay Stub Template
Sample Pay Stub Template
Employee Pay Stub Template
Company Salary Pay Stub Template
> Why Is a Pay Stub Important?
A pay stub may have been replaced by electronic means today, but a paycheck is still a paycheck and that makes it just as important. If a pay stub being the proof of employment is not big enough a reason, then you must go through these reasons stating the importance of pay stubs:
If you've been reading the news lately, then you must have come across a couple of pay stub cases. Those are pretty common nowadays, each such legal case can settle for up to a whopping amount of $8.25 million. Is that enough to convince you?
Apart from being a proof of employment, it is also a proof of payment. Even the large companies are not immune to fraud if you are faced with one, this pay stub will be your weapon in the battle.
A pay stub that is efficient will need to contain all essential details, starting with the basics like names of employer and employee to the nitty-gritty of the matter. That will allow you to save this pay stub for future references.
Simple Pay Stub Template
Basic Pay Stub Template
Corporate Business Pay Stub Template
Earning Statement Pay Stub Template
Small Business Hourly Wage Pay Stub Template
> How to Choose the Right Pay Stub Template
If you've been looking for a good, well-designed check stub template, chances are, you've been disappointed; there are hundreds of different kinds of formats available that can send your head spinning. Your payslip template needs to be neat, it cannot have information cluttered all over the page. While dealing with finances, you cannot afford to be clumsy. A good payroll check template will allow you to convey the information to your employee, such that any confusion can be avoided. However, how you want your pay stub to look is entirely up to you—do you want it in color? Or do you want to stick with the conventional black and white paycheques? After you've answered these questions, you can proceed to the next step, which is the actual selection.
> Different Types of Pay Stubs
If you have been doing this for a while, you will know that a pay stub can be of different kinds. And each has a distinct purpose. However, the basic purpose of each type of pay stub remains the same – a document handed out by the employer to the employee as payment for his services. Some of the types are:
1) Electronic Paychecks
Gone are the days when an employee was paid for his services through a check. Now, most companies around the world prefer to pay their employees through electronic means, by using a wire transfer system. No physical cheque is used in this process, thus saving the company time and money. It also avoids the risks of fraud. Now the term paycheque is figurative and is used to refer to a pay stub or a payslip.
2) Payroll Cards
Now it might so happen that one of your employees does not have a bank account. In that case, what you can do is transfer his or her pay to a special payroll card. It is a lot similar to a debit card. Once you do so, your employee will be able to access his or her salary through this payroll card. This card can even be used at automated teller machines for withdrawing cash. This is a modern take on the traditional concept of a pay stub. It is in many ways convenient for both the company and the employee.
3) Payroll Warrants
A warrant of payment or a payroll warrant looks a lot like a cheque, which is why it is commonly called paychecks. But that is the unofficial term for it since there is no question of a checking account in this case.
Sample Cash Payroll Calculator Example
If you're looking for a good excel pay stub template which is easy to edit, you can try this one. It consists of all sorts of essential information, like employee ID, the name of the employees, the number of hours worked by them, vacation hours, sick hours, and overtime hours.
Payroll Deduction Calculator with Pay Stubs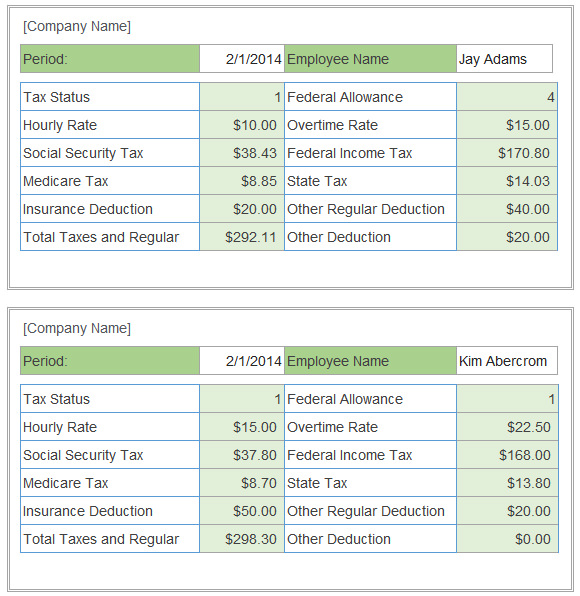 You can create a payroll calculator, which is efficient and useful, with the help of this free pay stub creator. You can insert details like the name of the employee, and his payment calculations, deductions, taxes, etc. on the pay stub.
Create Employee Paystub Template Free Online
Download
Editable Free Pay Check Stub Template PDF Format
cloudfront.net
This organized and well-designed pay stub sample is available in a PDF format, which you can download and edit as you please. There are separate columns for each, which allows you to arrange your information neatly.
Construction PayRoll Payslip Template
This is a payslip template that has fields for name, address, social security number, and other details per employee in addition to the fields for tax details. Keeping a track of payments for each employee has never been simpler and more organized.
>

Tips for Pay Stub Templates

Now that you know everything about pay stubs, you have to decide what it is you want in your payslip template. If you're still trying to grasp the above information, these few tips could help you out in your search:
A payroll template needs to contain essential information like the name of the employer, the employee's social security number, the employee's hourly rates, the total number of hours the employee has completed, the gross wages that the employee has earned, any kind of deduction, and finally the net wages the employee is supposed to get.
A payroll check template should be easy to edit, customizable, and ready to print. What is the point of a template if it just causes the user more hassle?
You can try out the exclusive stub templates available online; these make your job easier with most of the details already provided. It will help you keep track of employee records.
Pay Stub Template Invoice Sheet
Get your very own customizable pay stub with space for your logo and company details along with fields for employee information. Keep the account books up-to-date with the help of these printable forms.
Microsoft Word Paycheck Stub Template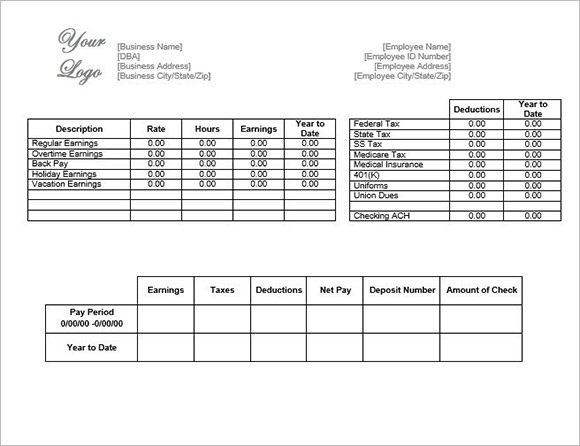 Pay Slip is a standard form that is highly useful for small companies during the issue of paychecks to employees. This has space for employee details, payments, rates, deductions, year-to-date salary, and much more.
Earning Statement Pay Stub Template Online
Download
This earning statement is easily downloadable, and once you do, you can easily customize it with your details. You can add your gross wages on the left, and the deductions and net wages on the right to give it a neat clutter-free look.
Free Download Company Pay Stub Template DOC
docspile.com
This pay stub template can be downloaded and edited fairly easily, you can mention all payment-related details in the spaces provided, to avoid confusion and queries later on.
Canadian Pay Stub Template
Use this printable template to make your payroll look professional and accurate. With largely predefined sections, this template helps to keep the payroll of any company especially small ones up to date with ease.
Blank USA Pay Stub Template PDF Printable Download
wikidownload.com
This free printable pay stub template is completely blank, allowing you to fill in whatever details are necessary. It would be the perfect example of a pay stub, and you can follow it to come up with your own as well.
Canadian Pay Stub Template
Use this printable template to make your payroll look professional and accurate. With largely predefined sections, this template helps to keep the payroll of any company especially small ones up to date with ease.
Payroll Template with Stubs MS Excel Download
templates.openoffice.org
This free paycheck stub template contains all the essential information required in a pay stub, like the name of the company, the employee's name, his details, his billable hours, his total earnings, tax deductions, and finally the net payment to be made.
Pay Stub Template in Excel Format
This is a wonderful template that has sections predefined for wages and deductions. Put in the descriptions, hours of work, rate, etc., and let the template do the calculations for the payable gross and deductions for each employee.
Monthly Pay stub Administrator Printable Sample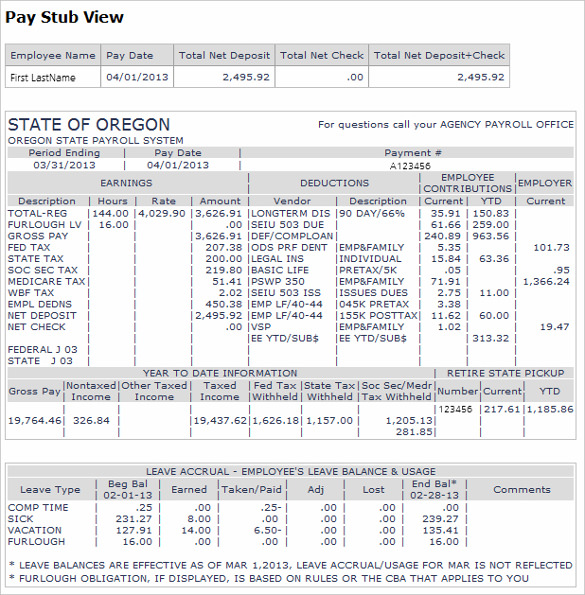 Download
Pay Stub Template PDF Format
Calculate and record your employee payroll with this template. The three worksheets included are for employee wage and tax information, pay calculation based on overtime and regular hours in addition to leaves, and the final one to generate paystubs.
Modern Paystub Template PDF Format Free Download
paycheckstubonline.com
This blank pay stub template would help you calculate an employee's net wages. You can write his total earnings, gross pay, deductions and taxable amount, and net pay at the end. It is a comprehensive pay stub, which can come in handy.
These templates allow you to quickly key in the name and other details of the intended beneficiary, and updating of the pay to be given under different sections and subheads. Also, some top-notch blank check templates come with integrated calculation functions that can quickly provide accurately added amounts. Such templates make payslips generation infinitely easier than any manual method, and that's why such templates are right up there in the desired list of people from the accounting and finance departments of companies. With advanced payroll management functionalities such as calculations of dues, arrears, and outstanding, and detailed calculations based on details such as overtime hours, sick leaves, annual leaves, vacations, etc., you can entrust pay stub templates with the complete payslip creation responsibilities.
Advanced paycheck stub templates also create charts, graphs, and bar graphs to showcase information visually, integrate company logos, headers, footers, and also leave space for manual comments to come before or after printing. Printing payslips in different formats, paper sizes, and orientations are also facilitated without any hassles with these pay stub templates at your disposal.
According to the Bureau of Labor Statistics, 36.5% of privately owned businesses in the United States pay their employees biweekly or once every two weeks. Meanwhile, 32.4% pay them weekly.
Only 19.8% of these companies pay semimonthly and 11.3% monthly.
The number of paychecks employees receive in a year depends on the pay period their company follows. Therefore employees will receive 12 paychecks annually if paid monthly, 24 if semimonthly, 26 if biweekly, and 52 if weekly.
>

Dos and Don'ts for Pay Stubs Templates
Dos
Check for security measures before you download pay stub templates. You need to make sure it is secure before going forward.
Check and recheck if you have missed out on any important information. Everything must be included in the pay stub.
See that it saves your company time and money, and saves you the hassle of having to do it manually.
Don'ts
Don't be impulsive while selecting a pay stub for your company, taking time to decide now will only be helpful in the long run.
Don't compromise when it comes to selecting
Don't forget to itemize and include accurate information in the pay stub
>

We Are Here to Help

At template.net, we know how important your pay stub is to you. To save you trouble, we have come up with numerous helpful and handy free printable paycheck stubs that you can download. All you have to do is select the one that meets your requirements, and edit it with your employee's details.
General FAQs
1. What Does a Pay Stub Mean?
A pay stub is a piece of paper that is provided to an employee alongside their paycheck. The pay stub outlines various details of an employee's pay and it shows the taxes, insurance costs, and other deductions that are taken out of an employee's earnings.
2. How Can an Employee Receive a Pay Stub?
Pay stubs are provided to employees by their employers. Those who get paid through direct deposit can get their pay stubs either through e-mail or by consulting the human resource department of the company.
3. What Does a Pay Stub Consist Of?
A Pay Stub contains the following information:
Employer and Employee details
Gross Wages
Tax and Other Deductions
Net Pay
4. What Is the Importance of a Pay Stub?
Pay stubs help companies verify the employment of an individual during interview processes. It also helps employees to secure loans from banks by proving that their income is sufficient to support the cost of the loan or rent.
5. Is it Mandatory For an Employer to Provide Pay Stubs?
It's not always mandatory for employers to send their employees a pay slip according to The Fair Labor Standards Act (FLSA). However, an employer must keep accurate records of employees' work hours and salaries.