Imagine your car has been totaled and you stare at it, wondering, "What next?" After all, it was your favorite car. Yes, you can't undo the entire incident but you can certainly get your car repaired. No matter where in the world you live, you have access to auto repair services. No big deal! The big deal is in getting it done the right way. There are irresponsible auto repair companies that wrongfully bill more than the actual repair costs. But falling prey to such snake oil sellers is not only dangerous but also foolish. You may visit Roofing Estimate Template.
Why foolish? Because such bad experiences can easily be avoided by getting an estimate of the repair work prepared. There are Repair Estimate Templates available these days that you can refer to for some idea regarding how this job is done. You can also see Blank Estimate Template.
Repair Estimate Template
Auto Repair Estimate Template
Home Repair Estimate Template
Repair Estimate Template PDF
Repair Estimating Sheet Template
If you are a repair estimating company then it is advisable for you to prepare your estimation draft in the best possible manner. While it is good to incorporate your own inputs, there is no harm in getting inspired from established sources. For small repair estimate companies dedicated to creating quality estimates for their clients, following an Audatex Repair Estimating Sheet Template could be of help. You may also see Estimate Template Formats
Repair Estimation Information Form Template
Repair Estimation Information Form Template is a document that entails every bit of information about a repair work to be done. There are fields that require to be filled out and other particulars that need to be checked off. Everything starting from customer information to source of repair payment is included in this document. You may also check out here Cost Estimate Templates.
Bureau of Automotive Repair Estimation Template
If you wish to know how an estimate from the California bureau of automotive repair looks like then downloading a Bureau of Automotive Repair Estimation Template would help you. The uniqueness of the template is that it's content heavy without being clumsy. You may also see Estimate Templates in Word
Repair Estimate Order Form Template
ASE Collision Repair Estimation Template
ASE Collision Repair Estimation Templates are detailed yet comprehensive. The items in the document have been stated point-wise, which makes having a run down through it easy. This template can offer you a great deal of idea regarding how ASE collision repair estimation is made. You can opt for this template to improvise on your own estimation draft.
Repair Estimate and Return Form
Property Repair Estimate Sheet
Mobile Repair Estimate Template
Structural Repair Cost Estimate Template
Body Shop Repair Estimate Example
This is yet another template specimen for repair estimate. This sample is an elaborate one, and it covers the basics such estimate of repair costs, labor, parts as well as sublet. At the top-left corner of the template there is space for insertion of a company logo, if you wish.
Repair Estimate Quote Template
This template is a more concise version of a repair estimate document. It is a repair estimate quote, to be precise. It is in landscape format. The contents of the mockup have been placed in sections. You can download this mockup and make edits of your own choice. You may also see Work Estimate Templates
Auto Repair Estimate Template in Excel Format
This template is for outlets that specialize in car repairs. The repair estimate template contains a detailed table with multiple fields wherein you specify details about the car, in another section you can mention the descriptive details of the services – names of the car parts repaired/replaced. At the top center, you can specify your company name and other specifics. You may also check out here Sample Estimate Templates.
Car Repair Estimate Form Template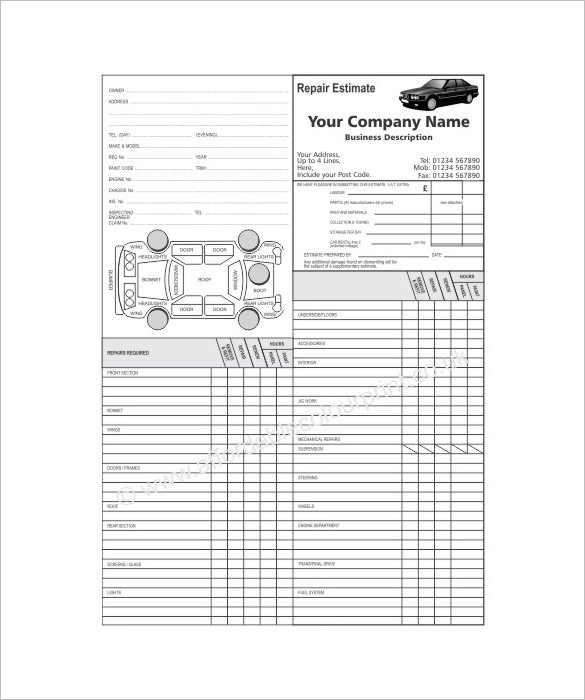 This is a very long, detailed and illustrative repair estimate template, best to be used for car repairs. This mockup carries an illustration of a car and labeling each of its part. On the right-side top of the document, ample space is given to edit and add your company logo and details. You may also see Construction Estimate Templates
Automotive Repair Estimate Template
Why repair estimation templates are useful to a common man
often than not, we try to understand the nitty-gritty involved in the preparation of an estimation but fail to do so mostly because the corresponding modus operandi is beyond our understanding. It's also difficult because common people are not given access to such information. All this makes it difficult for the average Joe to get a hang of the entire process of repair estimation. Templates help a great deal in this regard. By referring to a template, you actually come to know of the factors estimation companies keep in mind while preparing an estimate. You may also check out here Roofing Estimate Templates.
Conclusion
Download these templates from any trusted source absolutely free of cost. In case you want the superior quality lot, you may have to spend a little extra. Don't worry, the charge is minimal. People also love the quality these templates offer on paper. All in all, they are a must-have. You may also see Contractor Estimate Templates.
If you have any DMCA issues on this post, please contact us!