Are you confused about your brand promotion due to a number of branding options available in the market? Then we got you here. Use the strategy plan templates that are available on the website to get an idea on how to create the right strategic plan for your brand.
Brand Strategic Plan Template
A brand strategic plan mainly focuses on how you can convey your products and services to your target audience. Most consumers purchase their purchases on brand and face value. So, it is very essential that you build your own brand and maintain its consistency in the variety of products and services you provide. Increase the quality and quantity whenever needed.
Strategic Plan Template
Strategic planning helps in controlling mechanisms that guide the application of this strategy. Use this strategic plan template to create the best plan for your business, so you don't have to create one from scratch up.
Strategic Sales Plan Template
You can also see the content strategy template, which will be of great help in facilitating your strategic plan. The results of this template are so perceptible that you would want to use it again and again to plan your brand strategy. It helps you ease the stress of creating a plan from scratch.
Branding Strategy and Marketing Template
The template here has come up with an attractive illustration on branding strategy & marketing by presenting the different steps of marketing through engaging icons for a fast grasp on the idea. It is a well detailed and excellently created template which takes into account each and everything that can help you to brand the product.
Branding and Marking Template
This template has in the instructions on awards branding strategy, where you will get to know the different points to be included for any strategic plan to work. It is very necessary that each brand should be marketed properly for it to sustain the changes in the market.
Sample Brand Strategy Template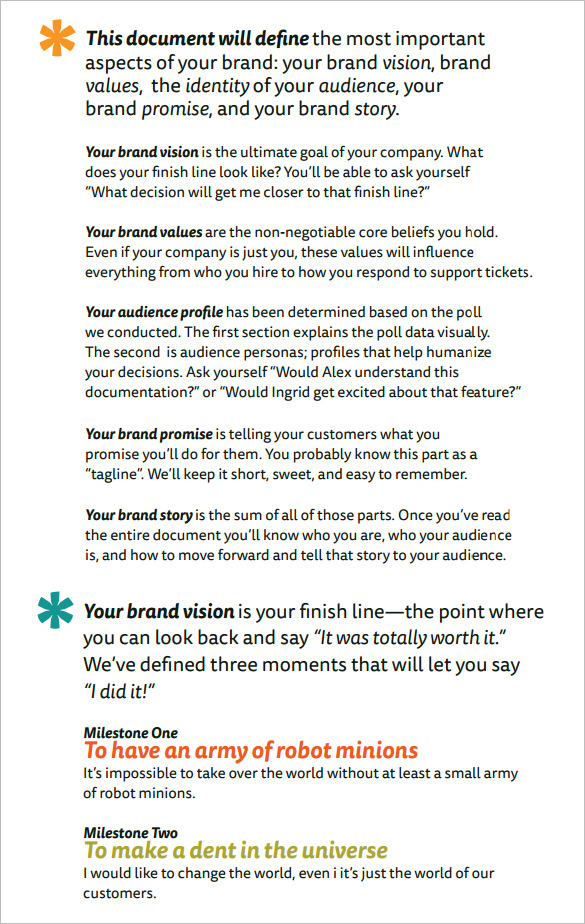 If you need ideas on what goes to structure a proper brand strategy, this template would be highly resourceful as it has discussed the different sections of such a strategy like brand vision, brand values, audience profile & brand promise.
Create a Brand Strategy Plan
1. Define Your Brand
The first step towards creating a brand strategy plan is to know what you are as a brand. This way, you can easily define your brand for your customers. You should spend enough time researching, defining and building your brand. Your brand is a source of a promise to your customers that you will help them in every possible way. Use research strategic plans for more. When you define what your brand is, you are giving the clients a foundation on what you do and what services and products you provide that might be a benefit to them.
2. Brand's Objectives
Once you are done defining your brand, the next step would be to define your brand's objectives. For that, it is very important that you know what your brand is all about along with its goals, etc. These objectives and goals are to be met by everyone working in your organization. Mention the main purpose of your brand, its consistency and also, the emotional impact as they are the three main components that have to be present in a brand strategy plan.
3. Target Audience
You should know who your main target audiences are so that you can promote your brand to them in the most appropriate way. Research your target audience, so that you know what is it that they want from you exactly. Have to ability to focus on your target audience, this way you can come up with new ways to reach out to your audience in the best possible way.
4. Possible Barriers
Regular analyses will help you spot barriers that might affect your brand. These can be threats from either external or internal sources. This will also help in developing your brand positioning. When you are creating a strategy for a product or service, perform careful analysis so that you can know if there are any loopholes in the brand and the plan.
5. Brand Packing and Identity
The brand is an identity of your business and company, just like your face is to family and friends. It is how your competitors and others see you in the marketplace. It has to say what it is supposed to. Since the packaging defines your company's brand and identity, make sure that it is done in the perfect way possible. If your packaging isn't unique and makes you look better than the rest, change it.
Brand Strategy Plan Template
If you need a push on starting with your brand strategy, this template here would be really handy for you with its pointers on how to progress with the project step by step from the start.
Brand Strategy and Graphic Standards Template
This template here offers a readymade guideline on how to format a brand strategy and what would be the different sections to be included here such as positioning statement, brand promise or strategic tagline.
Business Branding To Life Template
www.mckinsey.de |
This strategy template here brings in very interesting details on business branding starting from the history of business branding, how brands influence the business customers as well as the stakeholders and so on.
Audit Your Current Brand Strategy Template
cdn2.hubspot.net |
If you are looking to audit your present brand strategy, this template here would be resourceful with its insights on the elaborate definition of brand, how it survives the market and why effective brand strategies are important for the growth of the business.
Strategic Brand Management Template
people.exeter.ac.uk |
This template here shows the relation between consumer perceptions and company intentions and in between, you have the marketing communication process linking the two- offering a clear picture of brand image and brand identity.
Building Great Brands In the Digital Age
www.nielsen.com |
You are getting an insightful template document here that shows how much time is spend by people in major media and you will also find a bar graph that shows the time spent online by different age groups for various activities.
Brand Strategy That Shifts Demand
www.wipro.com |
This document here offers an interesting discussion on how brands are able to shift demand which is followed by a chart that measures the strength of 2 brands for twenty-one product categories. This template helps you in making the best strategy plan for the branding of your products or the services you provide.
Bringing The Corporation Into Corporate Branding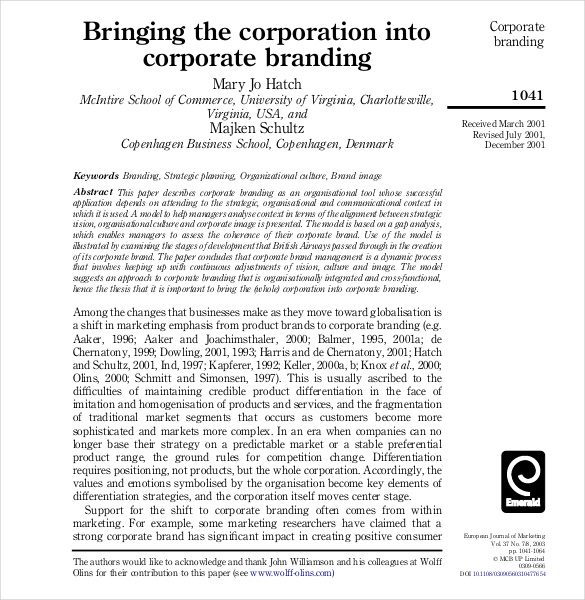 www.kommunikationsforum.dk
Defining Brand Strategy Template
www.blackbaud.com
Branding Strategies Design & Implementation
commfaculty.fullerton.edu
Since now you know that strategic planning is a very important part to run any kind of business, you can use any of the templates available on our website for more help. You can use them when you are launching a new brand, product or service.