When a firm tries to evaluate the strengths and weaknesses of its past, current and potential competitors then it is said to be doing competitive analysis. This kind of analysis can be done by assessing and scrutinizing competitors' key business skills, strategic management skills and marketing skills and recording them in a Competitive Analysis Template. You can also see Sample Risk Analysis Templates.
Sample Competitive Analysis Template
Competitive Analysis Example
Sample Competitive Market Analysis Template
Sample Small Business Competitive Analysis
Simple Competitive Analysis Chart
Social Media Competitive Analysis
Product Competitive Analysis
Competitive Analysis Template in Word
Competitive Pricing Analysis Template
Website Competitive Analysis Template
Competitive Gap Analysis Template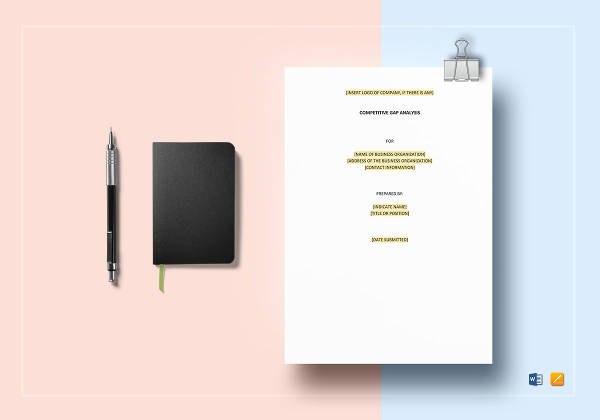 Worksheet Competitor Analysis Template
Competitive Forces Analysis Template
Competitive Analysis Template
Competitive Analysis Sample
Competitors Analysis Template PDF
Product Competitive Analysis Template
Competitive Analysis Template Excel
Competitive Analysis Report Template
The Competitive Analysis Report Template enables you to define your competitors in a detailed manner and to analyze their current potential and business capabilities with ease. You can easily conduct a market research sessions and find out all the companies that are producing products, services or both as per your production and service array. You may also see Business Analysis Templates Sample.
Competitive Landscape Analysis Template
Competitive Analysis Comparative Chart
The Competitive Analysis Comparative Chart helps you to capture all the important information of your competitors that is analogous to yours. All you need to do is to download the template, fill in the following data and replace the existing one as per your collected details, to get hold on a detailed competitive analysis report, resulting in helping taking important business decisions with ease. You may also see Market Analysis Templates.
SWOT Competitive Analysis Template
The SWOT Competitive Analysis Templates help you to critically analyze Strengths, Weaknesses, Opportunities, and Threats of your competitors to ensure that you take important business decisions with ease. Evaluating the strengths and weaknesses of your competitor's past, current and potential capabilities can help you define a detailed competitive study that can be useful while defining your future plans in accordance to maintain an edge over them. You may also see Analysis Samples.
How These Templates Can Help?
Competitor analysis is a highly crucial aspect that one must perform to know the capabilities of their existing competitors and to analyze their business potential when compared to market trends. All of these templates provide space to define, describe, enter, and measure various defensive means; identify opportunities and other crucial aspects and threats that can help you maintain Stakeholder Analysis Templates of an edge over your competitors.
Gaining knowledge of your rivals, their financial capabilities, their hands-on expertise and industrial background, the array of products they offer and their target markets and many other factors are some of the common measures for bringing success to your business.
They aid you in competitive analysis and capture the state of your industry as compared to others within a few hours. Using these templates and discussing the collected data in business meets can help you figure out gaps in your competition's strategy with ease. Additionally, you can also adjust the factors that your business has or the issues that it is currently facing to take an advantage of accessing new opportunities for expansion or planning for new business events. You may also see Task Analysis Templates.
If you have any DMCA issues on this post, please contact us!