Word Templates
23+ Competitive Analysis Templates – Word, PDF, Apple Pages
When a firm tries to evaluate the strengths and weaknesses of its past, current and potential competitors then it is said to be doing competitive analysis. This kind of analysis can be done by assessing and scrutinizing competitors' key business skills, strategic management skills and marketing skills and recording them in a Competitive Analysis Template. You can also see Sample Risk Analysis Templates.
Sample Competitive Analysis Template
Get to know more about your business competitors by using our premium Competitive Analysis Template that is well-crafted. This document will help you in analyzing your competitor's strengths and weaknesses, pricing structure, and all their other activities. This way, you can come up with different strategies to get the edge over each and every competitor of yours. Customize and edit as you wish.
Competitive Analysis Example
Download and use our Competitive Analysis Template as it will help you assess whether a product/service produced by your company is unique and attractive for your target market or not. It also lets you evaluate your competitors and how they influence the attention you get from your customers. You can edit this file on different programs such as MS Word, Google Docs, and Pages.
Competitive Landscape Analysis Template
Are you in need of an analysis template that can identify your competitors and at the same time, analyze their mission, vision, core values, niche market, strengths, and weaknesses? If so, then do not waste any time as you can make use of our "Competitive Landscape Analysis" template. The ready-made file is designed to be user-friendly. Help your company identify what it needs to improve upon in terms of its competition by hitting on that download button now!
How to Draft a Competitive Market Analysis Report in 5 Steps
Step 1: Give Your Company Introduction
A competitive market analysis should be well documented as it will allow you to come up with the right strategies for your company. You can start drafting your analysis report by firstly providing information related to your company. Talk about the services that your company offers and how it plans to expand its business.
Step 2: Provide Your Competitor's Profile
After providing information about your company, you can start presenting details of your competitors. List their names as well as their primary location, branches, and the number of employees if possible. Write down their market advantage and the strategies they are implementing for the promotion and sales of their products.
Step 3: Compare the Products and Services
Next, compare the products and services offered by your competitors along with their prices and note them down in a tabular column. Also, specify their product quality.
Step 4: Conduct SWOT Analysis
Now, conduct a SWOT analysis of your company as well as your competitor's company so that you can determine the strengths, weakness, opportunities, and threats that are being faced.
Step 5: Specify the Strategies
Lastly, specify the strategies that can be implemented in order to boost the market position of your company and product. End the report with a conclusion and any recommendations, if necessary.
Sample Competitive Market Analysis Template
Competitive Pricing Analysis Template
Sample Small Business Competitive Analysis
Simple Competitive Analysis Chart
Social Media Competitive Analysis
Product Competitive Analysis
Competitive Analysis Template in Word
Competitive Pricing Analysis Template
Website Competitive Analysis Template
Competitive Gap Analysis Template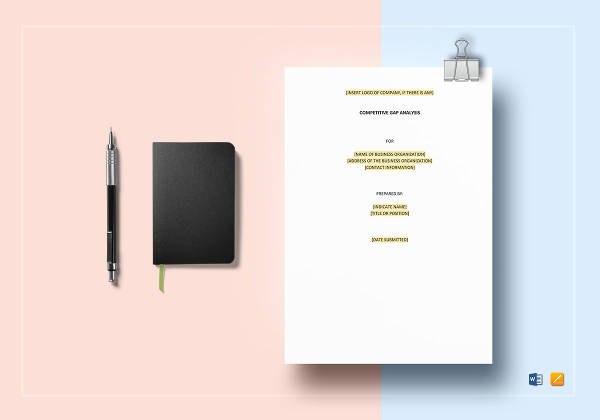 Worksheet Competitor Analysis Template
Competitive Forces Analysis Template
Competitive Analysis Template
Competitive Analysis Sample
Competitors Analysis Template PDF
Product Competitive Analysis Template
Competitive Analysis Template Excel
Competitive Analysis Report Template
The Competitive Analysis Report Template enables you to define your competitors in a detailed manner and to analyze their current potential and business capabilities with ease. You can easily conduct market research sessions and find out all the companies that are producing products, services or both as per your production and service array. You may also see Business Analysis Templates Sample.
Competitive Landscape Analysis Template
Competitive Analysis Comparative Chart
leeds-faculty.colorado.edu
The Competitive Analysis Comparative Chart helps you to capture all the important information of your competitors that is analogous to yours. All you need to do is to download the template, fill in the following data and replace the existing one as per your collected details, to get a hold on a detailed competitive analysis report, resulting in helping to take important business decisions with ease. You may also see Market Analysis Templates.
SWOT Competitive Analysis Template
businessballs.com
The Competitive SWOT Analysis Templates help you to critically analyze Strengths, Weaknesses, Opportunities, and Threats of your competitors to ensure that you take important business decisions with ease. Evaluating the strengths and weaknesses of your competitor's past, current, and potential capabilities can help you define a detailed competitive study that can be useful while defining your future plans in accordance to maintain an edge over them. You may also see Analysis Samples.
How These Templates Can Help?
Competitor analysis is a highly crucial aspect that one must perform to know the capabilities of their existing competitors and to analyze their business potential when compared to market trends. All of these templates provide space to define, describe, enter, and measure various defensive means; identify opportunities and other crucial aspects and threats that can help you maintain Stakeholder Analysis Templates of an edge over your competitors.
Gaining knowledge of your rivals, their financial capabilities, their hands-on expertise, and industrial background, the array of products they offer and their target markets and many other factors are some of the common measures for bringing success to your business.
They aid you in competitive analysis and capture the state of your industry as compared to others within a few hours. Using these templates and discussing the collected data in business meets can help you figure out gaps in your competition's strategy with ease. Additionally, you can also adjust the factors that your business has or the issues that it is currently facing to take advantage of accessing new opportunities for expansion or planning for new business events. You may also see Task Analysis Templates.
More in Word Templates