Word Templates
7+ Grocery List Templates
Do you have the habit of picking items at the grocery and then paying for them without planning for a purchase? I am sure by now you have wasted a lot of money buying items that you never found useful in the first place. And you have done this, not once but quite a couple of times. You can also see Blank Grocery List Template. Now, let us change the bad habit a bit and then help you save your time and money where possible. Have you heard of printable grocery list template? The Free Grocery List template can help save you time and money because once you have the list of items you want to purchase, you just go to the grocery Store, pick what is on the list, pay at the counter, and get back home. It is that simple for sure. You may also visit Grocery Checklist Template.

Free Basic Grocery List Template in PDF & Word Format
Basic Grocery list template is a white background paper that contains categorized food items. The template allows you mark food items. Go for shopping and buy all required stuff without leaving a single item. You can customize food categories and sub-categories as your need.
Printable Grocery List Template in PDF & Word Format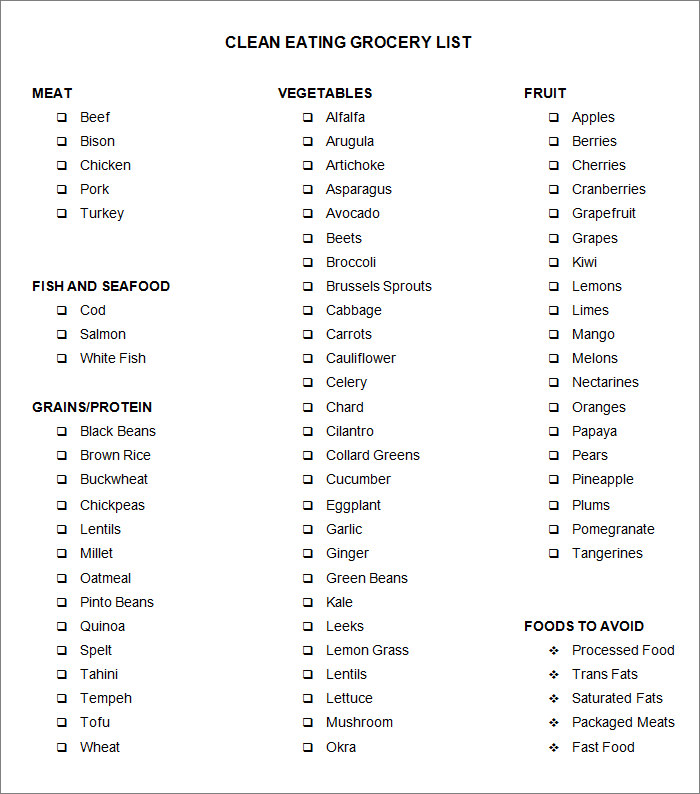 Printable Grocery List template is compatible with both laser and inkjet printers. The template is available in both PDF and Word format. Big paper size allows you to include more food items in the list. The template has by default 6 categories that include Meat, Vegetables, Fish/SEAFOOD, Fruit, and foods.
Blank Grocery List Template in PDF & Word Format
Blank Grocery list template is a print ready Word and PDF format design. The template has an organized structure where you can write down food items under categories. White font color is used to highlight food category while you can write food item name on the blank black line. Prepare your list and go for shopping to buy best food items.
Grocery Shopping List Template in PDF & Word Format
If you purchase a big list of grocery every month then you should use Grocery Shopping list Template. Download the template and customize it to get a big room for including your food stuff list. You can access both Word and PDF template version for best quality print.
Healthy Grocery List Template in Excel & PDF Format
Cheap Grocery List Template in Word & PDF Format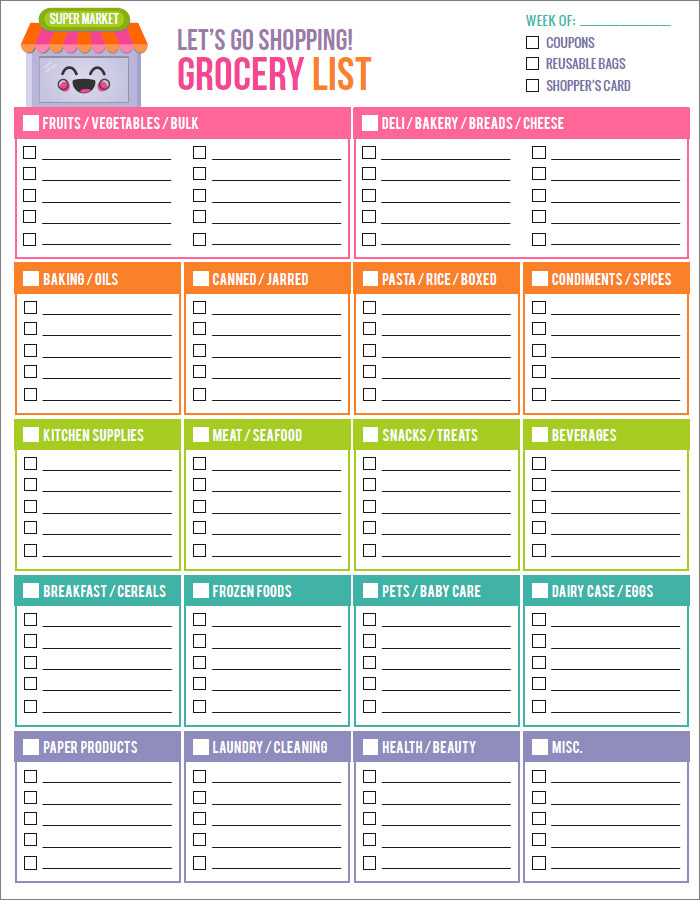 Vegan Blank Grocery List Free Download in PDF & Word Format
> Why the Templates are a Great Idea
The following are good reasons why you want to consider using the Grocery Shopping list template to prepare your grocery list:
The template is in softcopy. This means you can edit them easily if you make a mistake like including an item you do not need to purchase at the time.
The list ensures that you buy only what you have planned. Once you start using this Grocery List template Word,PDF there will never be a room for anything like impulse purchase.
You end up saving money, because you do not spend your money on things you did not plan for, the unnecessary grocery productions.
You can download, customize and personalize the template to match your taste and preference on color and design.

> Purpose of Grocery List
A person should prepare a list of grocery items, before leaving the home. It helps him/her to buy all required stuff in a single visit. A preplanned grocery list reduces the risk of over-budget.

> Conclusion
Grocery list template is a demanding stuff among today's generation. Make a plan, organize the list and enjoy the best shopping experience. We deal in both free and premium grocery list templates. Our designs allow easy customization and offer high-quality prints. Our templates work best with both old and current Microsoft-Word versions.