Social media as the name suggests is the medium to get connected with people. So, for any businessman, entrepreneur, and marketing manager, a strategy is very important as it helps in deciding the branding of the services that the company provides. Social media plays an important role in the right marketing of the company.
Social media marketing may look simpler in speaking but, is a determinate process to get the desired output. Social media marketing strategy developer is charging a lot to the ones who need it. We have made it easier for you with the help of these templates that are mentioned below.
101+ Social Media Agency Templates in PDF, Word, Excel, PSD, Google Docs, PowerPoint, Apple Pages, Google Sheets, Publisher, Apple Numbers, Illustrator, Apple Keynote, Google Slides - START DOWNLOADING
Simple Social Media Strategy Plan Template
As social media is now one platform that covers so much ground when it comes to reaching an audience, it is no wonder companies rely on social media for advertising and marketing. This social media strategic plan template that is mentioned above can be of great help to you. It summarized all the marketing actions and plans using different social media platforms like Instagram, Snapchat, etc.
Social Media Strategy Proposal Example
Strategies conducted by successful businesses come from effective proposals. For your business to gain success in social media, prepare your social media strategies with a high-quality and professional social media strategy proposal. This template is fully customizable and organized to cater to your business's strategic social media activity preparation. All you would have to do is download the template, edit and customize to suit your needs perfectly. Try it out now!
Social Media Strategy Template PDF Download
You are getting an edgy cover for your social media strategy plan here with the social media buttons and the different icons that represent the digital world at its best. You will be able to add your logo in the middle.
Social Media Strategy Template Pdf Free Download
If you are not sure about what to include in a standard social media strategy plan, this temp0late here would be handy for you through its readymade framework on the different points and contents of such a plan.
Social Media Strategy Template Pdf Download
A social media strategy comprises a number of sections and if you need help in what to include under such sections, the template here offers some tips or suggestions.
Free Social Media Strategy Template Pdf Download
The above template is an 8-page classy template, that helps you in marketing your company on social media as you need. This black and white colors in the template will allow you to add both texts and graphs as per your interest, as this will make your strategy more interesting and you can give a trendy presentation.
Social Media Strategy Free Download PDF Format Template
rossdawsonblog.com
If you need to pan out a social media strategy for your organization and brand, then this above-mentioned template is the perfect one for you. It shows the different activities that can be included in your plan such as which goals and objectives should be prioritized, how to engage in the market and so on. In this technologically advanced world, it is very important that one must be on par with the growing stream.
Create a Social Media Strategy in 5 Steps:
Step 1: Set Goals
The first thing you need to do is make a list of goals you need to fulfill. This means that your goals can be business, developmental and learning goals. The goals you list should be SMART, that is, specific, measurable, attainable, relevant and time-bound. Check organizational strategy for more. This time of a goal framework will help you fulfill your goals properly and in the most effective way possible.
Step 2: Learn About your Audience
You must learn who your audience is so that you can understand better as to what they would want from you. You should understand their personas so that you can make the right plan needed. You need to understand who your target audience is, as this way you can make the plan in general so as to attract more clients and audience towards your brand.
Step 3: Know your Competition
Knowing your competition is one of the most important things for you to do. This will make you understand the market better and also, will give you more ideas on what you need to do to be better and more unique than them. Try to make a competitive analysis of what is happening in the market. Such an analysis helps you understand who your competition is and what are their strengths and weaknesses. This way, you will understand what is expected in the industry.
Step 4: Analyze your Position
Do a good research of the market, so that it is easier for you to analyze your position in the market. This way, you can also make a note of the efforts you are making, your strengths and weaknesses as well. Gather all the necessary information and then start making the needed steps to improve results. If there are any important accounts that might affect your brand and its reputation, then it is always better for you to know what these accounts are, so that you can save yourself from the pain and shame.
Step 5: Test, Evaluate and Optimize
Test your strategy once you make it so that you will have a brief idea of how successful it can be. Evaluate the results you get from this and the response from the audience. Make the necessary changes wherever needed, so that it gets easier for you to make the right strategy needed to improvise your brand. Review your strategy once you make it so that you do not go ahead with mistakes, but only with a precision of what to do.
The Essential Guide To Marketing Free PDF Format
redandyellow.co.za
.You are getting a comprehensive lesson on how to use social media for business here through sections like the key terms & concepts, how to use it solve business challenges or how to use social media strategically.
Word Of Mouth Marketing PDF Format Free Template
een.edu
This template gives you an expert summary of word of mouth marketing through the main base of social media. This has pointers on the challenges you might face on your way to success and how you can possibly tackle these issues successfully. Try this template now!
Social Media Strategies In Small Businesses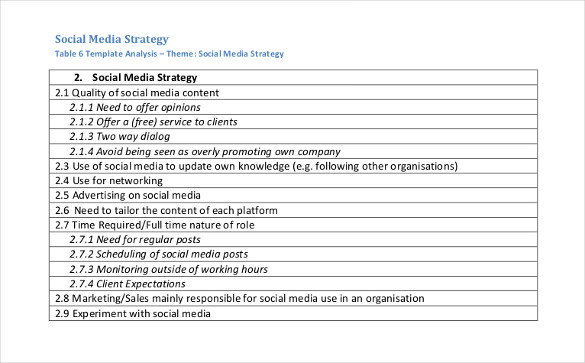 nemode.ac.uk
A social media strategy involves a series of actions and contents and the template here highlights the main things to be included in your social media marketing plan such as the media content, advertising on social media, etc.
Social Media In The Recruitment Process
acas.org.uk
Social media is now increasingly used as a background check for the potential employees by organizations before hiring and the template here offers a brief report on that practice, including survey findings.
Arts Social Media Strategy And Planning Tool
uwaterloo.ca
If you need ideas on how to create a potential social media environment for your business here are the expert points that tell you about the different objectives you have to meet and the processes for them.
How Implementing Social Media Strategies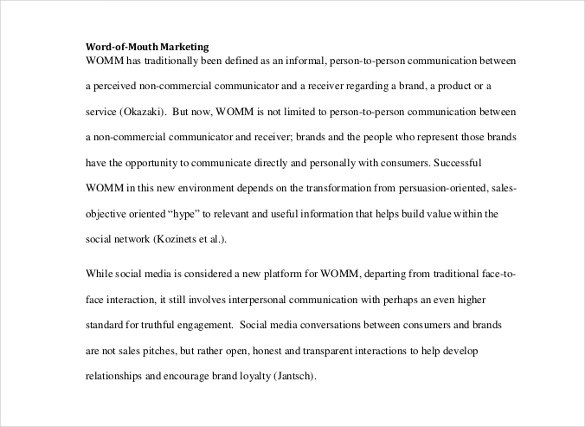 american.edu
Creating A Social Media Strategy
socialbusiness.hootsuite.com
Developing A Social Media Strategy
failteireland.ie
Wrapping Up:
Communicate with your followers whenever needed, as they are the only ones who can give you the right advice and comments. They are the ones whose criticism helps you get better. Check strategic action plan templates to get a better idea on how to make the perfect action plan. Find the right inspiration and also, mention the success stories needed. Track all the data needed to be tracked, so that you have a better idea of what to do. Track all the metrics needed to know what is happening in and around you.
Images, videos, blogs, vlogs, etc. are great social media attraction. Modify your strategy now and then to keep up with the changing technology and society too. This way, you can come up with the latest updates of everything. Check a 3-year strategic plan template for more details. Collect real-world data and now what the audience thinks about you before you make the plan, so that you will know what is it that they exactly expect from you.