Starting a business can be a challenging task, especially when it comes to managing accounts. So to make your start-up business fully prepared for everything that's coming, we provide these Ready-Made IT/Software Accounting Templates! With the use of these high-quality and exceptional products, your accounting section or team will be on a roll. These fully customizable templates are even available in Microsoft Word, Apple Pages, and Google Docs file formats for your ease. So get this deal today. Relax your way into development. Download any of these editable and printable templates today and speed up your accounting teams work on a double!
How to Create an IT and Software Accounting Template?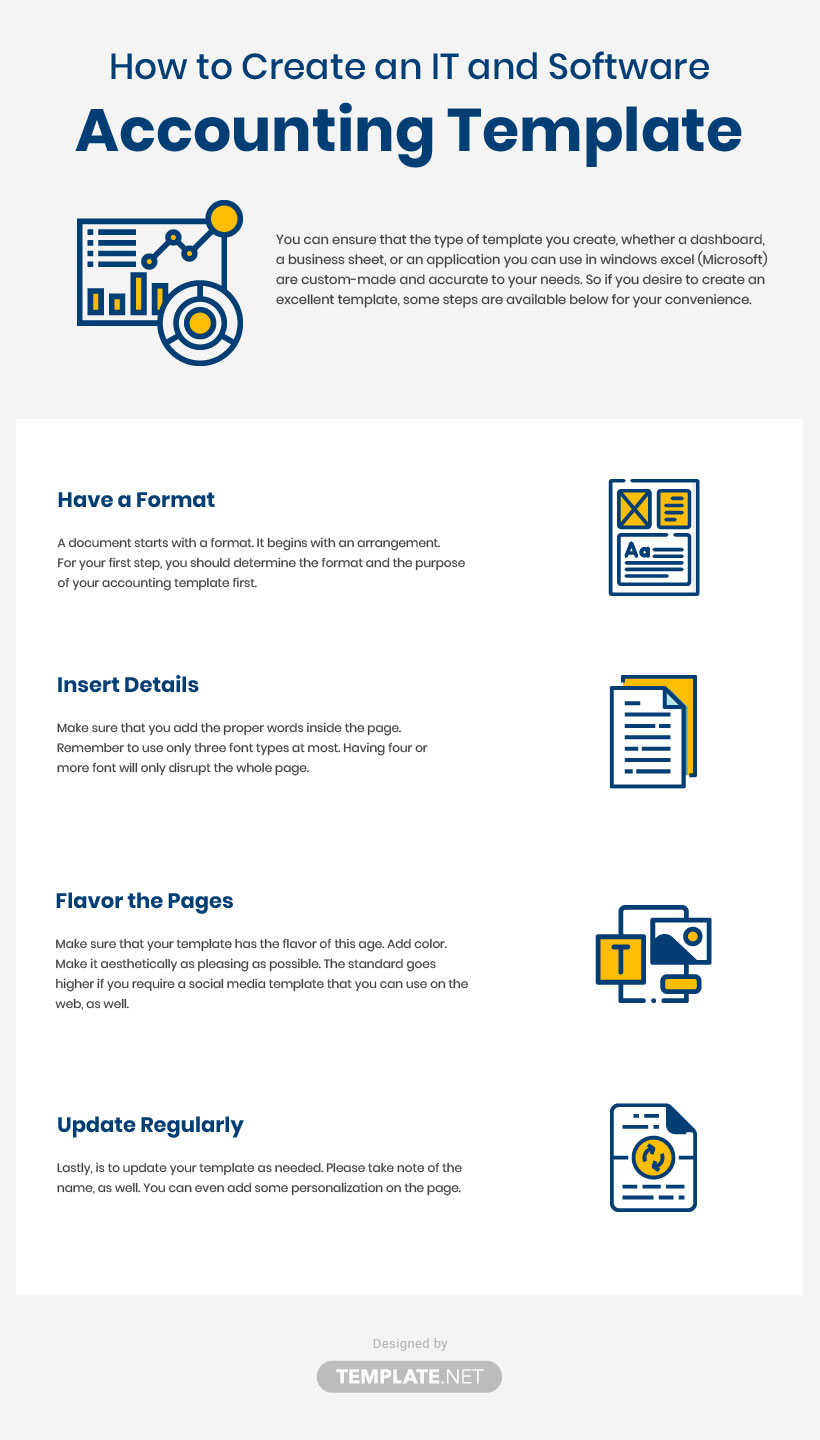 To create an IT and Software accounting template is easy. Although some standards exist on the market, creating your own is an excellent choice as well. In this way, you can ensure that the type of template you create, whether a dashboard, an IT Business sheet, or an application you can use in windows excel (Microsoft) are custom-made and accurate to your needs. So if you desire to create an excellent template, some steps are available below for your convenience.
1. Have a Format
An IT Document starts with a format. It begins with an arrangement. The SAP ERP application didn't happen by chance. Instead, it had steps and vision. So for your first step, you should determine the format and the purpose of your Accounting Template first.
2. Insert Details
So you have a beautiful setup. The arrangement feels perfect. Now it is your turn to insert organizational details to the blank sheet. This step is easy. However, make sure that you add the proper words inside the page. Remember to use only three font types at most. Having four or more font will only disrupt the whole page. So please find the balance.
3. Flavor the Pages
A few decades ago, black and white movies were a thing. However, in today's vivid and vibrant world, they are nothing but a glimpse of the past. So make sure that your template has the flavor of this age. Add color. Make it aesthetically as pleasing as possible. The standard goes higher if you require a Social Media template that you can use on the web, as well.
4. Update Regularly
Lastly, is to update your template as needed. Please take note of the name, as well. You can even add some personalization on the page, like Solomon's Bookeping Template v.13, and other similar, as you see fit.
General FAQs
What Is the Difference Between Debit and Credit?

In accounting, a debit is a number that increases assets, while credit is the account that grows liability. The debit can also decrease liability, while credit decreases an asset account. They are basically the two sides of a coin.

What Are Basic Bookkeeping Skills?

Some of the most basic bookkeeping skills may include:
1. Detail-orientedness
2. Advanced mathematic skills
3. Computer literacy
4. Integrity

What Are the Five Basic Accountancy Principles?

The five principles of accountancy are:
1. Revenue Recognition Principle
2. Historical Cost Principle
3. Matching Principle
4. Full Disclosure Principle
5. Objectivity Principle.


What Is the Difference Between Bookkeeping and Accounting?

Accounting and bookkeeping vary significantly as they, especially on their functions. Bookkeeping focuses more on the recording of data and information, while accounting focuses more on the interpretation of data.

Who Is the Father of Accounting?

The father of accounting is Luca Pacioli, who published the first double-entry accounting book in 1949. He was a Franciscan friar. Although he has the title of being the father, he did not create the system.
Read More
Earn 20% commission on every sale from your Share
Bloggers: Publish/Mention Template.net products on your website, blog, Social Media or Via Email & Earn affiliate commission of 20% for every sale