How to Make an IT/Software Plan?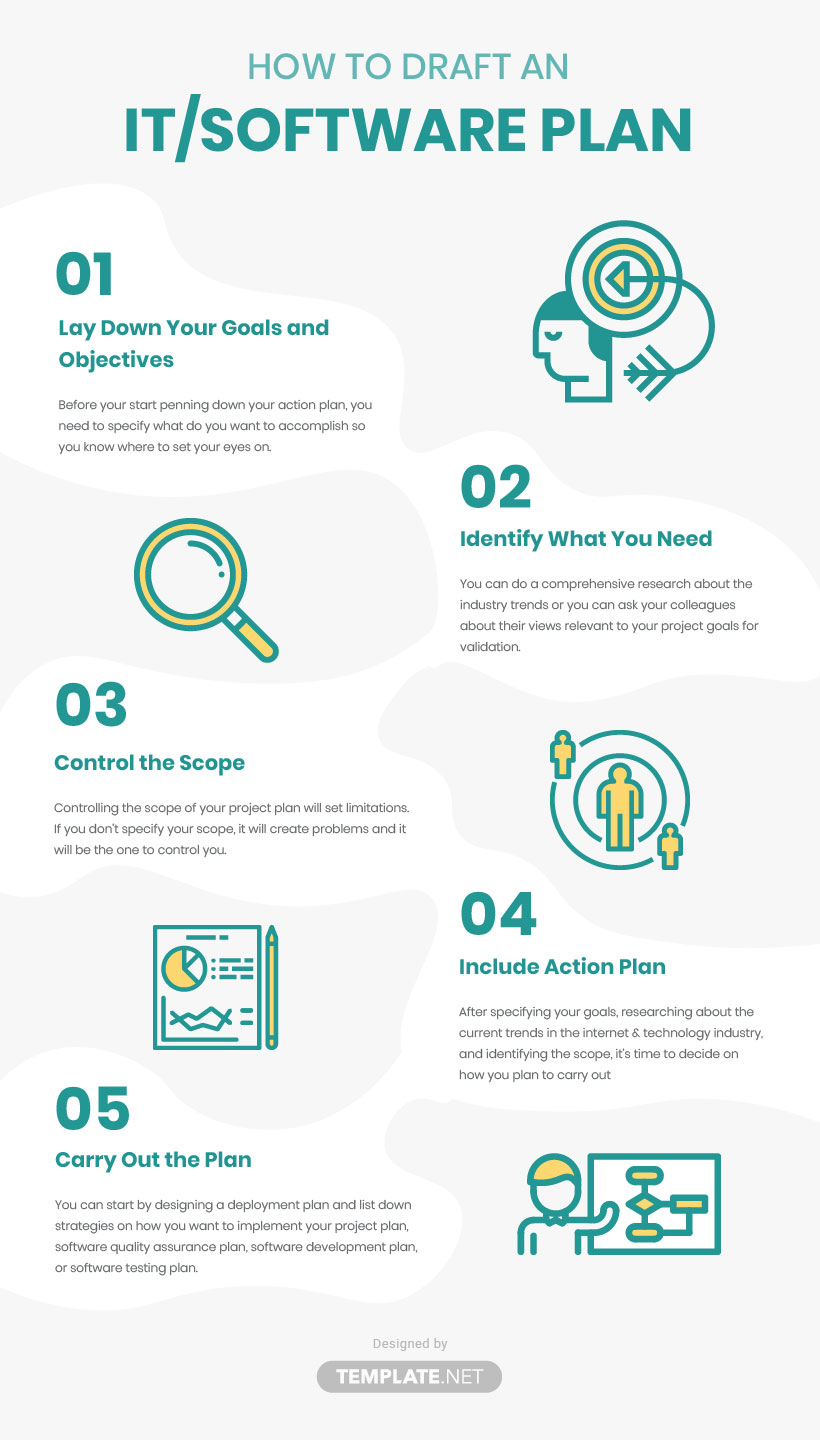 Software or IT plan refers to the step by step illustration of how each specific task under a certain project will be done. This illustration is well documented with all crucial information required to accomplish the goals and objectives. It provides an elaborate roadmap for completing an IT/Software project.
According to a report by CompTIA; IT and software services account for almost half of spending in the US technology market, which is notably higher compared to other countries. With the continuing dominance of technology in the USA and other regions of the world, it's no surprise of projects relating to this industry will continue to soar up high. Thus, make sure to draft an IT/Software plan before you formulate a deployment plan in carrying out your project. Follow the basic steps below and make it in no time:
1. Note Goals and Objectives
We create a plan because we want to achieve something. Before your start penning down your action plan, you need to specify what do you want to accomplish so you know where to set your eyes on.
2. Identify What You Need
Jot down the data, information, and other things that you need to make this strategic plan possible. You can do comprehensive research about the industry trends or you can ask your colleagues about their views relevant to your project goals for validation.
3. Control the Scope
Controlling the scope of your project plan will set limitations. If you don't specify your scope of work, it will create problems and your entire time will go in tackling them.
4. Include Action Plan
After specifying your goals, researching about the current trends in the internet & technology industry, and identifying the scope, it's time to decide on how you plan to carry out your IT/software plan. Specify the operation completion plans in a step by step method. Also, give direction on each task of the project that will help your workers to work effectively.
5. Carry Out the Plan
You can start by designing a deployment plan. List down the strategies on how you want to implement your project plan, software quality assurance plan, software development plan, or software testing plan.
General FAQs
What is a software plan?

A software plan is comprehensive information about a project which contains details that are necessary to carry out an IT or software project.

What is an IT implementation plan?

An IT implementation plan is a roadmap that details the strategic deployment of the plan you have formulated. It contains timely steps that include the time, team, and resources that will bring to life the plan and test its doability.

What are the stages of planning?

Planning, as an important part of project development, has the following stages:

1. Objective development
2. Determination of tasks to meet those objectives
3. Identification of resources needed for implementation
4. Schedule setting
5. Tracking and assessment of the plan
6. Finalizing the plan
7. Dissemination

What are the four (4) Ps in software project management?

The 4 Ps of software project management are:

1. People
2. Product
3. Process
4. Project

What are the characteristics of software?

Software has the following characteristics:

1. Reliability
2. Usability
3. Efficiency
4. Maintainability
5. Portability
6. Functionality