List Templates
10+ Bucket List Templates
A bucket list comprises of a list of things that you want to do. The tasks might take some time to complete but once you commit your precious time and energy, it is sure to be worth the attempt. You will find such sort of list templates as follows where you can note down and share the ideas that you would like to accomplish someday. The simple and easy to access templates, that you can use to make a list of such sort, has been discussed as follows. You can also see Inventory List Templates.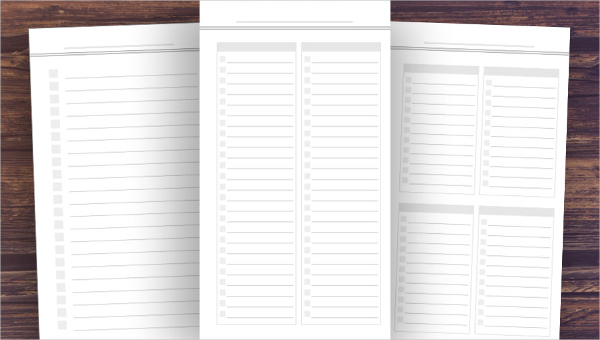 Summer Bucket List Template
kathilipp.com
With the summer holidays approaching, you might have a lot of plans inside your head. Create a List Templates of such sort and jot down each and everything that you desire to do in the free time. Decorate the header of the template with summer time clip arts, icons, and themes.
Fall Bucket List Template
glamamom.com
With the approach of the fall season, you can opt for this particular template. This particular file consists of the heading to which the list can relate to. Here, you can add your desired goals and wishes in bullets so that they can be tracked easily. Strike off the one that you have finished achieving.
Baby Bucket List Template
You can use this template to create a list for would-be mothers where you can add your tips to them. If you are looking for a baby shower gift then you can use this file to create cards and gift it to the concerned person. You can also use this design as a packing list template which can be used during an emergency when the baby arrives.
Christmas Bucket List Template
gracefullittlehoneybee.com
The use of red and green colors as borders and texts gives this template a very Christmas type appeal. The presence of the flat looking gift boxes gives the design a holiday-like charm. You can use it to list down your holiday based dreams and goals. You can easily print it on various sized papers. You can also see Price List Templates.
Blank Bucket List Template
rochestermn.citymomsblog.com
This template comprises of blank boxes for check listing purposes. All you need to do is make your bucket list by using this particular file and once the goal is achieved, you can tick the check boxes. This black and white list can be easily printed.
Holiday Bucket List Template
thedatingdivas.com
Life Bucket List Template
files.meetup.com
Spring Bucket List Template
onemamasdailydrama.com
Winter Bucket List Template
playwinterpark.com
> How to Use a Bucket List Template?
Using this list is very easy. The template comprises of the name of the list to which the desires and goals can be related to and it has a lot of blank horizontal lines underneath. All you need to do is jot down the dreams, unfinished goals, and desires that you wish to fulfill someday. You can also see Class List Templates.
These goals, once jotted down, can be met when you have ample amount of time to pursue them. You can also put them to use if you need to do certain things at a particular fixed time. The list will help you to remember things which otherwise you would have forgotten.
> Who can put to Use this Bucket List Template?
Anybody can make use of these templates. Children of 6 to 7 years of age or above can put this list to use for various purposes. Everybody has unfulfilled desires or goals which need to be met at a certain point of time. If you happen to maintain a list of such sort, not only will you memorize and remember them but also keep in mind so as to fulfill them someday. Often, housewives and homemakers tend to put such lists to use so that they can complete every small and menial task. You can also see Email List Templates.
> What are the Benefits Obtained from a Bucket List Template?
This template can also be used to make planners that a person might need to note down the tasks to be done, before an upcoming event or a party. Suppose you have a Christmas lunch planned at your home, where many of your friends and families might drop by.
That is when you can put this template to use. Such a list will help you in keeping track of the goals that has been fulfilled and let you know of any chores or tasks you might have missed out. Also, you can add new chores if required. You can also see Snag List Templates.
Such a list can also be termed as an action list as they have the capacity to make your goals and desires into reality. Once you list down these things, you would be able to figure out the tasks that need to be prioritized.