It is always a huge affair to buy Christmas gifts for your near and dear ones. There is generally the fear that they might not love your gifts or you will be buying the same present as someone else. In such situations, it is smarter to bank on Christmas templates. You can pass on these lists to your kids and other family members so that they can write down their wish list for Christmas.
45+ Christmas Templates in Word, PSD, Google Docs, InDesign, Apple Pages, HTML5, Publisher, Illustrator - START DOWNLOADING
Christmas Gift List Template Word Format
This beautifully decorated template lets you take note of a lot of things. Gifts can be material things or it could be anything else such as events, presentations, and many other things. That is why with this gift list, you have the option to list what you need to buy, get, and plan. This is a multipurpose gift list that will get you going through all your errands for the Christmas season.
Merry Christmas Gift List Template
Look at those details! This template lets you create a list of who to give your presents to and identify how they are related to you. Also, you can put the prices of the gifts that you will be giving so you can keep track of your expenses. There is also a column for the description of the gift, giving you the specifics of what your recipient wants from you. It is a perfect gift list for you if you like making detailed plans.
Special Christmas Gift List
The addition of putting a column for the address of your recipient puts this template on another level. Putting a column for the address will help you determine if there are recipients in the same area or within close proximity so you can bring the gifts in bulk, which is more efficient that way. Also, it will help you determine if you need to ship the gifts if there are recipients living in areas far from you such as friends and families living abroad. It is going to be tiring getting all the addresses, but with this template, it's going to be easy to organize them. Add this one to your cart and start gathering info!
Green Board Christmas Gift List
Green is in! Other than red and blue, having a green color scheme also fits well with a Christmas theme. The grid and the green background somewhat reminds you of Microsoft Excel. Well, in this case, it is like an actual sheet from Excel. And what does Excel do other than organizing data? This template is exactly like that. It allows you to put the name of the recipient, the item, the address of the recipient, the date the present was sent, and the item's price. The simple layout will not give you any trouble when it comes to organizing details.
Christmas Gift List for Family and Friends
Christmas, as we all know, is a season of giving. You give gifts to your family, friends, and relatives to show your appreciation and love for them. That is why you will never forget who to give gifts to with this template. There is enough space for everybody, so make sure you list them all. You do not want anyone sulking just because you forgot to give them a present, do you? As for the design, it will not be a Christmas theme without a red color scheme. Also, if you have noticed, the letter 't' on the header is shaped like a cross, reminding everyone that Christmas is not just about gatherings and gifts, but it is about the birth of Jesus Christ. If there are elements of the design that you do not approve of, do not worry because this template is fully customizable.
Christmas Tree Gift List Word Document
If you are the type to keep score of the gifts that you have sent and received, then this one is for you. The layout is divided into two sections for the details on the sent and received gifts. For the received gifts, you can specify who sent the gift, what item was received, and when it was received. For the sent gifts, you can specify the recipient, what item you will give, and when you are going to give it. This template will surely help you manage a very organized way of giving gifts.
Merry Christmas Gift List Details
Red and green are not the only popular colors during Christmas. As Christmas is about peace, it is only appropriate to use the color blue as a color scheme for a gift list. It could also represent snow, especially those who live in countries with a winter season. But even if you are in a country without winter, you can still use this design for your gift list. This one is also divided into two sections dedicated to the sent and received gifts. The details that you can input are the name of the recipient and sender, the item sent and received, the corresponding prices for the items, and the date upon receiving and sending the gift. If you like the design but you want to tweak it a little, you can freely do so by editing this template using Microsoft Word. Fonts are also included once you download this template. So, get this one now and start listing your gifts!
Christmas Celebrations Gift List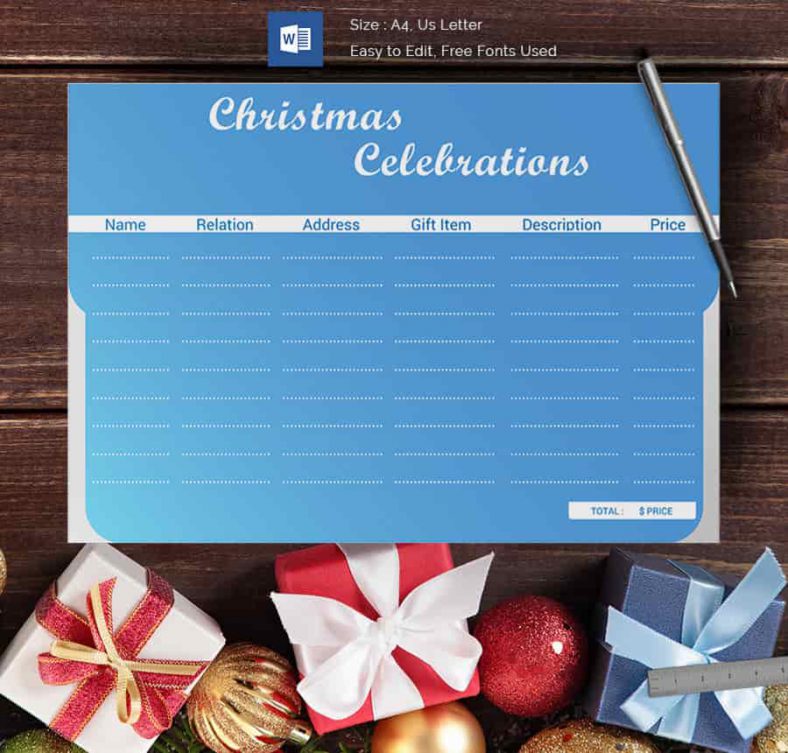 You can never find another template that is as detailed as this one. You have all the necessary details for giving gifts. There is even a portion at the bottom of the price column where you can input your total expenses. Now, this is is what you call an organized gift list! Download this now and start listing!
Fully Editable Christmas Gift List
It would be a nice gesture to give your neighbors gifts regardless if you are close or not. That is why with this template, you can list all the people who you consider as part of your lives. It is a season of giving, so why not give as much as you can? It is a simple design meant for simple lists. So, if you are into minimalism, then choose this template for your gift list.
Trending Christmas Gift List
The overall look of this template resembles a chalkboard. But, even so, having a green color scheme still makes this template fit the Christmas theme. The details that you can put in this gift list are the same as the other gift lists on this list. You can edit this on Microsoft Word in case you want to tweak things and add a more personal touch. After all, a design should have your trademark on it.
Word Document for Christmas Gift List
This has a different format from any of the gift lists on this list. To start off, it has a column named 'S. No.' It may stand for a serial number or it may refer to a stub number. You have the liberty to interpret it as you wish. Also, there is a column that lets you input the date when you bought the gift. This way, you can easily track what you bought on certain dates and it will help you track your daily expenses. As for the design, the red color scheme is a standard look for Christmas. But what you should take notice of is the form of a reindeer made up of stars at the middle of the list. It is as if it is born from the heavens and it chose to take the form of a reindeer. It could also indicate that it is a constellation of stars that forms a reindeer. But, whatever it is, its presence makes the design magical.
There are Christmas list templates  in Excel today that can be used to come up with beautifully decorated Christmas-themed outlines where your folks can note their desired gifts from you. Check them out today!
Christmas Gift List Digital PDF Download
This Christmas gift list is a simple list that one can download and pass on to dear ones so that they note down the gifts they wish for during Christmas.
Christmas Card List Fillable Printable PDF Download
This Christmas card list fillable printable is an empty document that allows editing the list you want to buy as Christmas gifts for close ones. It's simple, easy and printable.
Free Christmas Card List Printable Google Doc
This Christmas card list printable Google doc provides you with a simple holiday gift checklist in which you can keep a track of gifts and greeting sent to close people.
Gift List Christmas Template PDF Printable Download
This gift list Christmas template is in a pdf format and easy to download. This helps to maintain a checklist on whether all the gifts have been sent or not.
Free Printable Christmas Shopping List Download
When you have a long list of things to buy as gifts, this printable Christmas shopping list will help you keep a complete track on gifts bought, packed and delivered.
Editable Christmas Card List Printable Download
Download Holiday Gift Shopping List PDF
images.giantfood.com
Free Christmas Shopping List PDF Download
Download Christmas Family Gift List Printable
Family Christmas Gift Ideas List PDF Download
organizinghomelife.com
Free Printable Christmas Planner Gift List Download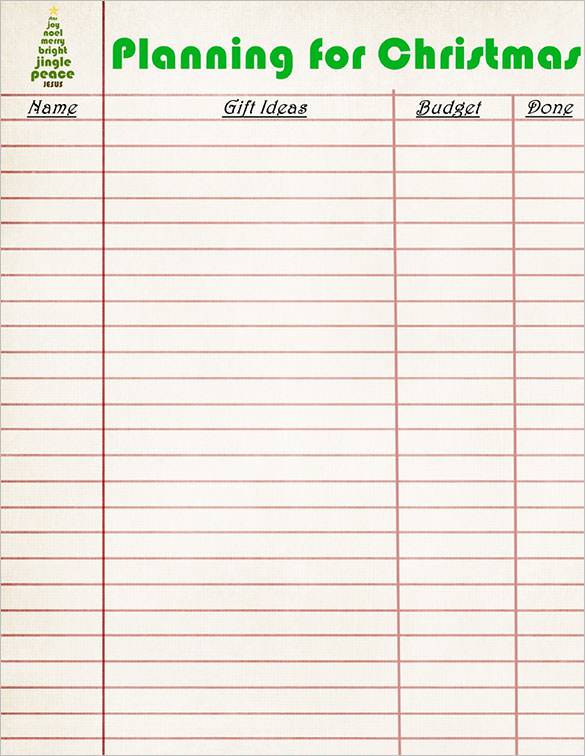 Download Blank Christmas List Free Printable