List Templates
8+ Vendor List Templates
As your business continues to grow and your customer list expands, you will need suppliers to bring goods to your business. Deciding the vendors who are good is not something you can do overnight. Supplier evaluation is, of course, a process that could take weeks or months, and, thus, requires patience and time. The results of the vendor evaluation are recorded in a supplier's list template. Once you have your vendor list, you will be able to pay for goods and get your deliveries only from those suppliers who you have in your Vendor template. You may also see Inventory List Template.
Blank vendor List Template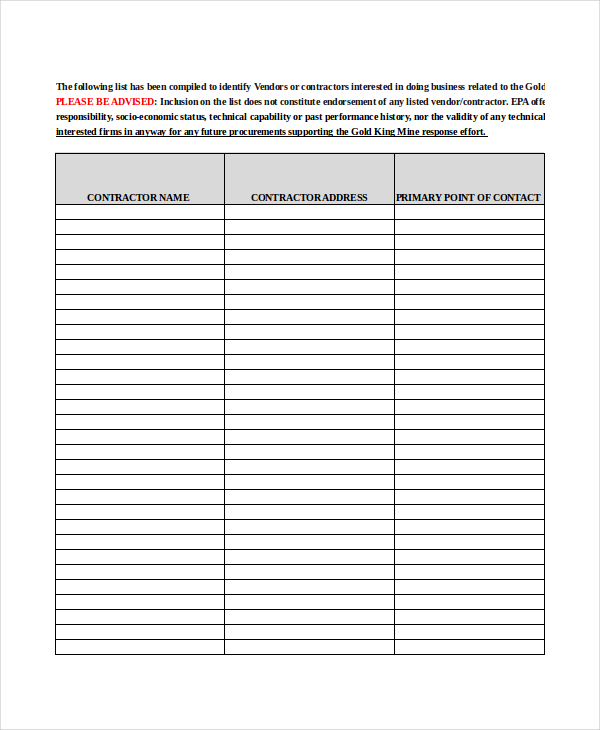 epa.gov
Once you do your supplier evaluation, you'll need a template for recording your results. This Vendor list template will help you keep an up-to-date record of the best vendors for your business. You may also see Price List Template.
Because supplier analysis is a continuous process within a business's purchase department, you need to keep an up-to-date suppliers list. This Vendor list template is suitable for the task.
Wedding Vendor Contact List Template
sdweddingstyle.com/
Keeping an up-to-date vendors list is a good business practice. You can use a Vendor list template to maintain the record, and then use the template as a reference list whenever you want to make a purchase.
Master Vendor List Template
vs1.textlab.io
Your business needs only specific suppliers, not every Tom, Dick, and Harry. Therefore, do a vendor evaluation process, and then use this template to create a suitable list for your preferred suppliers.
Vendor Price List Template
pinemap.org
This template has a user-friendly layout, it is print ready and is easy to use. It is the best template for keeping an up-to-date record of all the best suppliers in the market. You can download the provider's list template for free.
Licensing Vendor List
fau.edu
Preferred Vendor List Template
allanhouse.com
Qualified Vendor List Template
phoenix.gov
What are the Benefits of Having a Vendor List?
There are so many reasons why your company should have a vendors list. First, you can negotiate the terms and conditions of the purchases with specific suppliers in the market, and then work only with these vendors whenever you want to make the purchases. Secondly, because you work only with those vendors that you have on the list. You may also see Punch List Template.
You can ask for and get great discounts for higher volumes of orders. Moreover, keeping a sellers list can guarantee you the best payment terms, depending on the agreement between your business and the suppliers. In fact, your vendor can agree that you pay for goods after thirty or sixty days.
What are the Typical Drawbacks of a Well-Defined Vendor list Template?
Besides being an accurate reference list that guides your business through the purchase process, a supplier's list template has many drawbacks. First, a supplier list almost always limits the suppliers only to a local area. That means that there is more room to create issues for recruiting. Moreover, because a business feels more secured because of a well-structured vendor list, relationship management often becomes the low priority. A vendor list template also results in the lack of more choice, for your choice of a supplier is already defined. You may also see Snag List Template.
> What is Vendor Evaluation Process?
A vendor evaluation forms is an important part of the purchase process. With so many vendors on the market today, it is necessary to make the supplier evaluation a continuous process. It is important to understand that there is no one-size-fits-all standard for doing your standard vendor evaluation. Some businesspersons can do it in five steps, although some people have their way of analyzing their vendors, and then use the results to determine which vendor to choose. You may also see Email List Template.
Vendor list templates are free to download and use, so you don't have to create the template from scratch at all. You can use the template as is, but feel free to customize the template if you want.
More in List Templates