Resume
10+ Accountant CV Sample & Templates – PDF, PSD, DOC, AI, InDesign, Publisher
Business owners would always have a dilemma over areas of improvement for their business, be it in the processes, organization, management and getting people on board, skilled enough to fill the most important positions and dedicated enough to get the job done on time. Especially that the new tax laws by the government had accountants scratching their heads in confusion over its possible implications. It is imperative that a simple business not just do everything to survive but also to succeed, and the manner in which you handle your profits and finances plays a great part in this. You may also see resume templates.
Company taxes, for example, should be handled only by those who have the proper training, education, and certification, knowing that the date for filing them will give you more trouble in trying to figure the right figures out and reporting your tax for the fiscal year, as accurately as possible. Unless you want to spend days explaining to government authorities if you can't do it right. You may also see accounting resume templates.
Professional Accounting Resume Template
Accounting Manager Resume
Free Sample Junior Accountant Resume
The Importance of Accountants and Accountancy in Business
Companies have to look for competent members of their accounting staff if they want to thrive, because after all, business is just as much about money as it is about people and staying at the top of your game would mean having the right people to work with. It should start in the hiring process, but how would you know you're facing the one you're looking for when conducting interviews with candidates for an accounting job? You don't. That's the thing. You don't know for sure because you can't just hire a candidate by how well he or she answers questions.
Fortunately, before the interview process, you get to evaluate their qualifications, skills, and experience (or lack thereof) according to the credentials they have listed in the curriculum vitae they submitted on your email or website.
Nevertheless, an accountant who has the license will probably be just as important as your front liners. Sure, technology has provided enough tools so you can have software that can help in the monitoring of costs. But it would never be the same as having a professional do the work. They can go beyond just computing and get the figures right. That is something that all the advanced software in the world cannot do. And if the person proves to be consistent and good enough, she would be a future partner. Then again, this would still be up to you. You may also see accountant resumes.
Before that even happens, you finding one could be a challenge. But it is not impossible, as there are agencies that companies like yours are working with, to have a pool of candidates looking to fill a finance officer or accounting position. You may also see accountant resume samples.
The rules are man-made. Along the way, you can learn about the basics and its fundamentals. But that is not enough to secure your place in any industry. No matter how small of a businessman you think you are, if you plan to be stable and make your way to the top, find yourself a good accountant. That way, you will not have to panic when the time for filing your taxes comes. Days of being confused about your finances will be gone and you will be rid of the inconsistencies when it comes to figures being calculated correctly. You may also see sample accounting resumes.
Free Junior Accountant Resume Template
Free Experienced Accountant Resume Format
Sample CV for Accounting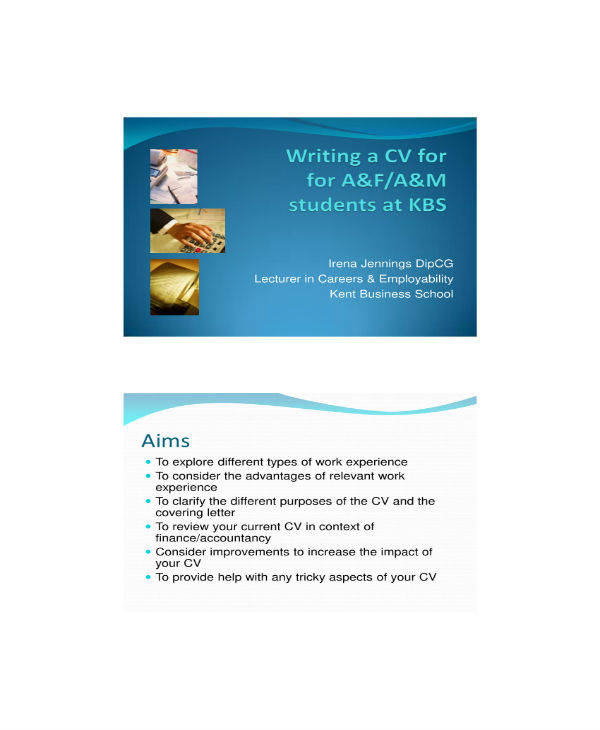 sagu.edu
Sample Resume Accounting
sagu.edu
CV for Finance Officer
ruc.ac.ke
CV Writing Advice for Accountants
Put a perspective on your experience: Don't just tell them that you have been a director of finance or the head accounting officer at a reputable company. It is more important for you to let the person going through your CV to know where your experience fit within the small business. Technically, who do you work for? Who do you report to? Is it the CEO? The Managing Director? The Finance Department Head? What size of staff or team are you in charge of? How large and complicated of a simple budget do you take care of?
Don't just say that you're a Chartered Accountant, list the qualifications you have acquired from recognized organizations, such as ICAEW, ICAAS, CIMA, etc. Were you able to pass the first time? Did you get any award or won a prize? You may also see accounting CV samples.
When you send your CV through an agency or when you prefer to send it directly to the employer, there's a great chance that the person receiving it has no financial background enough to understand accounting jargon, so even though it may sound very simple, you have to spell out your skills and experience clearly. You never know. You could be the best candidate for the position but if your CV fails to market yourself to prospective employers then getting an interview would be tough luck. You may also see accounting CV templates.
Accountants are known to be wonderful with numbers and figures but sometimes, when it comes to describing the kind of job they do on a daily basis, they struggle to find the right words. You may also see accountant resume templates in PDF.
Here are some points to remember when trying to write a great Finance CV so you won't have to struggle:
1. Explain your qualifications clearly
It is imperative that you inform potential employers about qualifications you have gained:
Qualified: either this was done through practice or experience and what type of qualification you hold. Specify them: ACCA, ACA, CIMA
Newly qualified: You need this especially if you're straight from a practice background and even more so if you come from one of what the accounting industry considers as the Big 4. You may also see accountant resume designs.
Part qualified: This includes details of the qualifying tests or exams you have taken.
There are employers who check for some more details on the exams you have taken such as first time passes and your ranking or scores on the exams. If it proves to be impressive and relevant to the available role, then make sure you put it clearly. This means it's worth noting if you've had first time passes and a high score. You may also see accountant resume examples.
2. Provide details for any practice experience
If an accountant came from a practice, make an outline about what type of clients you have worked with and for, and the industries they are involved in, details of audits you've made for them while obviously keeping information private that would violate a non-disclosure agreement. If it's possible, try to write down some actual figures as it's better to see the amount of experience you've had in the field.
3. Highlight technical systems
Most employers establishes a uniform accounting system for their finance department to use, so make sure that you higlight what accounting software and other technologies you've had an experience with, and where. You may also see free accountant resumes.
Employers would most likely look for the ff:
Oracle
Quickbooks (Intuit)
Stripe
SAP
Hyperion
Even experience and skills with smaller systems like Excel and Sage cannot be underrated, depending on your target industry. You may also see chartered accountant resumes.
4. One CV does not fit all
There's no way a generic CV would get noticed, contrary to what young professionals think. You can't use one CV for every application, because it needs to be tailored to the company and the role you're trying to get into, and for. You can make minor changes which would make a lot of difference. Remember to check the job description so that you have an opportunity to sell relevant skills, experience and qualifications.
5. Include a short personal statement
Across the recruitment market, this is the part that always have the tendency to divide job recruiters since some would appreciate seeing one and some really don't like the idea of a personal statement being included. However, it doesn't hurt to try as it can be used as a positive way to emphasize the sectors or industries you've been involved in and the specific accounting roles you have asked to fulfill. For example, if you're looking to score the Financial Analyst position but your experience is accountancy in its pure, general sense, then you can use this section for clarifications.
Accounting Resume Example
sagu.edu
Accounting & Finance Resume Sample
wcupa.edu
Accountant CV Sample
sagu.edu
Accountants play low key roles behind the front lines of a business, thus, their importance tend to be ignored by those who have little to no idea ow important of a part they play in making sure all areas of business finances are well and truly taken care of so when the job is not done properly, the impact is very much noticeable. You may also see CV formats.
More in Resume