Word Templates
17+ Plot Diagram Templates
If you have to teach kids subjects like literature, then it becomes important for you to explain the plot of a particular novel or story to the children. However, this is not as easy as it sounds and the kids often tend to get confused thanks to the introduction of several characters in the course of the play and the changing settings and timelines. You may also visit this heart diagram.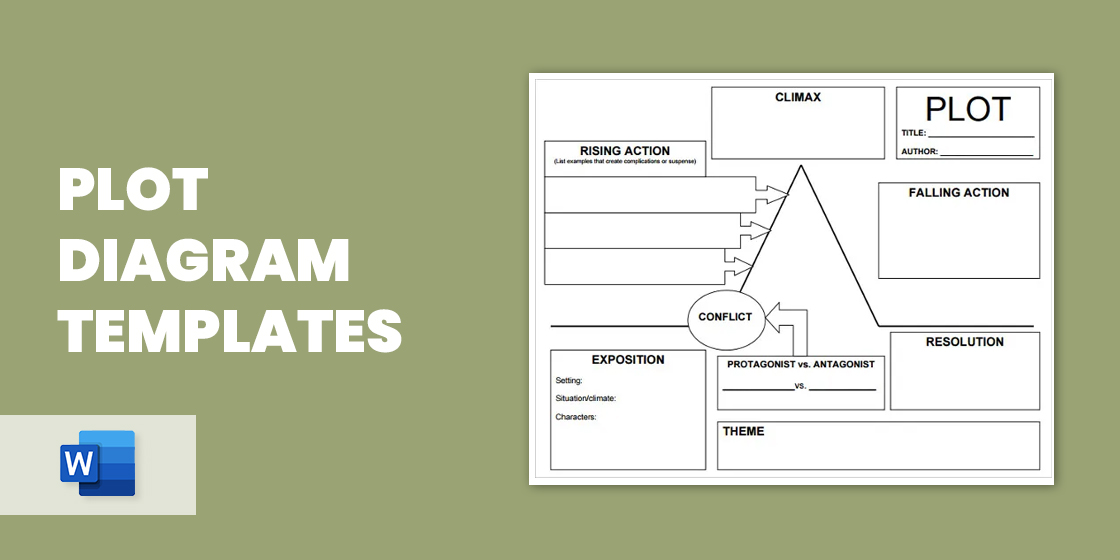 However, there is a simple solution to all these problems in the form of plot diagram templates. It is possible to download a blank plot diagram template from almost any site on the Internet for free and then fill it up with the necessary details to get a fair idea about the several interactions among the characters. You can find chart and worksheet samples for a triangle sample outline, graphic organizer, mountain map, creative line, and much more. Whether you're teaching pupils in 3rd grade, 4th grade, 5th grade, 6th grade, 7th grade, 8th grade, middle school, or high school template, there are plot diagram templates for your needs.
Plot Diagram Template Download
Plot Triangle Diagram Template
The best thing about Plot-Diagram-Template is that it offers easy printability. So, if you are someone who has always had difficulty creating plot diagrams then this template will be of great help to you. All you would need is to get a printout of the template and everything will be a breeze for you. You may also see our blank Venn diagram.
Plot Structure 2 and 4 Diagram Template
sbrooksdriftwood.wikispaces.com
If you like illustrative plot diagrams, then this Plot Structure 2 and 4 Diagram Template will impress you a lot. The most striking feature of this template is the use of a man-like icon that marks different phases of the story's development template. The template comes with six text boxes that describe the marked phases. Just give it a try! You may also check out here our Venn diagram.
If you are someone who has a penchant for simplicity then this plot diagram with examples will impress you beyond limits. From the outside, this plot diagram looks like a network of short and long lines. It is only upon using the template that you will know the effectiveness of the diagram in it. There is an empty field at the top for the title of the story as well. You may also see our circle Venn diagram.
Printable Plot Pyramid Mountain Diagram Template
Plot Map PDF Format Template
readwritethink.org
Blank Worksheet Plot Diagram
kibaschechter56.weebly.com
Simple Empty Plot Diagram
teacher.scholastic.com
This template is the poster child of a simple plot diagram. The diagram is so simple yet so effective. The drawing, effectively, looks like an inverted 'V' and works magic when used- best suited for people who are just learning to develop plot diagrams. An 'introduction' phase marks the beginning point of the plot and 'resolution' depicts the end. There can't be anything simpler than this plot diagram. You may also see our fishbone diagram.
Plot Structure Outline Diagram Template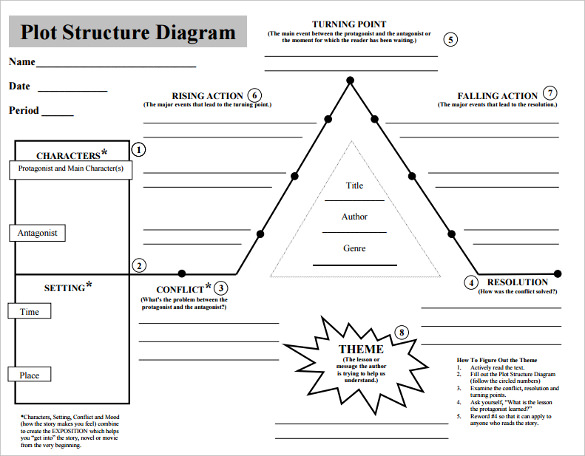 holyfamilyregional.com
Plot Curve Novel Chart Diagram Template
fortheteachers.org
Plot Line Diagram Graphic Organizer Template
teacherprintables.net
Creative Colour Plot Diagram Template
stpaulk-8.org
Simple Plot Development Graph Diagram Template
beaconlearningcenter.com
High School Plot Diagram Template
htps.org
Middle School Plot Diagram Template
acpsd.net
3rd & 4th Grade Plot Diagram Template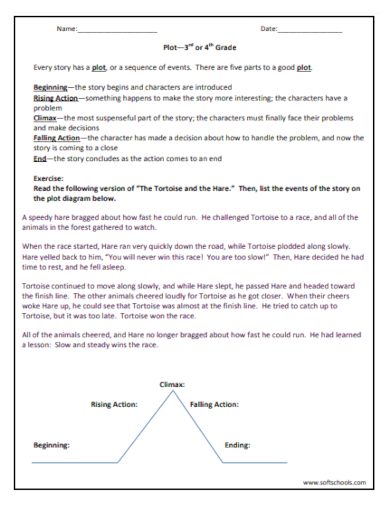 softschools.com
5th Grade Plot Diagram Template
sharpschool.com
6th Grade Plot Diagram Template
mcamustangs.org
7th Grade Plot Diagram Template
cabarrus.nc.us
8th Grade Plot Diagram Template
elementary.tvolearn.com
What's a Plot Diagram and How Can Templates Help?
A plot diagram is a schematic representation of the event template that unfold in a story. The diagram does so with the help of a triangular or pyramid-shaped drawing. When the events of a story are mapped in this way, the audience finds it easy to visualize the story's key aspects. Although many people do without these diagrams, a beginner needs to use them so as not to lose track. If you too are a writer who wishes to create a good story, then using a plot diagram template will help immensely. Even teachers can use this tool to familiarize students with a particular story. You may also see our family tree diagram templates.
Easily Customize Your Plot Diagram Template with Ease and Make Necessary Changes
You can easily break up a scene into different components and establish the characters in sequence to devise a plot diagram that is easy to follow and carefully shows you all the major occurrences within the board story.
Conclusion
A plethora of Plot-Diagram-Templates is available online. Whether you are looking for simple or overly-detailed templates, you can get them all. The templates discussed above are available for free. So, if you choose one out of them you will not have to pay even a single penny. You may also check out our body diagram.
The given format of the free printable plot diagram example may be altered in a fast and easy manner so that you can explain the plot of the story or drama or novel in the way you see fit.
More in Word Templates