Word Templates
Gap Analysis Template – 17+ PDF, WORD Documents Download!
A business can be tricky to run. People who are in business understand what that means. There are just times when the business will not be favorable and there will be great time where money flows into the business and you wish that such times would last. In other words, a business has things that need accurate measurement in order to analyze the current time and visualize the future, whether expected or unexpected. This makes the gap analysis the single most important tool for any business.
A skills gap analysis report is necessary for every business to run successfully. It is an important document that allows companies to measure the potential and performance of a business. It gives the higher-ups clarity about how business is currently faring and its future prospects. You can utilize customizable templates to develop the format of a report for your firm.
Skills Gap Analysis Template
Easily assess employee skills and talents with respect to their designated positions or jobs with the help of this skills gap analysis template. Find out how individual employees lack or have what it takes to perform their jobs. Also, get a clear picture of how each employee is contributing to the overall efficiency of your team and how each of your employee's skills fares to the other. Determine the required training for each individual and that of the whole team in order to be more effective with their jobs. Try it out now!
Skills Gap Analysis Template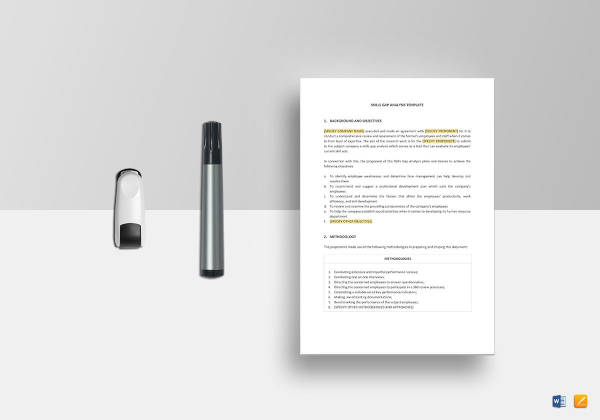 Improve today with the aid of the skills gap analysis template that is mentioned above. You can also replace the highlighted text with your details, making it even better and easier for you to make your analysis. Another added advantage of this template is that it is not just limited to the computer, but it can also be downloaded with ease on any electronic device. There are many analysis templates in Word that can be of great help to you if you want to make an analysis of any kind in the form of a Word document.
Gap Analysis Template
Creating a gap analysis isn't a daunting task anymore if you take the help of this above-mentioned template. With the help of this template that is given above, you can make the most effective analysis for your business entity. You don't have to worry too much about formatting, layout, and design, especially in providing a seamless structured analysis framework. You can save a lot of time and energy since you do not have to make a gap analysis template right from scratch. Grab this template now!
Editable Industry Gap Analysis Template
Fit Gap Analysis PDF Template Free Download

ebrjournal.net
Skills Gap Analysis Word Template Free Download

unesco.org
Performance Gap Analysis PDF Template Free Download

annex.ipacweb.org
Duration Gap Analysis PDF Template Free Download

wps.aw.com
ALOHA Gap Analysis Free PDF Template Download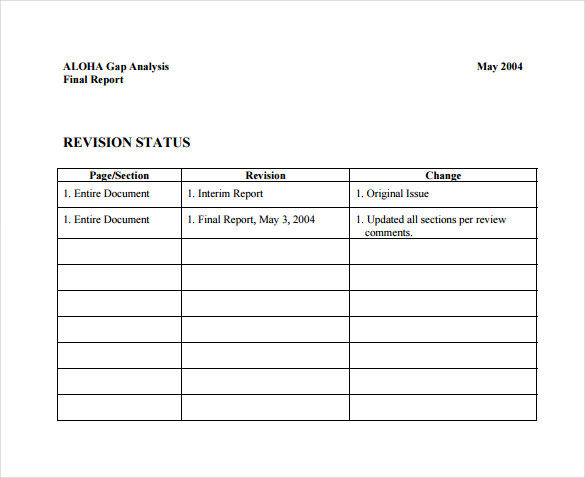 energy.gov
Gap Analysis of Health Care Issues PDF Free Download

cpd.utoronto.ca
Yield Gap Analysis of Field Crops Template PDF

fao.org
Behavioral gap analysis PDF Template Free Download

hse.gov.uk
Morphological Gap Analysis Free PDF Template Download

amg.swemorph.com
Data Gap Analysis PDF Template Free Download

k12.wa.us
IT Gap Analysis Report PDF Template Free Download

statereforum.org
PDF Format Orbiviruses Gap Analysis Template Free Download

ars.usda.gov
SSP Gap Analysis Free PDF Template Download

cfapp.icao.int
Conclusion:
Gap analysis templates in PDF can also be of great help to you in making the perfect analysis you need for your business entity. Gap analysis is a method of estimating the difference in performance between a business's software tools to determine whether the business specifications are met or not. If not, then what steps should be taken to ensure that they are met successfully, hence focusing on the growth of the company.
Gap analysis involves the identification of real performance with potential or the desired result from a particular individual or the company as whole. If an organization does not make the best use of the r4esources that are available to them or makes mistakes in investment in capital or technology, it may affect the overall performance of the company, hence effecting the growth. It is necessary that there is enough potential being used to make sure that the company is way beyond that what it was previously. Gap analysis helps the entity make sure that this can be done in the most effective way possible.
For creating a gap analysis, you can take the help of any of the templates that are mentioned above, or you can also check them out on our website template.net, with ease. This is where you get not only analysis templates, but als many other templates you might be in search for. Happy Editing!