Word Templates
5+ Sample Staff Development Plan Templates for Download
Staff or employee development plans can be defined as action plans, working documents hat are used actively by both the employees and the management. It ensures that the employee is growing personally, developing all their abilities to work for the organization to achieve more in their work setting. These plans are also the ones that help the employees meet the goals of the organization in the most effective way possible.
Staff Development Plan Template
There are many plan templates in Word that can be of great help to you. A staff development plan's main purpose is to identify the needed methods to enhance an employee's skills and potential and the company's business needs. Support your employee's career growth and reaching your company's goals at the same time when you start to utilize this above-mentioned template. Have the freedom to add, edit, customize, replace, or modify any of its content to match your company's needs. Try it out now!
Sample Staff Development Plan Template
Prepare your staff and encourage them to reach for their goals using this staff development plan template given above. Download this 8-page document and open it with your chosen application. It is available to edit it many file formats like Word, Pages, etc, so be sure to pick the one that suits you the best. Edit by replacing the highlighted sections with your information. It's that simple. Check it out now!
Employee Development Plan
For super effective employee plan templates for your company, make use of this employee development plan mentioned above. This is a fully customizable and editable template that will be of great use to you. Another added advantage you have when you use this template is that it is not just limited to the computer, but you can also download it with ease on any electronic device. You can also share it via email or any social media platform. Grab this template now!
Business Development Plan
The leader can only work when his task force is skilled enough to take any challenge. At times this task force too loses off its capabilities or starts questioning itself in a wrong manner. So make this force work towards the right approach. You can take the help of any of the development templates that are available online for more.
Staff Development Plan
Staff Development Plans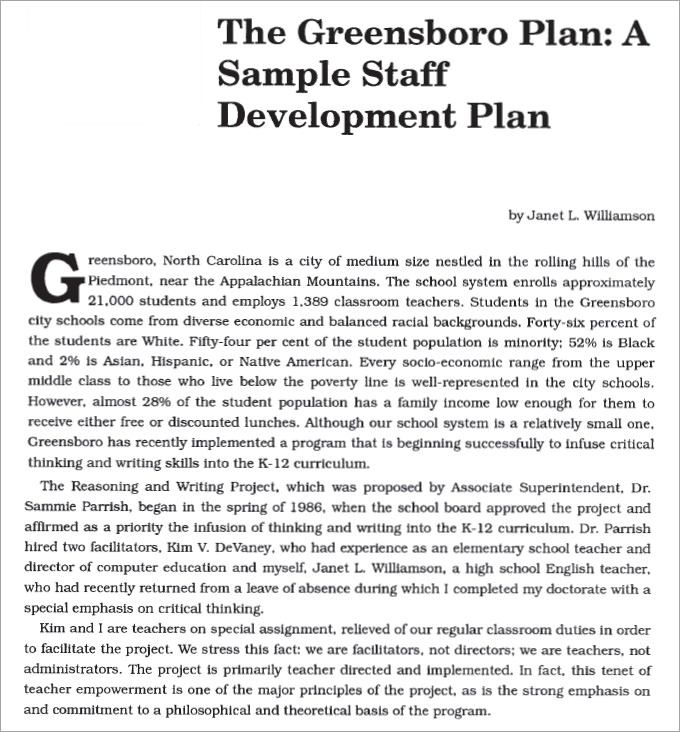 Points to be included:
All the pros and the plus points of the staff should be always noted first. A positive approach is always the right approach towards any particular test.
Special training, outstation meetings, recreational activities should be entertained for cheering up the staff and keep them involved in the company in every aspect. They should enjoy working and coming to the office.
Always appreciate and recognize the input that the staff is giving to the firm or company. List the achievements and applaud the staff for the profits that they have given. Check software development plans for more.
Then first ask them the areas of interest they prefer in working. Later tell them to write points they don't like or want to alter in the firm.
Ask the staff to write the negative points about them, how they will be changing it and what kind of help they want from the firm.
Now as a manager you feel the team or any specific person needs to change something in himself then tell them straightforwardly.
Application:
Proper training methods and outings for the staff help in improving their capabilities and capacities to work upon in a very beneficial manner. If we spend Rs. 1 on them then they help us in getting 100 out of it. The way of praising and also finding faults is an art and a manager should be capable of doing that as well. Even if we don't like things about one person, we should find a way of getting those things out of that person by himself.
Then assist him in getting those things right easily. The same applies to a team too. A simple test on a piece of paper and easily get the hiding things out of that person is not an easy job. Curetting those special questions is what we do and help you in taking that test for the calculation growth of the staff. Check development action plans for more.
Uses:
Such tests help in easy analysis samples method and help in exploring more areas of growth of our staff. The more we know about them, the more we can get out of them. "If we want to be the best, we must find out ways to take out the best from our staff." A popular dialogue from a movie says a lot. This template test will help in getting to know more about our staff.
Conclusion:
We provide such templates for different types of analysis of the staff. Be it a socializing technique or questions based on technical grounds, we got a great collection of templates that can be also customized as per the manager's needs. With the templates, we will also provide answer sheets for calculating the scorecard of individuals as well as the teams for a grounded and perfect analysis. If you have any DMCA issues on this post, please contact us!