Birds are a group of warmblooded vertebrates that are embodied with feathers and toothless, beaked jaws. Their characteristics includes laying hard-shelled eggs, a four-chambered heart, lightweight, but have a strong skeleton structure.
Birds are one of the most popular inspiration when it comes to symbolisms as it represents freedom, peace, and liberty. Its image is being seen in many organizations' identity as their logos, illustrations, pencil sketches, paintings, sculptures, and even in music.
These 9+ Bird Pencil Sketches list will be your guide in illustrating birds and any other forms of it. It provides detailed, high-quality illustration samples that you can grasp on.
Angry Bird Sketch
Source
Flying Bird Sketch
Source
Bird Pencil Sketch
Source
How to Create a Bird Ilustration?
Before we start with our illustration, please prepare the necessary materials you need :
Paper
Pencil
Coloring materials (colored pencils, colored pens; this is optional though)
Eraser
Now that you have all the requirements, we can now start with the drawing tutorial.
Step 1: Draw a slanted oval shape to create the bird's body base.
Step 2: Draw a smaller oval shape at the top of the body base for the head formation.
Step 3: Draw a leaf-like shape within the body base's sides (bigger oval shape) to form the wings.
Step 4: Now that we are done with the wings, we start creating the tail by drawing a partly shaped triangles just beneath the body base.
Step 5: We are now done with the body formation, let's go back at the top and start working on the bird's face. First, we need to draw a very small circular shape within the the head to create the bird's eye.
Step 6: Next, we create the beak by drawing a partly curved triangle shape within the lower-left part of the head. The bird's position is actually facing front sidewards.
Step 7: Now, we are on our last part of the formation illustration, we are now going to draw two small slanting triangles to create the birds feet.
Step 8: We are finally done with our structure illustration, it is now time to put the final furnishing of the drawing by applying some contouring within the illustration to give a 3D effect. Also put lines and wedges within the wings and tweak the bird's feet by adding some bird claws to it.
This is the last part of the bird illustration tutorial. For more sketch-related inspirations and samples, you might want to see this abstract sketches.
Bird Cage Sketch
Source
Phoenix Bird Sketch
Source
Bird Charcoal Sketch
Source
Watercolor Bird Sketch
Source
Black and White Bird Sketch
Source
Love Bird Sketch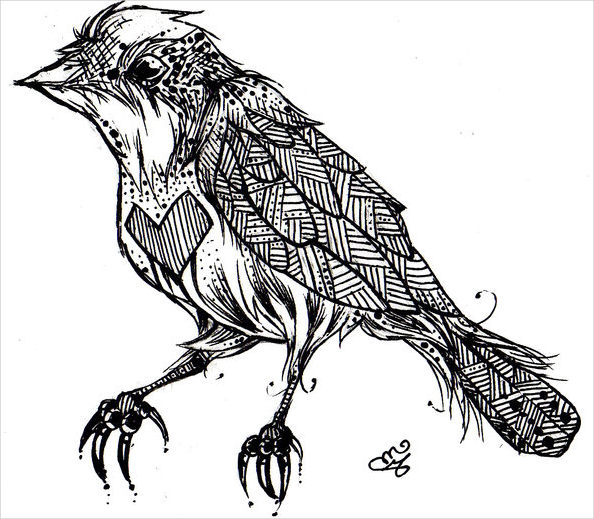 Bird Tattoo Sketch
Tips on how to draw a better bird formation
Get Familiar With Your Subject
It is better if you observe your subject whenever you create an illustration. Just like with the birds, you should first observe their whole body formation and movement.
Learn Basic Anatomy
To draw a perfect and balanced angle formation of the bird, it is important that you first need to learn basic anatomy of any living things.
For more sketch-related samples, you might want to check out watercolor sketches for your next illustration or sketch inspiration. You can check more drawing and painting inspirations on Template.net.
If you have any DMCA issues on this post, please contact us!