Boarding passes are special tickets given by the airline company for you to get on your flight. But boarding passes are more than just that, nowadays, they are used as an inspiration for design. From shopping vouchers to wedding invitations, these tickets are being followed after the layout and content of these passes. Here is how to design a boarding pass in five easy steps. You may also see ticket samples.
5 Steps to Design a Boarding Pass
Step 1: Choose an Airline Ticket for Inspiration
To be able to effectively design a boarding pass-themed template, of course, you would need to have a ticket for it to follow after. From boat tickets to airline tickets, these passes may differ in design even though most if it follows the conventional type and just varies in size and design.
Step 2: Write Down Key Information
In order to know the key information that should be included, make sure to figure out first what type of design will you be making. It may be an invitation card, a label, a voucher, or a gift tag, these designs vary in their text details. Some basic information includes the name of the owner, the name of the event or purpose of the design material, date and time, and contact information.
Step 3: Design your Boarding Pass Template
Articulately design your boarding pass template with the goal of making an artistic and effective one. Check the font specifications such as the type and size and see to it that the texts are legible. As for the design, make sure to follow the design of a legit boarding pass to make it look like one.
Step 4: Have it Professionally Printed
You can use card stock to have your boarding pass printed on. You can also use textured ones with background colors. Try to avoid specialty paper whose textures are mounted. Use laser printing for a professionally printed design, but you can also try other printing methods.
Step 5: Personalize your Boarding Pass
After successfully printing your boarding pass design, make it more personalized by adding a simple design to it. You can try cutting a hole at one end and attach a string of beads or trinkets. You're not only making it more artistic but at the same, you're making your design serve other purposes such as being an adorable bookmark.
11+ Boarding Pass Templates
1. Christmas Boarding Pass Ticket Voucher
Grab this ticket voucher template that has been designed to look like a boarding pass. Here is our Christmas Boarding Pass Ticket Voucher Template which is perfect for the holiday season. It can be used for business purposes as it is editable and customizable. This template uses high-quality graphics.
2. Boarding Pass Ticket Wedding Invitation
If you need a hassle-free way of creating unique and memorable invitations, download this Boarding Pass Ticket Wedding Invitation Template. You and your guests will love this uniquely designed template which is available for immediate download and has pre-formatted designs.
3. Boarding Pass Invitation Template
Celebrate moments like 18th birthdays with our Boarding Pass Invitation Template. This unique and attractive template can be download for a great deal. Easily customize the entire template using modern editing software such as MS Word, Photoshop, Illustrator, Publisher, and Pages.
4. Boarding Pass Ticket Invitation Template
5. Chalkboard Boarding Pass Ticket Template
Don't waste any moment second thinking whether to get this Chalkboard Ticket Template or not. Grab this royalty free template for an amazing price. Easily customize the layout and design with its scalable vectors, and edit the built-in texts without any hassle. Get it now!
6. Boat Boarding Pass Invitation Ticket
Get more creative and fun with our Boat Boarding Pass Invitation Ticket Template. Freely add details, change the layout, adjust some vectors, and add more photos with ease using modern design formats such as Publisher. This template can be downloaded on your smartphone too, so you can edit anytime.
7. Flight Boarding Pass Wedding Invitation
Make weddings more memorable by using our Free Flight Boarding Pass Wedding Invitation Template. Give a good impression on your guests by inviting them through this invitation. This template includes a simplistic and attractive design. This template is fully editable and customizable.
8. Boat Boarding Pass Invitation Design
Have complete freedom in editing this Free Boat Boarding Pass Invitation Template. Freely customize and edit this template for your business or your preferences. It's a template that can be easily tweaked on using Illustrator, Photoshop, MS Word, Publisher, and Pages. Get this template today!
9. Printable Boarding Pass Wedding Invitation
Want an interesting twist to wedding invitations? Try our Free Printable Boarding Pass Wedding Invitation Template! This template can offer you high quality and guarantee you with good feedback from guests. Its royalty free graphics layered with scalable vectors can make editing so much easier.
10. Elegant Boarding Pass Wedding Invitation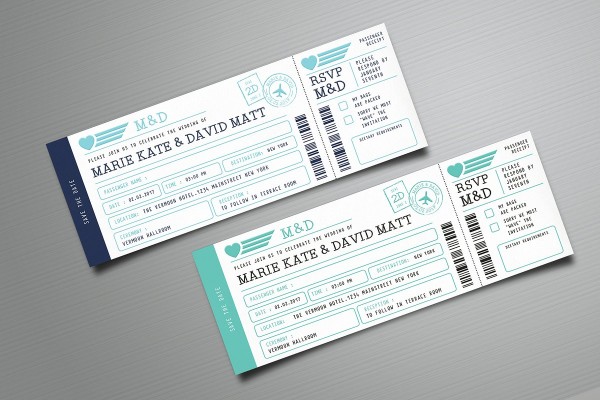 Download
Not all boarding pass invitation templates are made the same. Take, for example, this Elegant Boarding Pass Wedding Invitation is made by a professional team of graphic designers, with content that is made well by writers. Why? Cause you deserve the best template for your wedding day!
11. Simple Boarding Pass Invitation
Download
All hands on deck! Cause here comes our Sea Cruise Boarding Pass Template! This template is very versatile as you can use this for your cruise business and you can customize this to fit for events. Where else would you find a template as cool as this? Download it today!
12. Simple Boarding Pass Wedding Invitation
Download
Need a simple but effective boarding pass template for your upcoming event? Then don't let this Simple Boarding Pass Wedding Invitation pass you by. With its graphics that are high in quality and well-written content, you will surely have a quality template in your hands. Grab this editable template now.