An effective service catalog is one that is both informative and visually appealing. And this article is all about teaching you how to create stunning catalog template designs so that you could improve your brand's print marketing game.
5 Steps To Make a Service Catalog
The first part of this tutorial focuses on the basics of catalog-making. Here, we outline the crucial steps that should be followed in order to come up with a good catalog design.
Step 1: Write an engaging sales copy.
First off, you must come up with a relevant sales copy for your service catalog. To illustrate, if you are a cleaning service company, your service catalog should include specific wording about the different cleaning services that you offer. Also, make sure that you (or a hired copywriter) craft your catalog's wording in layman's terms while keeping the copy enticing.
Step 2: Choose an organized layout design.
Readability is another important element for a service catalog. Make sure that your catalog follows an organized layout design to make it easier to read. Pay attention to visual hierarchy or to how text and images or illustrations are arranged in a visually appealing manner.
Step 3: Correlate everything with your theme or type of campaign.
Next, based on the type of content and layout you've created or selected, it's time to pick out a design theme or motif. A coherent theme allows you to present information in your catalog in a logical and enticing manner. Catalog themes may range from clean and minimalist motifs to colorful season-appropriate mosaic themes.
Step 4: Use a ready-made catalog template.
Once you have chosen a design theme, we recommend that you download a printable service catalog template. With these pre-made templates, you only have to customize any text or image placeholders with your own service information. You may also add your own touches to the template as you please.
Step 5: Print on high-quality paper.
Lastly, what makes an impressive service catalog is the quality of the paper it is printed on. But before you can engage them with compelling catalog content, you need to capture their attention with beautiful catalog prints. A tip: Use professional quality glossy magazine paper if you want your own service catalogs to have that chic feel.
Did you take down notes on how to create your own service catalog? We certainly hope so. But, if not, you can always bookmark this article and refer back to it later on.
6+ Service Catalog Templates
Embedded below are downloadable examples of service catalog templates in PSD, MS Word, Publisher, InDesign, Illustrator, and Apple Pages file formats.
1. Service Catalog Example Template
Surprise any potential clients with the potential of your service or company when you use the Service Catalog Example Template shown above. This printable template comes with six pages catalog pages pre-filled text placeholders and high-resolution images. You may use the default images or you may also use your own photos.
2. Service Catalog Template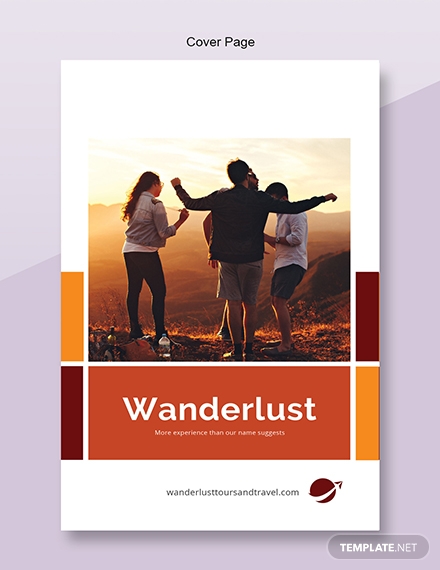 The four-page Service Catalog Template (featured above) is perfect for brands and organizations who want a more laidback feel to their catalog designs. This template allows the use of a full-page cover photo so that you can more accurately choose an original image that best represents your business or brand. When editing this template, do not forget to add your business branding design elements like your company letterhead or logo design.

3. Professional Service Catalog Template
As its name implies, the Professional Service Catalog Template (pictured above) is best used by organizations and business entities who want their print marketing collateral to reflect clean, modern, and trustworthy image. When using this template, stick with professionally taken company photos or stock photos. Don't forget to review the template's wording and check if they conform to your business' or organization's branding identity.
4. Real Estate Service Catalog and Brochure Template
Download
Try out the Real Estate Service Catalog and Brochure Template (embedded above) if you want a multipurpose marketing template. As its name suggests, you may use this template both as a catalog and as a printed brochure. It can also be used for different kinds of business entities aside from real estate firms. With just a little tweak on the base template, you may easily transform it into an architecture catalog or a travel brochure.

5. Square Service Catalog Template
Download
The Square Service Catalog Template (shown above) is a good alternative if you want to do away with traditional letter-sized service catalogs. Due to its size, this catalog is perfect as a coffee table reading material or even as an alternative to a rack card. This InDesign catalog template includes twenty-four pre-formatted pages that you can fill with relevant text and images or illustrations. Isn't this just a perfect catalog design for selling multiple products or services?
6. Multipurpose Service Catalog Template
Download
A brief glance at the Multipurpose Service Catalog Template (pictured above) will tell you that it is perfect for companies looking for clean and minimalist catalog design. It can be used by design firms, marketing agencies, service-oriented facilities, schools, and other entities. Download this template and you will have access to InDesign and PDF template files to make editing easier later on. You may also add more pages to the template depending on the type of catalog you are making.
7. Creative Service Catalog Brochure Template
Download
To create an effective service catalog, you need to be mindful of walls of text present in your design. In fact, you must avoid them as much as possible. You may use the Creative Service Catalog Brochure Template (embedded above) as a base catalog design if you want all text and images divided into meaningful and readable chunks. When you download this template, you will get to access a four-page InDesign template file. You may also choose between A4 and US Letter page printing sizes. Also, remember to use your own high-resolution photos in lieu of the image placeholders included on the template.