People rely on their vehicles to go to school, work, or any place that's hardly reachable by walking. If you're in a business that handles or deals with vehicles, check out the various car business roll-up banner templates offered below. With these, you won't have to worry about not being able to drive customers toward your business.
5 Steps to Create a Car Business Roll-Up Banner
Step 1: Know and choose a banner size.
Roll-up banners come in various sizes and these rely on your message and the target audience. The most commonly-used sizes include 600 by 1700 mm, 800 by 2000 mm, 850 by 2000 mm, 1000 by 2000 mm, and 1200 by 2000 mm. Simply choose a size that'll work for you and stick with it.
Step 2: Decide on the right editing tool.
What editing tool are you planning to use for editing your roll-up banner? You've got various options such as Adobe Photoshop, Apple Pages, and Adobe Illustrator. After deciding on an editing tool, install it on your computer and familiarize yourself with the different tools, filters, and the entire interface.
Step 3: Download a car business roll-up banner template.
By now, you've probably already installed the editing tool that you've decided to use and it's time for you to download a roll-up banner template. When choosing a template from the ones below, make sure that it's fully compatible with your editing tool. If you decided to use Apple Pages, then you should download a template in Pages.
Step 4: Start editing the design and the content.
As long as you're using the right editing tool for the file format, you won't have a problem adding elements or rearranging them on the layout. Here, you will simply need to customize the design according to your preferences and then add the roll-up banner's necessary content. After doing so, don't forget to proofread the content.
Step 5: Evaluate, test, tweak, re-evaluate.
Aside from proofreading the content, it is also important to evaluate the design and to test it out in public to determine its effectiveness. If it needs to be tweaked, make the necessary changes and then re-evaluate the design. Repeat this process until you are able to create roll-up banners that are capable of attracting an audience.
11+ Car Business Roll-Up Banner Templates
1. Automotive Business Roll-Up Banner Design
Whether you're planning to open an automotive business or simply promoting your business' services, this roll-up banner template would be the perfect tool to do it. You can really tell that this template has been designed by professionals with its very attractive design. You can download this template in Illustrator, Photoshop, or Pages.
2. Modern Car Rental Roll-Up Banner
Download
Present your car rental business professionally with this downloadable and fully editable roll-up banner template. Aside from being editable, this template also comes five color variants and links to some free fonts. Lastly, this template will also allow you to include a QR code to the layout, making to convenient for conveying more information about the business.
3. Car Rental Business Roll-Up Banner
Download
Here's another car rental roll-up banner template that you might want to use to promote your business. Since this is a template in the PSD format, you will need to use Adobe Photoshop to be able to enjoy the template's editable layers. If you're looking for links to some fonts, they're all provided in the Help file.
4. Automotive Car Business Roll-Up Banner
Download
When people need to get their vehicles attended, persuade them to go nowhere else but to your business by using this roll-up banner template. Here is a fully and easily editable template that's perfect for any business that deals with vehicles. If you're interested, also check out our automotive brochure template and the link below for more goodies.
5. Car Wash Roll-Up Banner Template
Download
When promoting your business, don't just offer to wash your customer's car, go the extra mile by ensuring to make their cars shine. With this fully editable roll-up banner template, you'll be able to promote your services effectively without having to undergo too much stress. Download this template now and enjoy the other features that come with it.
6. Clean Car Wash Roll-Up Banner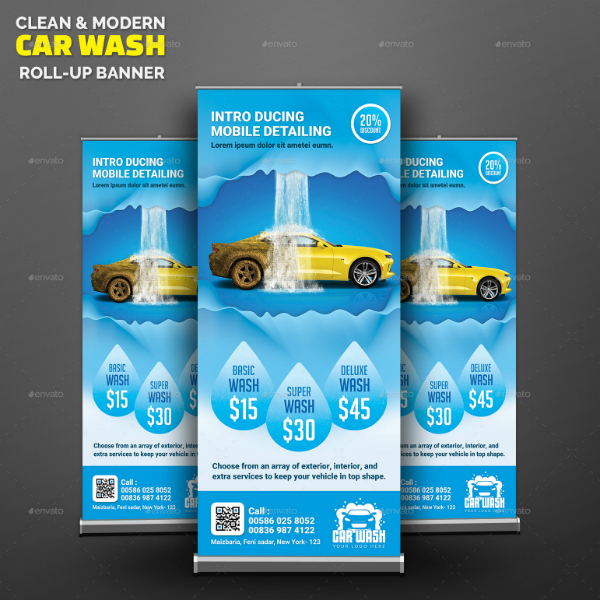 Download
Where else can you get a roll-up banner template that already comes with a usable logo? This car wash roll-up banner has been professionally designed and consists of organized layers to really make sure that you won't have a hard time editing it. Again, this template already comes with a logo that you can use.
7. Car Rent Roll-Up Banner Sample
Download
You don't have to go over-the-top just to make sure that your roll-up banners get noticed, and here's a good example. Although this car rental roll-up banner keeps itself minimal, it is still capable of attracting a lot of people because of how organized the contents are.
8. Vintage Cars Roll-Up Banner Format
Download
Whether you're hosting an event or are actually promoting your business, you might want to use this roll-up banner to attract attention to your message. This printable banner template consists of high-quality layers that allow for easy editing. Regardless of your purpose for using roll-up banners, this template can get the job done.
9. Car Services Roll-Up Banner Example
Download
Offer your car services to your customers when they need you to, and this can help get you a good reputation. By downloading and using this car service roll-up banner, you can enumerate the services that your business is offering. And to offer discounts to your loyal customers, you can also check out our car service promotion voucher.
10. Professional Car Wash Roll-Up Banner
Download
Whether or not your promotional materials have indeed been designed by professionals, make sure that it does look presentable and enticing. With this fully editable and ready to print roll-up banner template, you'll be gaining customers and washing cars in no time. This template comes with free fonts, and you can use your own images for the design.
11. Auto Repair Roll-Up Banner Layout
Download
Although there are people who are quite knowledgeable in car parts and how to repair problems, there are also those who rely on auto repair shops to get their vehicles fixed. To promote your business, feel free to download this banner template and edit it according to its purpose and your preference.
12. Auto Dealer Services Roll-Up Banner
Download
If you're either in the car dealing or auto repair business, you might want to consider using this template as your marketing tool. This template comes with three color variants and each with either dark or white background. To offer discounts to your customers, we also have a car dealer discount voucher template that you might be interested in.