Roll-up banners can be used for many different reasons. They are flexible, versatile, and convenient. One of its uses is as signage for job fairs, business expos, trade shows, and even pop up shops. Not only does it serve as a marketing and advertising tool, but it also helps your customers find out more about you and your business.
5 Steps to Make Roll-Up Banner Signage
Step 1: Choose and use a roll-up banner signage template
A template is a guideline you use to save both time and effort. Using a roll-up banner template is the most effective and efficient way to have your own roll-up banner signage. This way, all you have to do is gather the information and images you intend to use, edit the template, then print.
Step 2: Collect and compile all the information that you will be using
As mentioned, gathering the information you intend to use is necessary. Your banner should answer most, if not all, the following questions. What product or service are you selling or providing? Where can they purchase or avail of the product or service in the future? Where can they get more information? Try to put yourself in your customer's shoes.
Step 3: Choose a complementing color scheme
Color is usually the first thing that your customers notice. Be sure to use a combination of colors that both complement your product and service, and the images you decide to use. If you are using the roll-up banner for season based promotions, be sure to coordinate your color combination with colors that represent the season.
Step 4: Collect images and pictures for your roll-up signage banner
Pictures and images are powerful tools. Be sure to use not only pictures and images that are relevant to your products and services but high-quality pictures and images as well. Low-quality images tend to look horrible when resized. You want your roll-up banner to have a good visual appeal. This way, you draw in a crowd, not repulse them.
Step 5: Test print your roll-up signage banner
Be sure to test print your roll-up signage banner before having them sent for printing. Depending on the material used to print your signage banner on, as well as the quality of ink used by the printing company, the way the colors and images look could change slightly. Be sure to test print your banner before you have the final roll-up signage banner is printed.
10+ Roll Up Banner Signage Templates
1. Corporate Roll-Up Banner Template
Corporations often attend more than their fair share of job fairs, business expos, and other similar events. The roll-up signage banner is one of the main marketing and advertising tools that they most often employ. Take a page from their book and make your own roll-up banner. Download this corporate roll-up banner template, edit, and watch as your business draws in a great crowd.
2. Business Roll-Up Banner Design
This business roll-up banner helps you and your company inform the masses about what you and your company does. Highly versatile and flexible, this marketing and advertising tool are perfect for businesses of any size. Download and edit in Adobe Illustrator or Photoshop and print.
3. Product Roll-Up Banner Sample
Marketing is the biggest reason we use the roll-up banner. It is a very effective and efficient marketing tool. Market your newest or even already existing products using this product launch roll-up banner. Downloadable in either Photoshop or Adobe Illustrator file types for your editing and customizing convenience.
4. Product Launch Roll-Up Banner
With the right marketing tool, marketing any product can be easy. This product roll-up banner is the best marketing tool you can use. Its versatility allows you to market different products with ease. Simply download and edit with your editing software of choice, print, and watch your products fly off the shelves.
5. Furniture Roll-Up Banner Template
Selling furniture can be tough. Make things easier for you and use this furniture roll-up banner. This is the easiest to use advertising and marketing tool you could ever want. Download in multiple file types like Adobe Illustrator, Pages, and Photoshop. Simply edit to fit your marketing needs.
6. Gym Roll-Up Banner Template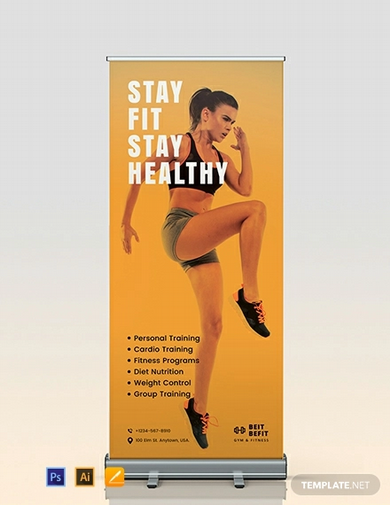 Gym going can either be a seasonal, or a constant thing to a lot of people. As a gym owner, however, it is your job to inform these gym goers that your gym is available. Advertise your gym and all your promotions with this gym roll-up banner.
7. Free Fitness Roll-Up Banner Template
Fitness is more than just dieting and nutrition. Nowadays, most people live sedentary lifestyles. Invite these people to your fitness gym and watch as they transform their lives. Simply download and edit in Adobe Illustrator or Photoshop, this roll-up banner is super easy to use.
8. Multipurpose Roll Up Banner Template
Always be prepared for anything. This roll-up signage banner is a great way to prepare you for any form of advertising ahead of time. Roll-up banners are extremely easy to design, print, and even store. It is a good idea to have a few roll-up banners printed ahead of time, and bring them out whenever needed. Be ready to advertise at any time.
9. Free Photography Roll Up Banner
Show everyone the world through your lenses. Advertise you and your photography business with this photography roll-up banner. Use images you have personally shot and advertise you and your services. Available for download and editing with Photoshop, this well-designed roll-up banner is the best way to show the world what you can do.
10. Multi-Use Roll Up Signage Banner
Download
Use this roll-up banner for any and all advertising and marketing reasons. Roll-up banners are needed on many occasions. Whether the reasons are business expos, job fairs, trade shows, or even just to provide a company background. This multi-purpose roll-up signage banner is what you need.
11. Business Roll-Up Banner Sample
Download
Marketing is very important to businesses. It is the way to show potential clients what the business has to offer. Using this business roll-up banner template, marketing becomes easy. Made exactly with business promotions in mind, this banner is ideal for marketing your company and all of your products and services. Download this template, edit to fit your marketing needs, print, and enjoy.