With a great amount of content being massively available on the internet in just one click and the print media at large having to extend to reach out to the online audience, it's not so surprising why magazines are sometimes seen as nothing more than a source of entertainment. However, there's still no denying print magazine's enduring effect to the masses with the magazine industry drawing decent and stable profits through the years, thanks to their winning graphic designs.
Steps to Create a Magazine in InDesign
Step 1: Choose A Topic/Theme
If you're a magazine subscriber, you'll find that they usually have a dominant subject, topic, or a theme which is consistent throughout the content. A great theme is helpful, general, and targeted to a group of audience. Are you planning on publishing what's largely a literary journal, or is your content focused on current world events?
Step 2: Target Your Audience
This is related to step 1. We have already established that magazines are powerful niche marketing tools. You'll have a better design if your concept is targeted to a specific group of people. Are you trying to appeal to a specific age group with your stories and the rest of your content? This is the type of question you have to ask if you don't want to end up your magazine to be a marketing faux pas because it will be if it's out of touch.
Step 3: Do Your Research
Once you and your editorial team have decided on the theme, topic, and audience of your focus, it's time to get down to preparations which are mainly researching the different subjects that surrounds your theme or the kind of content you're supposed to include in your magazine sections. You may have a general idea of what you want your magazine to look like but research can help you narrow down your focus and understand what to avoid.
Step 4: Build An Editorial Board
Whether you're designing the layout of a school, company, or a sub-company of an established magazine publishing business, creating one issue for distribution is a difficult job for anyone, especially if you lack basic design or copy-editing skills. Just like a newspaper, you'll be able to divide the workload by building an editorial team with each editor assigned to certain sections of the magazine.
Step 5: Get Your Print Specs Right
If you have completed the layout and your graphics have been set up correctly, printing your magazine is a simple enough process and you'll discover plenty of print-on-demand sites that are offering magazine printing services. You're also free to look for local printing shops after asking for quotes. It's not going to be difficult as you will have options to choose from.
10+ Magazine Templates
1. Photography Magazine Design
Download
This template is perfect for creating a magazine for your photography business or company. This photography magazine template is fully editable and easy to print in easy to edit and fully in Photoshop, InDesign, MS Word, and Publisher. Download in any of your chosen format!
2. Real Estate Magazine Template
Download
Download this professionally-designed magazine layout for the real estate market. This real estate magazine template can be used as a guide for your next issue or simply customize the content to fit your publication or company's theme. Edit and print in all versions of MS Word and Publisher.
3. Editable Travel Magazine Template
Download
Want to reach out to millennial wanderlusts? This travel magazine design is perfect for targeting travel readers and those who love to take inspiration from reading about destinations. Get this template anywhere, anytime and enjoy the high-quality graphics that comes with it!
4. Free Clothing Magazine Template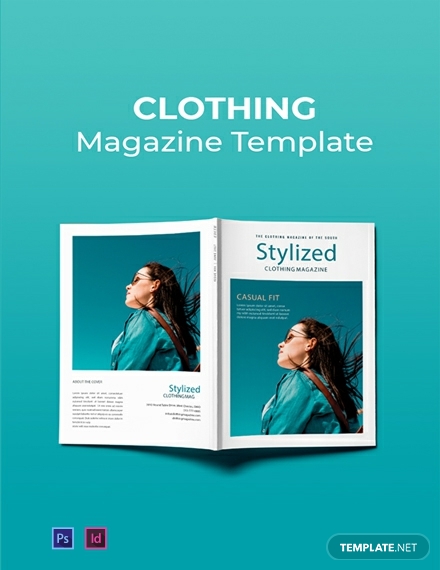 Download
Download this minimal but state-of-the-art magazine sample to carve or nurture your niche in the fashion world. Take advantage of the graphics that are ready for printing in Photoshop and InDesign files, then edit and customize according to the content your publication needs. This template also comes in a friendly size!
5. Design and Tech Magazine Template
Download
Not sure how to give justice to the tech stories and updates in your magazine? Go ahead and use this Design and Tech Magazine Template with a first-rate layout and graphics files to complete your own mock-up and edit to fit your company's design and content preferences or theme.
6. Digital Photography Magazine Template
Download
Do you need a magazine template which is fully formatted and can be printed in any versions of MS Word, Photoshop, InDesign, and Publisher? You're in the right place as you can get this easy-to-download and print-ready template, complete with some of the best artwork and images!
7. Free Lookbook Magazine Template
Download
In need of an organized magazine layout, but pressed for time? This editable magazine template with attention-getting cover can be downloaded easily whether your editors specifically asks for a Photoshop or InDesign files for the design. With it's hassle-free features, you can save time completing your own magazine design.
8. Elegant Lifestyle Magazine Template
Download
Planning of mass printing your lifestyle magazine but hesitant with the layout? You can refer to this Lifestyle Magazine Template to check if you have collected the right content and whether or not your overall design fits the theme. Better yet, just download and customize as you see fit!
9. Magazine Design Template
Download
An easy to use magazine template with a modern look can increase your chances of efficiently personalizing the design for any of your specific content use. Get this magazine template in a simple but well-designed format that you may also find use in the future. Download it now!
10. Sample Magazine Template
Download
Wondering how to design the layout of your business magazine? Worry no more because this template can be useful if you need a design that will deliver nothing less than the best graphics and content. It's also focused on business content so it will be easy for you to just customize, download, print and circulate!
11. Modern Magazine Template
Download
This fully-layered magazine template is perfect for magazine design projects or your next issue's layout, especially that it comes in a handy, friendly, editable file. If you're currently having a hard time completing your magazine design, you're free to use this template to help you out and finish a quality design!