Landscape painting are artworks depicting a specific place or location. Natural ecosystems and environments are usually used as subjects in this kind of painting. However, any landscape or land features can be used as an inspiration for landscape painting.
There are many ways a landscape may be presented and there are also personal touches of the painter that can make a landscape painting one of a kind. The emotion that a landscape painting may exude varies strongly on how the painter wanted viewers to perceive his or her work. If you want to create your own landscape painting, you may view our painting ideas and get a thing or two from the tips available there.
Acrylic Landscape Painting
Source
Watercolor Landscape Painting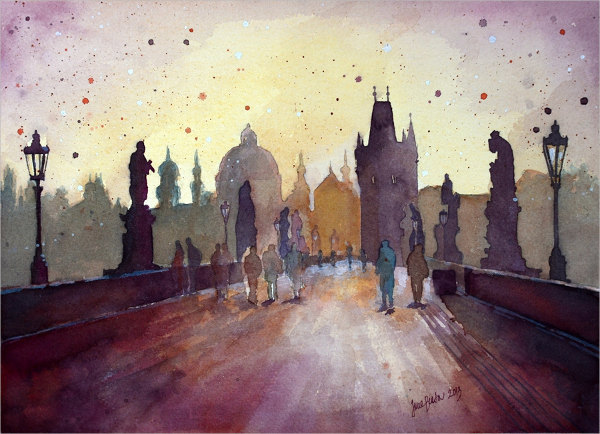 Source
Landscape Nature Painting
Source
Contemporary Landscape Painting
Abstract Landscape Painting
Source
Painting Styles and Techniques Used in Landscape Painting
There are many ways landscapes can be interpreted as a form of art. It is a subject where artists can use their creativity and play with techniques to create the image that they think is a great way of representing a landscape. Here are a few samples of different styles and techniques that painters use in creating landscape paintings:
Contemporary art, or the kind of art produced in the present, uses different strokes of acrylic or oil based paint to create objects that are relevant in the presentation of landscapes. They give a deeper substance depending on how people view landscapes. It also gives them an insight into the mind of the painter at the moment of inception. You may view our oil paintings to see more samples of the subject matter.
Abstract painting can also be used in presenting a landscape. The use of imagery and stroke patterns depicts the personal vision of a painter regarding landscapes. The blending of colors and intersection of lines are of utmost importance as viewing it closely can make people understand what the artist had in mind in creating the abstract work of art to present the landscape.
Some artist though do not veer away from how a landscape looks like in person. The natural look of a landscape may be retained in an artwork so a painting is as good as taking photographs of the exact place used as the subject.
Pastel Landscape Painting
Source
Vintage Landscape Painting
Source
Landscape Oil Painting
Source
Digital Landscape Painting
Source
Beach Landscape Painting
Source
Usage of Landscape Paintings
Landscape paintings may be used for the following purposes:
Paintings truly make a great interior display. However, landscape paintings can give more depth to a space as it is a reflection of places outside being brought inside homes or office spaces.
Landscape paintings can also be used as design materials. You can put them in a frame and just display them anywhere you want to. You can print our landscape painting samples in different sizes so you can use them in as many ways as possible.
You can use landscape painting as a design material for a project that you are doing or for the beautification of a document that you need to present.
Landscape Paintings as an Art Form
In general, landscape paintings can be used in so many ways and can also be interpreted in different ways. Moreover, it is the function of giving life to images that makes it possible for landscape paintings to be used and practiced throughout the years.
It's purpose as an art form has been served once people who have seen it feel the emotion that grips all the aspects of the painting altogether. This makes them feel that they are in the exact same place the artist was.
Aside from our landscape painting, you may also download our acrylic paintings .