Paintings
29+ Creative Magical Paintings with Optical Illusion
Who forgets the HarryPotter magic? The fantasy fad drives kids and adults alike with its evil characters and deathly hallows and proves that creativity has no boundaries. The only thing is that you need to give the creators a free hand. Here the magical paintings reinforce the same fact. Have a suspicious glance at them and the way how paintbrushes turn out to be the magic wands. However, don't blame us if the magic show creates an optical illusion.
Magical Art of Cycling Boys
This Magical painting looks as if it endorses environmental friendly commute system with a little illusion. How come are the kids riding atop the trees? Think and thank the artist for his thought and execution.
A close-up view of a royal castle and a magical world that come to life at night time. The artist wants to give a new meaning to 'landscape' with a night painting. And this is the result.
Waterfalls Turning into Women
A waterfall is turning into a group of nature spirits – nymphs in the full moon light. We know the full moon lights up the night. But here the artist lights up the image by bringing the milky white effect.
Magical Painting of Flying Swan
Most of us are familiar with the famous story of storks delivering babies. But in this deviant art, the magic swan is carrying something else. It's a kitten in a shoe. This artist might be a cat lover.
Room Turning into A Beautiful Landscape
Another 'Hoggard' stuff? Three kids that are lookalikes of Harry Potter, Emma, and Ron practicing some magic spells. That is flying in the air without any support. A superior trick!
Magical Painting of Floating Waterfalls
A small boy with a tiger! Reward that artist for his careful selection of colors and Free textures. It's truly a magical world. This shows how hard he had sweated to bring the output so perfect. Doesn't it?
Magical Art of Kids Playing Under Tree
The landscape view of a city from a riverside, on the other side of which two children are playing using building blocks. They are trying to build the same skyscrapers. Almost perfect!
Magical Painting of A Girl in Frame
Is it an image that has been framed or is it real? That you do an investigation. But this model gives a tutorial on how to do a hair work. The colors and the gradients are simply awesome.
Digital Art by Lisa Lindsay
Dungeons and Dragons. Lords of the Rings sort. It's not an illusion. The artist has beautifully illustrated the dragon hearts and the warriors with bow strings and arrows. They are even ready for mortal combat.
Magical Painting of Vintage Ships
Beautiful Sky Magical Art
Magical Painting of A Starfish
Woman in Water Magical Art
Woman Sleeping on Snow Beds
Balloons Floating Under Sky
Creative Painting of A Queen
Kids Playing on Rooftops
Curtains Turning into Landscape
Magical Art Nature in Room
Magical Art of Kids in A Garden
Magical Painting of Grandma & Soul
Kid Playing Chess on A Landscape
Woman Playing Chess Painting
Lunar Eclipse Created by A Woman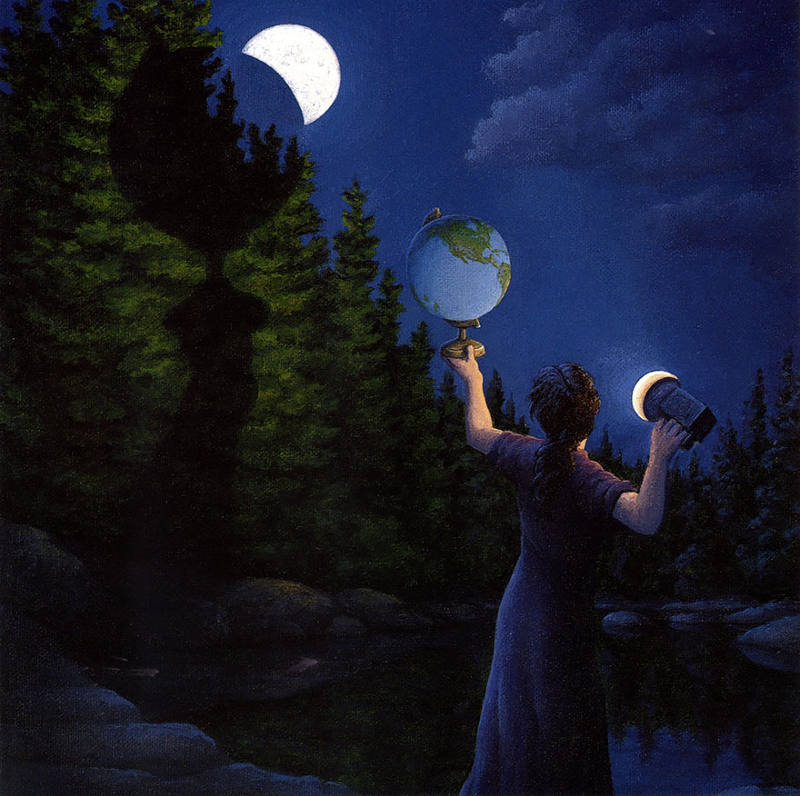 Magical Art of Birds & Ships
Train Bridge Formation of Human Beings
Water Flow Turning into A Beautiful Woman
Magical Art with Beautiful Creativity
Magical Art of A Bean Stalk
Magical Paintings are mostly double-sighted. The artists paint these paintings with a certain knack by which they create the obvious fallacy in a way so balancing and leave the final say to the viewers. Whatsoever, these Magical hand Paintings provide a creative reference for 3D artists and other animators out there.