Few years back did it even come across as a possibility that candy wrappers could be downloaded and printed for general usage! The times have changed and so have the needs and requirements of the professionals. Candy industry has taken a step forward by including these print candy bar templates into the scheme of things.
Packaging is one of the key attractions which make a product a top-seller…or not. Candy bars are no different. Adults and kids love them, and they love them even more if they look and taste great. We have got here a slew of innovative, fully responsive candy bar wrapper templates which you can use in for your candy bar product design.You can also see Candy Cane Templates.
51+ Print Templates in Word | PSD | InDesign | Apple Pages | Publisher | Illustrator - START DOWNLOADING
Chocolate Wrapper Packaging Template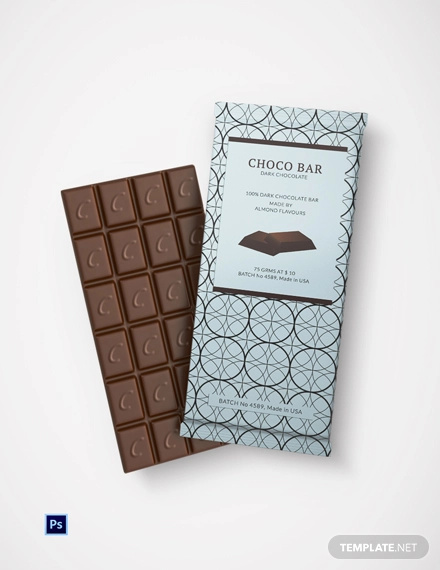 Mini Candy Bar Wrapper Template
Download
This mini candy wrapper template comes with italics embossed pattern on both the sides. The name of the product or the company comes in the middle highlighted in a rectangular bar with rounded corners. You may also see popcorn wrapper templates
Hershey Candy Bar Wrapper Template
Download
This Hershey candy bar wrapper template has blue chequered pattern on the flaps and a big circular design in the middle with blue colour rays spreading out from it. You may also see gift wrapper templates
Chocolate Bar Wrapper Mockup
Download
The soothing dark green colour of this chocolate bar wrapper mock-up template has an appealing effect on the onlookers. The glossy look tempts people to pick it up straightaway. You may also see bottle wrapper templates
You are getting 4 sets of unique candy wrapper template options here in slant stripes, polka dots and bubbles. The cute animals at the fore and the amusing tag line are super fun.
Personalized Candy Bar Wrapper Design
Download
This personalised candy bar wrapper design template provides a classy vintage design. The name of the company or the product comes in the middle. You may also see printable cupcake wrapper templates designs!
Candy Wrapper MockUp Photoshop
Download
This candy wrapper mock-up Photoshop template provides a distinctive chocolate colour flaps and a glossy yellow colour strap in middle which highlights the name of the product.
Minnie Mouse BABY SHOWER Candy Wrappers Template
Download
You have two amazing sets of Personalized Candy & Chocolate Bar Wrappers here in the Disney theme. The Mickey one is for the mom expecting a boy while the Minnie is when she is soon to welcome a little girl.
If you are looking for elegant chocolate wrappers template, this is the one for you with its intense dark chocolate backdrop and bold font at the center. It is easily customizable.
Superhero Candy Bar Wrappers Template
Download
If you are planning a  superhero themed party soon, this superhero personalized chocolate wrappers free would be the right choice for a fitting wrap-up for the candies at your event.
Candy Bar Wrapper Template for MAC?
Download
The most adorable bit of the wrapper surely lies in the list of the emotional ingredients backing up the lovely home-made special chocolate gift for a dear one on her birthday.
Ladybug Birthday Party Wrappers Template
Download
The cute ladybug birthday party chocolate wrapper will let you enter details on two sides. At the front, you will write about the party details and the back you will have your thank you message.
Candy Bar Wrapper Template Large Blue PDF Format
Download
You are getting a refined candy bar wrapper here which would be awesome for wedding celebration candy treats- with the name of the couple and the wedding date dazzling at the center.
Full Size Candy Bar Wrapper Template
Download
If you are looking for custom candy bar wrappers templates free for your wedding chocolate treats, these candy bar wrapper templates would be great with their wild dotted design and classy elegant stripes.
Candy Wrapper Design Template
Download
You are getting as many as 8 mini candy bar wrappers here which can be used for birthdays or special days like Mother's Day. From floral to cute animals to vibrant splashes- you have versatile themes here.
If you are looking for classy diy candy bar wrappers, nothing can beat this one with a refined beige backdrop and the royal red frame. It would be good for wedding chocolate treats.
Dots Wedding Candy Bar Wrapper
Download
You are getting two sided wedding candy bar wrapper template here. The front side hogs the entire limelight to the name of the couple bordered by lovely dots at top & bottom which the back part is a thank you message for guests.
Girl's Birthday Candy Bar Wrappers
Download
If you are in quest of something really vibrant for the chocolate wrapper on a teen's smashing birthday party, this template here would be a fitting one with its bold OMG & splashes of bright shades here and there.
Wrappers Delight Template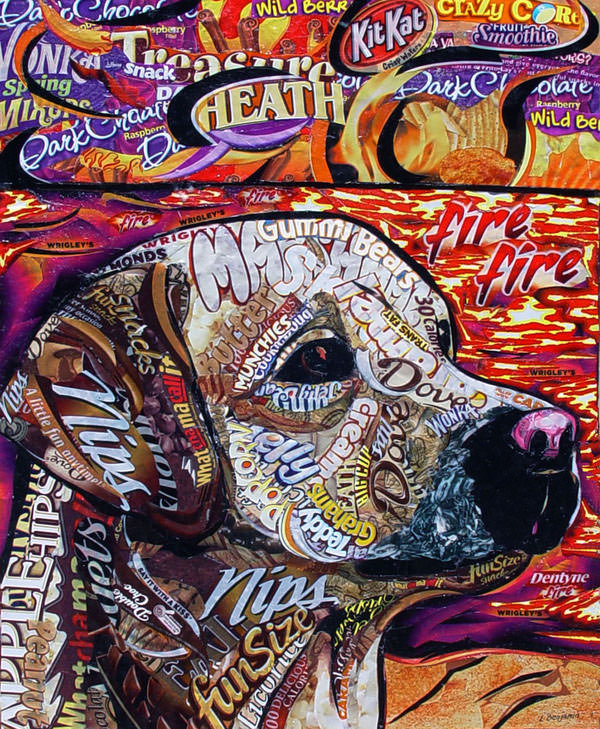 Download
Candy Wrapper Templates Are Handy For Adorable Personalized Sweet Treats
Do you have a party coming up soon at your home? It could be your little one's birthday or your sister's baby shower. Well, whatever it is, candies and chocolates are always great for party favors and you can make them more inviting through personalized printable candy bar wrappers, created through wrapper templates.
Flat DIY Candy Bar Wrapper Template
Download
Paradise Retirement Candy Wrapper Template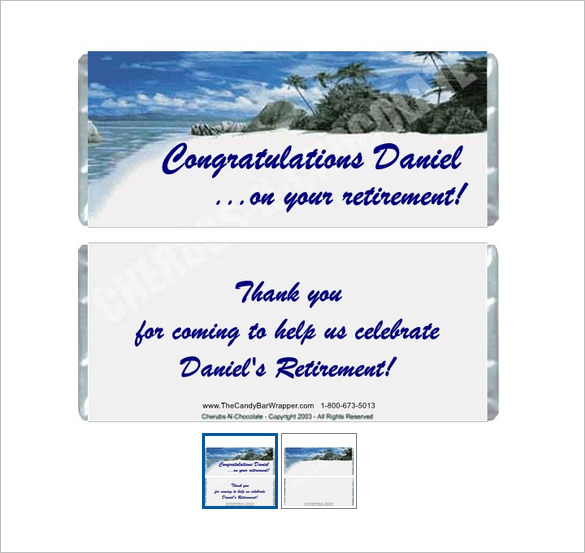 Download
Wedding Candy Wrappers Template
Download
Firebird Style Candy Wrapper Design
Download
Announcement Sample Candy Bar Wrapper
Download
Uses of Candy Bar Wrappers
These candy bar wrapper templates are especially good news for individuals that specialize in making homemade chocolates and candies for indoor and outdoor parties and events. By choosing one of our very creative and customizable wrapper templates, you'd easily be able to personalize wrappers – eg: write a birthday message.
You have these templates in varied designs to pick from, ranging from glossy to matt to stripes to dots to bubbles. You will even find templates for branded chocolate or candy bar wrappers such as dairy milk chocklate wrappers.
Colorful Galaxy Mini Candy Bar Wrappers
Download
Cheers to You 40 Personalized Candy Bars Wrapper
Download
Gold Diamond Personalized Candy Bars Wrapper
Download
Halloween Candy Wrapper Template
Download
Classic Rudolph Personalized Candy Bars Wrapper
Bubble Guppies Time to Play Candy Bars Wrapper Template
Candy Bar Cover Template
Mini Sized Art Deco Candy Wrapper Template
Download
If you are looking for out of the box candy bar wrapper template free, this candy bar wrappers shaped up as curious owls, would do the bit for you. You have them in two shades.
When you pick a candy bar wrapper template, make sure you pick a design which is full of color and has vibrancy. Bland-looking candies and bars seldom win any attention – be adults or kids. As you can customize these templates, be sure to be imaginative with the choice of design and color of the ca ndy wrapper. You can also see Free wrapper candy box templates .
Tips on Using Candy Bar Wrappers & Templates
The online world has come up with free psd candy bar wrappers templates in various sizes. Choose a one according to your bar size.
If you want to create a more special personalized tone, choose templates of candy bars wrapper for weddings that allow you to upload pictures.
You can also add clip art on the bar wrapper template.
The candy bar templates would even be amazing when you are planning a homemade chocolate favor for special days like Mother's Day.
How to Create Your Own Candy Wrapper from Templates?
First of all, you have to download compatible full size candy bar wrappers free.
Then, you will customize the wrapper template by modifying its color & text as per your typical requirements.
After you are done with the customization, you would have to print out the template on a paper. Depending on your choice, you can use either glossy or matt paper. Glossy wrappers are excellent for birthday parties while elegant matt wrappers would be fitting for classy events like weddings.
Now, you would have to cut out the wrapper portion from the paper.
Fold the cut out around your candy or chocolate bar. The top & bottom edges must overlap slightly.
Unfold the cut out ; you might have to trim out excess portion if needed. Make sure, the trim doesn't harm the main design or message bit on the wrapper.
Place dual-sided tape right along bottom end of front part of your wrapper.
Fold the paper around the bar once again. The taped end at the bottom should be placed beneath top end & then press on edges mildly to seal up the wrapper with the bar.
Personalized Candy Bar Wrappers for Hershey's Bars
Hershey's bars are no doubt a favorite of chocolate connoisseurs all over. Are you looking to have the same as your party favors but sealed with your own personalized tone? Well, you have harshey bar wrapper template today that comes with the signature chocolate brown & white/silver combination of a Hershey's wrapper. You can write your message in the same block font of Hersey's on the wrapper template or else some of the templates feature a separate frame for your message on the Hersey's backdrop.
We are Here to Help
If you are looking for the best of candy bar wrapper templates, template.net assures a warm welcome with its fabulous set of wrapper templates-from wrappers with photos, to cute ladybug wrappers to branded wrappers to superhero wrappers to Disney wrappers- we have them all.
If you have any DMCA issues on this post, please contact us!