Birds, the most widespread of all the animals in the world, have around 9,500 species in existence. They are truly magical creatures with their abilities to fly around above us. Famous birds in cartoons, comic books, and movies include Sesame Street's Big Bird, Warner Brothers' Tweety Bird, Disney's Donald Duck, and Peanuts' Woodstock.
An illustration, on the other hand, is a visual presentation of a concept or idea, bringing it to life. Illustrations are present on various materials, such as comic books, posters, and animated shows or movies. On this page, we present you with our collection of bird illustrations. For more samples to choose from, check out our collection of Vector Illustrations.
Flying Bird Illustration
Download
Bird Nest Illustration
Download
Vintage Bird Illustration
Download
Cardinal Bird Illustration
Download
Angry Bird Illustration
Download
Facts about birds
The Australian pelican has the longest bill of any bird in the world measuring nearly two feet in length.
Owls don't have the ability to move their eyeballs, so they move their whole head instead.
Ravens are quite talkative and are great at mimicking human speech and sounds. But aside from humans, they also imitate other animals and predators like wolves.
The eyes of the ostrich are approximately the same size as a billiard ball, making it the largest among land animals.
The Japanese crested Ibis is one of the rarest birds in the world, with only less than fifty in existence today.
The hummingbird is the only bird capable of flying backwards.
Many scientists believe that birds evolved from dinosaurs about 150 million years ago.
The wandering albatross has the largest wingspan for any bird, reaching lengths of up to eleven feet.
The now-extinct flightless elephant bird was the biggest that ever existed on Earth, which weighed around a thousand pounds.
Birds actually have three fingers on each wing. The thumb supports a small part of the wing, while the other two supports the main flight features
For those who are more inclined with the beauty of green grass, tall trees, and nature in general, you may check out our collection of Landscape Design Illustrations.
Humming Bird Illustration
Download
Cuckoo Bird Illustration
Download
Bird Skull Illustration
Download
Vector Bird Illustration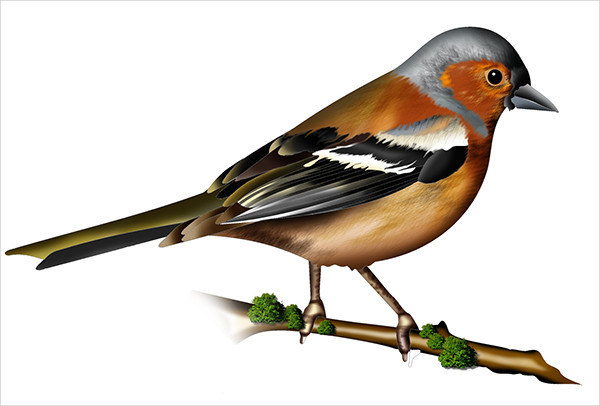 Download
Take Flight with Our Templates
Use our sample illustrations to help you get ideas on how to draw birds. You can also use it as your computer's desktop wallpaper or could even use your editing and designing skills to enhance these illustrations and make it as your website's background image. For those who are planning on printing posters, flyers, banners, and the like, you can also use these illustrations as the background to improve the quality and presentability of your prints.
How to Utilize These Illustrations
Choose the illustrations you wish to use. These images are free, so choose as many as you want.
Once you've chosen your images, click on the green Download button that accompanies that image.
Save it on your computer and make sure to remember where it is. You can save it in either JPG or PNG format.
If you want, you can make the necessary edits to the illustration using photo-editing programs.
Finalize your project by publishing it either on your own computer, on the Internet, or in printed form.
If you prefer simple illustrations that are not in color, check out our collection of Black & White Illustrations. But if you couldn't find what you were looking for on this page, go ahead and scroll down to see the links to other related content on our website.