Print
31+ Inspiring Interior Design Illustrations – AI
"A house is made of walls and beams bricks; a home is built with love and dreams." Are you about to shift to your new dream home? Then have you decided on anything about your interior designs? If you are still lingering or haven't considered any, let that wait be extinguished with these best Interior Flyer Illustration Designs and Interior Flyer Designs.
For this, you need not work with an interior designer. They come to your use with just one or a few clicks. Take no time to jump at them. Because beautiful interior illustrations bring a sense of charm and harmony to your home.
Creative Interior Designer Business Card Template
Interior Design Flyer Template
Modern Interior Design Flyer Template
Interior Design Business Card Template
Interior Designer Business Card Template
Creative Interior Decor Brochure Template
Free Interior Decor Bi-Fold Brochure Template
Interior Design Catalog Template
Creative Interior Decor Bi-Fold Brochure Template
Honorific Interior Design
This design dons a bold theme with a man wearing suspenders smoking with one hand while holding a glass (probably the alcohol) on another hand. Those who want their illustrations to be out and out luxurious can go for this.
Reading Room Interior Flat Design Illustration
This Bedroom Interior Flat Design Illustration brings an orderliness to your bedroom. It ideates you what looks good and what not in your room. You can also see Interior Design Brochures.
Coffee Shop Interior Design
A mockup design for small cafes and restaurants. From the well-furnished wooden bars and overall menu to the menu chalkboard and coffee espresso machine, it's the way how it should be.
Sunset Flat Interior Design
Don't try to relate to the name. If you leave that away, the design is incredibly flat and stunning. We know that interior stairs and balcony railings are trending these days. Hence this prototype is on the same lines. Best for storage sake!
Blue Color Interior Design
This blue color interior design is another ridiculous comic strip decor idea that can be used in novels to explain the scenes to the readers. With a pole lamp, chair, and flower vase, it looks like a perfect picture.
Interior Design of a Living Room corner
This Interior Design of Living Room poses a clean look with interior designs and decorations. If you have a living room and feel there's scope for its improvement, here's the idea.
Restaurant Kitchen Interior Design
Hoteliers and restaurateurs can catch this flat stock vector design for their work area remodifications. Hope this is inspiring enough to get out of those blurry Raster images.
Beautiful Interior Design
Beautiful Interior Design This Beautiful Interior Design is another loose illustration that helps in engineering drawings. Picture perfect from a straight angle! A cute frame with a few objects and a silent design to frame your ideas.
Bedroom Interior in Cartoon Style
Here comes the Disney stuff. Bedroom Interior in Cartoon Style. It's a bit simple but funny. Definitely, a clever way that many ignores to follow. Anybody can use this.
Kitchen Illustration Interior Design
This Kitchen Illustration Interior Design is for home purpose. It's the hub of various kitchen utensils and other cooking equipment. If you have space available for open kitchen concept, this serves as a blueprint.
Vector Home Furniture Design
Bedroom Setting Interior Design
Brown Living Room Interior
Interior Design of Kitchen
Dining Room Setting Design
Study Room Interior Design
Flat Bedroom Interior Vector Illustration
Beautiful Kitchen Interior Design
Dorm Background Interior Design
Vector Living Room Interior Design
Flat Design Bathroom Vector
Flat Style Concept Set of Interior Design
Vector Living Room Design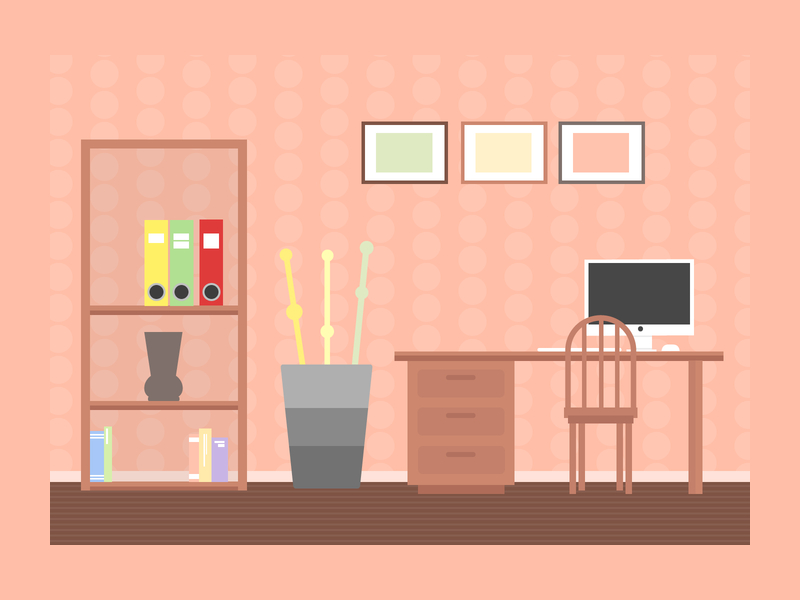 These Interior Illustration Designs are so flexible that you can choose one according to your place and space. Also, the readymade illustrations avoid the practical challenges that occur while pursuing the designs from a designer. Now you yourself can be your interior decorator, provided you are having a better understanding of your home. Because the more you understand about your home and interior decoration, the better you can plan for it.