Print
11+ Printable Phone Tree Templates – DOC, Excel, PDF
In organizations which has a comprehensive employees-count and numerous departments and sub-sections, an emergency phone tree is an organizational tool which gets used quite frequently. It basically contains the names and contact numbers of employees working in a particular department or section. In case a message or announcement needs to be circulated via call, each person on the tree is assigned to call fixed number of people on the tree so that the message gets delivered to all.You may also like Phone Message Templates If you're searching for ideas and the method of building a emergency tree in a Word Document on your own, you can take it easy. With the help of readymade editable emergency tree templates the task just became much more easier for you to do. Just download any one of the templates and straight away fill it up with names and numbers of your employees in your department.You can also see Christmas tree templates.
Phone Tree Diagram PowerPoint Template Printable Download
Editable Free Download Phone Tree Template Word Doc

thecontinuityadvisor.com
Phone Tree Diagram for PowerPoint Printable Download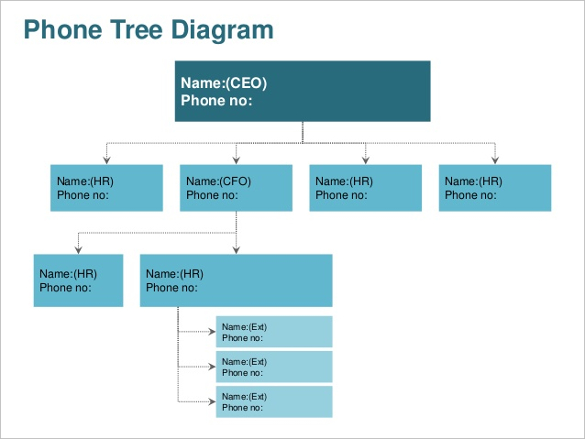 Free Download phone tree Template MS Word Editable

co.monroe.mi.us
Emergency Phone Tree Template Free Download

This emergency phone template here will allow you to list the name and phone numbers of each of the persons in your office to be contacted for emergency purposes. You can also write the function of these persons. southbaydrc.org
MS Word Phone Tree Template Free Download

This template here allows you to keep track on your entire managerial team including the senior manager and all other managers as well as their respective teams at a glance. thecontinuityadvisor.com
Example TelePhone Tree Template PDF Format

gcc.edu This telephone tree template will allow you to record the telephone numbers of each of the people in every key team or group in your company. It's neat and very organized.
Excel Phone Tree Template Free Download

This template here shows a chart tracking the numbers of desk telephone, work mobile, personal mobile and home phone of the senior manager, the other junior managers and important people from their teams. thecontinuityadvisor.com
Phone Tree Outline Template PDF

ngin.com You are getting a blank tree template here which is divided into groups and sub-groups for the senior manager, the junior managers and the key people from the teams working under them.
Sample Phone Tree Template PDF Format

henryfordconnect.com
Printable Blank Phone Tree Template Free Download

baremetal.com
Free Phone Tree Template Word Download

emplatform.com