Print
20+ Birthday Postcard Templates – Free Sample, Example Format Download!
Birthday post cards are either used as an invitation card for friends and family, or as an addendum to the invitation card informing the users on the various fun and frolic events which has been lined up for the day. You can also like political postcard templates. These birthday postcard templates are mostly simple with information on the date & time and venue of each and every event which have been lined up. These templates being simple are often edited from the already available set of options and examples which are available online. The theme, color and the look and feel of the post card should ideally complement and go with the aesthetics of the invitation card.

Birthday PostCard Template PSD Format
Simple postcards look best while sending out birthday invitations. They look great especially if you personalize it with a photograph of yourself. Dress code at a birthday party is a must, you can add that too on the cover of the postcard.
Beautiful Birthday PostCard Template PSD Format
Talk about keeping it simple! This beautiful black and gold themed birthday invitation template would be perfect if you're having a large birthday bash. All you have to do is download it and add all necessary details to the template.
Fully Editable Birthday Invitation Postcard
A simple, casual birthday party calls for a simple, elegant birthday invitation card. If that's the look you prefer, then you should go for this template, it is editable, which means you can customize the details of your party once you download it.
Couple Birthday PostCard Template Download
The best party about this template is that you can add two images to the template while customizing it. You could follow the example of the template and add two contrasting images- one, a picture of you as a child and a current photograph.
Creative And Unique Birthday PostCard Template
Birthday party postcards need to be creative and unique. Your birthday invitation cannot be outdated, or similar to something that your friend used last year! You could choose this simple yet bright postcard template if you want a great birthday invitation.
Space Themed Birthday PostCard Template Download
The mysteries of the universe never fail to amaze us. If you have a fascination for space, then you could choose this space themed birthday postcard with quirky images to add to the fun. An astronaut would simply love this!
Cool Retro Style Birthday Invitation Postcard
If you're turning 30, you should celebrate this new phase in your life with the help of this template. You could download the one that catches your eye, and customize it by adding relevant details about your party.
Grey Birthday PostCard Template PSD Format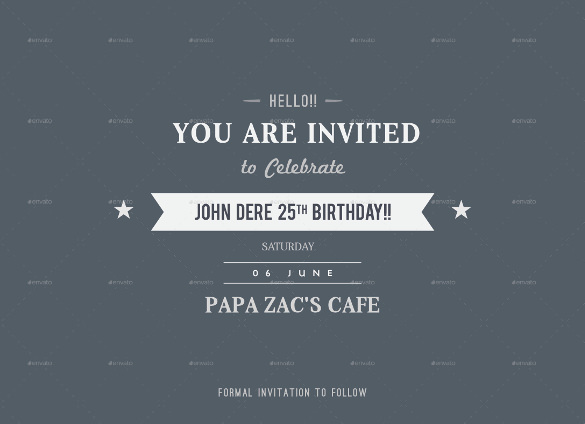 Grey has always been a classy and sophisticated colour. If you're celebrating your transition into middle age, it is time to move away from the glitter and sparkle of the youth and choose more graceful colours like grey.
Set Of 3 Editable Birthday Invitation Postcard
This set of 3 birthday invitation postcard would be perfect if you're planning to invite a large number of people. You could send each of your guests a distinct postcard, and add a personal touch to each of them to make them special.
Retro Birthday PostCard Template PSD Format
This retro themed birthday invitation postcard would be the perfect way to ask your friends to come celebrate this day with you. It has a bright red border, with sufficient spaces for your personal message on the cover.
Free Vector Birthday PostCard Template Download
One look at this birthday invitation card is sure to get your friends all excited and worked up. It hints at the amazing time they're going to have at your party. It is available in two colours, you can go for the one you want.
Simple Retro Birthday Invitation Postcard download
Retro birthday invitation cards look best when designed in a simple and elegant manner. That really allows the card to shine. If you want a minimalistic look, then you should opt for this template. It will allow you to customize it the way you please.
Letterpress Birthday Invitation Postcard
A letterpress birthday card would be the perfect way to wish someone happy birthday. Also, you can use this simple letterpress postcard template as an invitation card, because you're at complete liberty to decide how you want to use this template.
Simple Vintage Birthday PostCard Template PSD Format
Simple vintage birthday invitation cards look graceful and sophisticated. You could download this template, and fill in all the details wherever required. The minimalistic look makes it appear attractive and charming.
Set Of 2 Birthday PostCard Template PSD Format
The postcard template is mainly in black and white, and the dash of colour is sure to give it that birthday feel. You can add all the details necessary in the spaces provided, and once you're done, you'll be good to go.
Birthday Postcard Invitation Bundle Download
Set Of 5 Birthday PostCard Template PSD Format
Front And Back Birthday PostCard Template
Custom Designed Chalkboard PostCard Template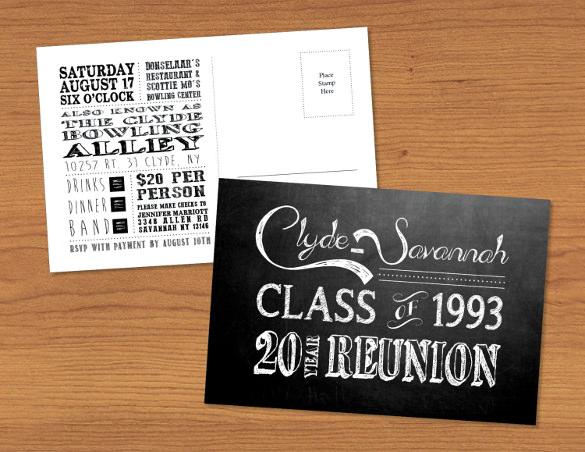 Letterpress Custom Birthday Invitation Postcard