Print
10+ Jeopardy Template for Teachers
Teachers often do their best to make learning interesting. Using jeopardy template for teachers can help you get students involved in all your lessons. In fact, the sample classroom jeopardy template can help keep your students busy thinking, gradually helping them boost their thinking capacity. When their knowledge expand, they will find it easy to answer all questions asked in an exam room. If you have no idea how to use the jeopardy template, you can download sample example template in word, excel or PDF forma for help. You can also find a free comprehensive guide online. The samples are available for free.
Free Teachers Jeopardy Template PDF Download

learnkey.com Want to play the famous Jeopardy game but don't have the time to create your own? With this link, you get a readymade fun jeopardy game to play with your friends and families. You can also take ideas from this.
Sample Teachers Vocabulary Jeopardy PDF Download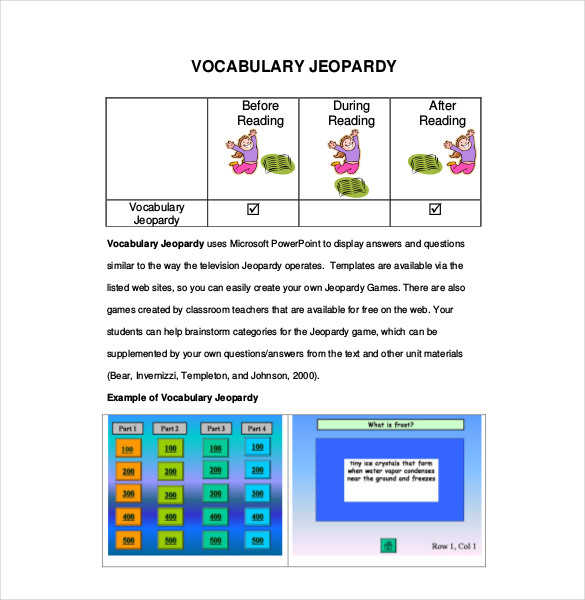 woodard.latech.edu Want to teach your students some good words and their meanings? Want to increase their vocabulary? Download this sample teachers vocabulary jeopardy PDF and get your students to play as well as learn.
Teachers Guide for Classroom Jeopardy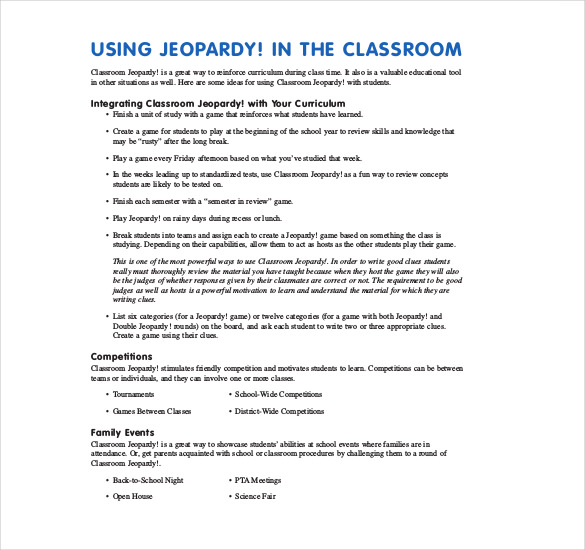 educationalinsights.com Jeopardy is actually a classic game show. The show features a quiz competition in which contestants are presented with general knowledge clues in the form of answers, and must phrase their responses in the form of questions.
Creating Sample Science Oriented Jeopardy for Teachers

chemed.chem.pitt.edu Jeopardy is a unique and fun way to help students master the content of their local course. This sample science Jeopardy game is created for teachers to help their students in learning in a fun way.
Sample Classroom Jeopardy Rules and Instructions for Teacher

pages.minot.k12.nd.us This Jeopardy game can be played in classrooms. This is a sample Jeopardy game PDF for the teachers. In this PDF, the teachers can get to learn the basics of the game, how to set up and how to play it as well.
Free Jeopardy Online Game for Teachers

A colourful and fun Jeopardy game created for the teachers. Making your own Jeopardy game from scratch can turn out to be quite a task, especially when you don't have a clear idea about how to do it.
Sample Teachers Jeopardy Template PPT

elainefitzgerald.com The sample teachers jeopardy template is a PowerPoint presentation which will help the teachers to create their own jeopardy game for their students. This is a good way to teach your students in a fun way.
Sample Decimals Jeopardy Game for Teachers

The decimals jeopardy game is an online mathematical game. This game will help your students in learning how to add, subtract and multiply decimals. This is great way of teaching where your student gets to have fun as well.
Free Jeopardy Game Template PPT for Teachers

library.kapiolani.hawaii.edu This is a fun PowerPoint presentation of a free jeopardy game template for all the teachers. This is a fun way to teach your students where they can have fun as well.
Teachers have a difficult job in making their student pay attention in class. But when work and play gets together, the students are more interested in the learning. Jeopardy is a fun game where the answers will be given and you will have to guess the questions. These are a few Jeopardy game templates for the teachers. If you have any DMCA issues on this post, please contact us!