Print
27+ Printable Tag Templates – Free Sample, Example Format Download
Our range of printable tag templates is available in numerous formats, colours, sizes, shapes and patterns. From pastel colours, to bright and vibrant colours, from stripes to neutral and plain sample tags, there is a pattern or design or colour available for everyone's requirements. You may also visit hang tag templates. These example tag templates can be used as price tags, message tags for gifts, Valentine's Day tags for bouquets and various other purposes. You can add your own personal message, details of a product, logos, or small pictures to these tags. They are easy to download and print and are extremely handy, useful and convenient.

Printable Tag Template PSD Format Download
These Printable Tag Templates are available in PSD Format and can be used in stores dealing with gift items. The text can be customized.
Labels Logo Mockup Tag Printable Template
These tags are ideal for stores selling clothes and apparel. They come is beautiful pastel shades and can be easily downloadable and printed out by customizing the text.
Vector Luggage Printable Tag Template
The Vector Luggage Printable Tag Templates resemble a boarding pass and can be tagged to your luggage while flying. The counterpart can be torn along the perforation and kept for reference.
Engraved Luggage Tag Printable Template
Lanyard Name Printable Tag Template
These Printable Tags can be used for school or college events or for corporate events and trade shows and exhibitions. They can be easily printed out and you could also attach your photograph
Wedding Calligraphy Prinatable Template
This can be used as a Wedding favor Tag for tagging gifts in bottles or jars. The font is calligraphic and can be customized.
12 Vintage Printable Tags Template Download
This is a set of 12 Vintage Printable Tag Templates that can be downloaded and used for departmental and other stores during sale. The catchy colour that they are available in makes them easily visible from a distance.
Personalized Leather Luggage Tag with Printable Template
Halloween Gift Printable Tag Template
Drink Bottle Wedding Favour Tags Printable Template
Drink Bottle Printable Wedding Favour tag templates are available in a simple handmade paper with custom text and come hole-punched and a string.
Name Tag Badge Printable Template
Tag Tan Brown Leather Custom Luggage Printable Tag
The Tag Tan Brown Leather Custom Luggage Printable Tags come in 2 very rustic shades of leather and look very classy and elegant. The text can be customised and embossed.
Born To Travel Luggage tag Printable Template
Paper Sale Price Tag Printable Template
Amy's Choice Luggage Printable Tag Download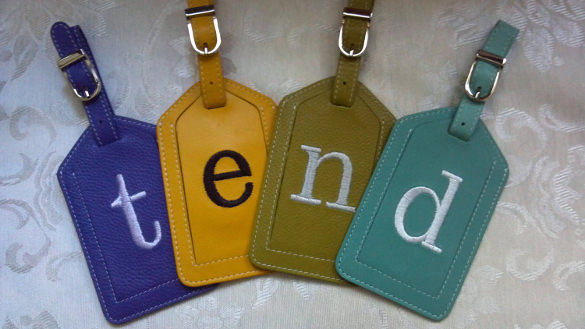 Cardboard Price Tags Printable Template
Lanyard Name Tag Printable Template
His And Hers Traveling With Leather Luggage Printable Tag
Realistic Price Tags Printable Download Template
Engraved Name Tag with Logo Printable Tag Download
Printable Paper Party Tags Template Download
Vintage Price Tag Printable Template
Blinded By Love Wedding Favor Tag Printable
Lanyard Name Tag Holder Printable Badge Template
Personalized With Name Gift Tag Printable Template
6 Color Styles Price Printable Tag Template
Adventure And Wanderlust Printable Tag Template
More in Print
| | |
| --- | --- |
| 25+ Gift Tag Templates – Free Sample, Example Format Download ... | 201+ Tag Templates – Free Sample, Example Format Download ... |
| 21+ Hang Tag Designs – Free Printable PSD, EPS, Word, PDF ... | Printable Tag Template – 28+ Free Printable Vector EPS, PSD ... |
| 18+ Microsoft Label Templates – Free Word, Excel Documents ... | Inventory Tag Template – 20+ Free Printable Vector EPS Format ... |
| 26+ Food Label Templates – Free Sample, Example Format Download | 10+ Tag Templates - Free Sample, Example, Format Free ... |