Banners are very popular and commonplace now. A great number of business trust banners to give them great advertising and features. Although banners are available in various sizes, a standard advertisement measures 120 pixels wide and 240 pixels tall. Of course there are taller and wider banner ads also available – such kind are usually seen on skyscraper buildings. In the digital space, banner ads are oft-seen appearing as pop-ups or at the sidelines on websites. You can also see Youtube Banner Template. Get custom Vertical Banners for free of cost in our website, which are all present in word, excel and PDF format. Our website has hundreds of templates to choose from or you can make your own banner. There are different designs of background in our banners like sunbeam, rays, waves, stripes, flat, etc., you can also customise it if you want. You can also see Banner Template.
Clean Vertical Banner
The mixture of blue and white colours on this vertical banner template matches perfectly with the geometric designs on the banners. These banners can be used on any official purpose.
Different Vertical Banner
Here, you can see the different colours of a banner on this vertical banner template. This banner template is available in the above choices of colours that you can see.
Colorful Vertical Banner
The colour of this vertical banner template is very vibrant. You could use this banner template if you are hosting something that is very important like some very important board meetings or so.
Plumber Vertical Banner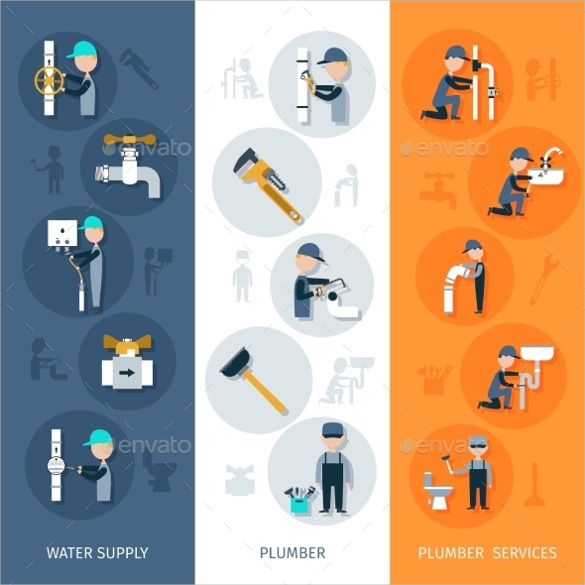 If you are having a company that deals in good that are used in the plumbing industry, you could easily use this vertical banner template for a meeting of your company.
Glowing Vertical Banner
The colours that are used in this particular vertical banner template are very vibrant and it may appear that the banner is glowing. If you want to have a banner that is noticeable, you could choose this.
Tourism Vertical Banner
This vertical banner template is the perfect example of a banner that can be used in a travelling industry or company. The drawing of outdoors on the banners is what makes it so beautiful.
Creative Vertical Banner
This particular vertical banner template has some sort of a 3D effect. The fact that it looks a bit different from the other is because the making of the banner has been very creative.
Paris Vertical Banner
You could use this vertical banner template if you have a travel agency and you are planning for a trip to Paris. When you hold a meeting for all your customers before taking off for Paris, you could use this banner.
Designed Vertical Banner
The designs of this vertical banner template are really stunning. The combinations of the colours are sure to stand out among a big crowd as the way the colours are mixed is truly mesmerising.
Layout Vertical Banner
The life under water has been very vividly depicted in this vertical banner template. All the agencies that take people to see the underwater life, can use this template as their banner.
Firework Vertical Banner
Safari Vertical Banner
Modern Vertical Banner
Spring Vertical Banner
Advertisement Vertical Banner
Fast Food Vertical Banner
Green Vertical Banner
Organic Vertical Banner
Valentines Day Vertical Banner
Landscape Vertical Banner
Digital Vertical Banner
Vector Vertical Banner
Irish Vertical Banner
Rollup Vertical Banner