Print
YouTube Banner Templates – 20+ Free PSD, AI, Vector EPS Format Download
Today, the whole world has moved online. Everything you do in the present day and age is affected by the world wide web to a certain extent, and that is an undisputable fact. YouTube has revolutionized the world of mass communication. There was once a time when YouTube was just a platform where you could surf and watch different kinds of videos anytime you wanted.You may like YouTube Banner Background Template.
You wanted to check out your favourite artists and their official videos? Or maybe funny videos to uplift your spirits? But now YouTube is all that and so much more. It has become a means of connecting different people across the globe. People looking to make a mark in the world are opting for YouTube Banner Template since it is free. They start their own YouTube channels and post videos at regular intervals.
Fully Layered YouTube Banner Template PSD Format Download
Clean YouTube Banner Template Download in PSD Format
Creative Vintage Collage Banner of YouTube
Beautiful Youtube Banner Template PSD
Youtube Banner Template Fully layered PSD Download

>

Types of YouTube Banner Templates

Are you planning to change the banner of your YouTube account and give it a new look? Well then, you must look some Free YouTube banner Templates online. There are actually quite a few types of banner templates. A thorough knowledge of each of them could come in handy. Some of the common ones are
Graphic Design YouTube Banner Templates
If you do not already know, all graphics and visual effects in YouTube are created through graphic design. But who said you need to know graphic designing to actually create YouTube banners? You can always take the help of the best YouTube banner templates available online. These have been created in such a way that you can simply download them and edit them. You can insert as many images or attractive designs as you want in your YouTube banner.
Simple banner templates
Simple banner templates also look good. You can go for banner templates with single colour themes and design it in your own way. As a result, you won't be drawing attention away from the actual content of your YouTube channel. If you visit the channels of some of the most popular YouTube stars, you'll notice how they keep their channel neat and clutter free.
Image YouTube banner template
If you're planning to change the banner of your YouTube channel, you're definitely fishing for a new look. Hence, wouldn't it be great if you could insert images in the banner? Special YouTube banner templates online allow you to incorporate images of your choice into the banner. It would give your channel a different touch, and set it apart from that of everyone else.
Simple YouTube Banner Template Premium Download
Modern YouTube Blog Banner PSD Template Download
Creative Multipurpose YouTube Banners Download in PSD Format
>

Why Should You Use YouTube Banner Templates?

An YouTube banner is not like an ordinary banner which you can do it yourself. You cannot carve out a piece of cardboard and doodle slogans on it, something that is possible in the case of ordinary banners. But in case of YouTube, the banners are virtual. Unless you have an extensive knowledge of how the site functions or have training in computer, you'll not be able to change the traditional red and white look that YouTube provides to its users. But don't worry, there are YouTube Header Template Examples your disposal.

You can download any one of the numerous templates available online, and utilize them for your channel. Creating YouTube art is now much easier with the help of these sample YouTube banner templates. These are easy to download and edit, and you won't have to think twice about downloading these templates, because they are absolutely free!
Minimalistic YouTube Banner Design Template Download
Easy Creative Youtube Channel Banner Template
Custom YouTube Banner Template for Avatar Design Background
Elegant Red YouTube Banner Template
>

How To Create Spectacular YouTube Banners Using Templates?

You might think that downloading a template would be the be all and end all of it, but that's not the case. By now, you must have an idea of how complicated changing the banner of your YouTube channel actually is. You must understand the nitty gritty of the platform if you want to proceed. First, you must download a YouTube Banner Ad Template. Then you must customize it and edit it to suit your needs.

Add whatever design you want to- you can choose to go old school and keep it simple or go for a stylish design that is sure to win the hearts of your viewers. Creating a banner isn't enough. Having created it, you must incorporate this new YouTube Banner Background Template into your channel. This will become easier if you have a drop and use interface which allows you to change features as and when you please. In case you don't, there will be other options which can help you change the banner. It is a lengthy process, so what are you waiting for? Let's get started!
Christmas YouTube Channel Banner Templates
Hipster Youtube Banner Template
Clash of Clans YouTube Banner Template Download
FIFA 2016 YouTube Channel Banner Template Free Download
>

Tips While Using YouTube Banner Templates

In case you're planning to download YouTube banner templates, you must keep in mind a few things-
First and foremost, you must find out if your channel allows the banner to be changed with ease. It will all depend upon the kind of YouTube channel you have. If you've got the easier one, well lucky for you! Otherwise, there's no reason to lose heart. There are other YouTube banner template files which you can make use of.
Now that the hard part is over, you can proceed to the fun part. Select a good theme for your banner. It must be attractive and eye catching. Now your YouTube channel is all about you. Thus, the banner that you select must also reflect your personality. If you post videos about fun stuff, then that should be reflected in your banner.
Designs and prints look really good on the YouTube banners. What's more, you can even change the banner whenever you want. So you can download a few templates at the same time, and use them alternately. You can keep a particular banner for a week or two and change it every now and then. That will keep a suspense for your viewers who will be eager to check out the new theme every week. Also See Templates and Themes for Office Online.
Do not go overboard with the design. Keep it simple and minimalistic. There is not point in adding too much of unnecessary design. That will only distract attention from the main item – your videos. You don't want that do you?
Awesome YouTube Banner Template Free Download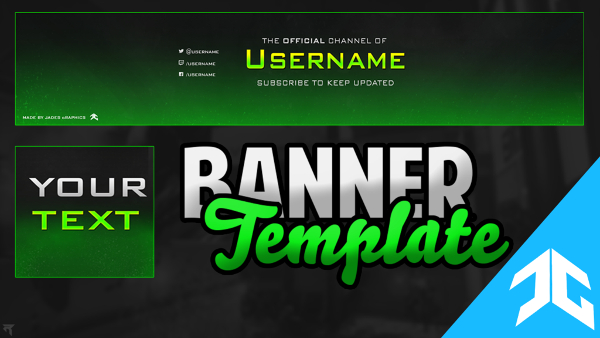 Attractive Youtube Banner Download
>

What To Do And What Not To Do With Wedding Templates
Dos
Decide upon the theme of the banner before proceeding
Try to keep the design simple and elegant.
Download customizable YouTube banner templates.
Make sure you can add personal images in the banner
Don'ts
Do not go try to incorporate too may designs at once
Do not ignore the theme of your YouTube channel while designing the template
Think twice before deciding upon the template
With such interactive videos, it has now become possible to even learn things on the net. But what determines the fame of a YouTube star? His channel, of course! The presentation of the channel, the videos posted and the person involved himself. You must give your viewers a reason to subscribe. If you've just launched a YouTube channel, or you're bored with the same monotonous look of the old one, why don't you give it a makeover using YouTube banner templates?
>

We Can Help You Out!

At template.net, we have a wide range of options in store for you. We have different kinds of YouTube banner templates that are ready to be downloaded. These have been created with utmost care and attention because we know how important your YouTube banner is for you. We know that, Creating a Good Impression is a Must if you want to achieve fame in wide arena of YouTube.
More in Print
| | |
| --- | --- |
| Free YouTube Banner Template – 9+ Free PSD, AI, Vector EPS ... | Youtube Banner Background Template – 21+ Free PSD, AI, Vector ... |
| YouTube Backgrounds – 119+ Free PSD, AI, Vector EPS Format ... | Youtube Channel Art Template – 42+ Free PSD, AI, Vector EPS ... |
| 22+ Youtube Banner Background Templates – Free Sample ... | 20+ Simple Youtube Banner Templates – Free Sample, Example ... |
| 22+ YouTube Channel Art Templates – Free Sample, Example ... | YouTube Template – 225+ Free PSD, PNG, AI, Vector EPS Format ... |