Notice Templates
9+ Employee Notice Templates
Let's say you're in a situation where you have to notify a group of employees regarding changes in the workplace, but that you need to find a way to make sure that they all get the information. The one thing that you can do is to create a notice that all of them can view at any point in time. This article will teach you how to make notices specifically for your employees.
Table of Content
4 Steps for Making an Employee Notice
Step 1: Point out who the notice is for.
The first thing that you are going to have to do is to point out who the notice is for. If it's for notifying multiple employees, then you can simply state what department they are from. If it's for a specific employee, then you will need to place his/her complete name along with the position title.
Step 2: Explain the reason for the notice.
The next thing to do is for you to state the reason as to why the employee or employees had to be provided with a notice. Start with a simple statement that gets straight to the point and one that is easy for readers to understand.
Step 3: Provide more details.
Once you're done pointing out the purpose of the notice, the next is to provide more information. For example, if the purpose is to notify the employee about improper behavior in the workplace, then you'll need to provide details on what that appropriate behavior is, who is affected by it, what consequences the employee will have to endure, and so on.
Step 4: End the notice.
This is where you can provide additional information such as contact details that the employees can use should they have any concerns or questions regarding the notification. Lastly, you'll also have to provide the complete name and position title of the person that created the notice.
9+ Employee Notice Templates
1. Restaurant Employee Warning Notice Template
A restaurant employee that violates policies or who places the restaurant at risk must definitely be warned by his/her employees. Download this template so that you can create a warning notice that will tell the employee what it is that he/she has done to warrant the warning and the consequences for his/her actions.
2. Notice to Employee Unqualified for Christmas Bonus Template
It is possible that an employee may not have performed well enough or has yet to put in enough time to qualify for the yearly Christmas bonus. To ensure that that the employee knows that he/she is unqualified for the bonus, then consider downloading this template. With it, you can easily notify the employee regarding the matter.
3. Restaurant Employee Corrective Action Notice Template
There are times when a restaurant employer must issue corrective actions on certain employees that have failed to meet expectations or who have violated rules and regulations. However, the employee who will be corrected must be informed about the matter. Download this template so that you can easily notify the restaurant employee.
4. Notice To Employees of Bonus Cancellation Template
If you are going to bearer the bad news that employees will not be receiving their bonuses, then you will need to provide more details regarding the matter. By downloading this template, you should be able to make a notice that should effectively explain why employees will not be receiving their bonuses.
5. Notice to Employees of Unsatisfactory Behavior Template
There will always be those employees who show behavior that may not be deemed as acceptable to a company. If ever you encounter an employee that has to show unsatisfactory behavior, then you should notify the employee about the matter. Download this template so that you can create a document that does exactly that.
6. Notice to Employees of New Vacation Policy Template
If you are going to make changes to your company's vacation policy, then you have to make sure that all employees are aware of these changes. Download this template now so that you can make a document that notifies these employees as soon as possible.
7. Notice of Employee Termination Template
In the event that you wish to create a notice which points out that the employee will be terminated, then this is the template that you should download. Be sure to use either Microsoft Word or Apple Pages should you decide to download the template. That way, you can easily open and edit it until you've made the notice you need to send.
8. Notice to Restaurant Employees of Unsatisfactory Behavior Template
Should an employee perform unsatisfactorily within a restaurant, then it is important that the employer is able to notify him/her. By downloading this template, you can create a notice that will warn the employee about his/her behavior by detailing what actions he/she has performed which warranted the warning.
9. Free Employee Notice Template
dir.ca.gov
If you are looking for a free template that allows you to create a notice that you can send to your employees, then this is the one for you. Download and use it so that you can notify your employees about anything that you want to inform them about.
10. Unemployment Compensation Notice to Employee Template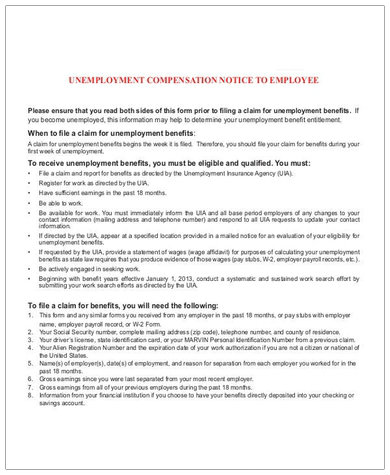 michigan.gov
When the time comes that you have to notify an employee regarding his/her unemployment compensation, then download this template now. With it, you can make a notice which tells the employee how he/she can be eligible for the compensation and what he/she has to do in order to claim it.