Notice Templates
14+ Resignation Notice Templates in Google Docs | Pages | Word | PDF
'Resignation' is a debatable term often thought of in the negative sense. It is usually a document stating the termination or withdrawal of service on the part of the employee addressed to the employer. It has to be highly formal and well organized or can affect the person's reputation, later opportunities and can be a cause of regret of a lifetime. Thus, a sample resignation letter template is always helpful when in doubt while drafting a resignation which is easily available.
Table of Content
5 Steps to Draft a Resignation Letter
Step 1: Keeping In Mind the Format
By format here I mean, the name of the person, the correct addressee, the name of the firm, the designation of both, the effecting date everything.
Step 2: Give Proper and Valid Reasons
Making false or baseless issues can not only jeopardize your present status but also your future in other companies. Give believable reasons and make sure your points do not contradict your previously signed agreement with the company.
Step 3: Make Sure You Maintain a Formal and Polite Tone
No matter what the reason might be, keep in mind the reputation and authority of the organization and modulate your tone in the letter accordingly.
Step 4: Make Sure You Mention Who You are Handing Over Your Service
Do not take your job too casually since you have decided to resign. Make sure you hand down service to someone responsible and mention that.
Step 5: Signature is an Absolute Necessity
Sign your full name with date and write your name underneath that in full blocks to make it authorised.
14+ Resignation Notice Templates
1. Free Resignation Notice Template
Now you do not need to burn the midnight oil drafting and cancelling and again drafting the proper letter for your resignation. We have you covered and do not want you to bother too much regarding this topic. Use the resignation notice templates to fill up the provided blanks and boom you have your perfectly formal, concise resignation letter drafted.
2. Free Short Notice Resignation Letter
What could be better than getting the perfect Resignation notice that you have wrecked your brain for, for weeks already drafted and that too for free? Use the free notice template to quickly, effortlessly get the right resignation notice drafted that too at no cost!
3. Free No Notice Resignation Letter Template
Want a resignation immediately? Do not have time to sit and draft a lengthy letter to the authority. Do not worry while you have the notice resignation letter handy. Simply follow the guidelines and get the no notice resignation letter perfectly in no time that too for free!
4. Free Two Weeks Notice Resignation Letter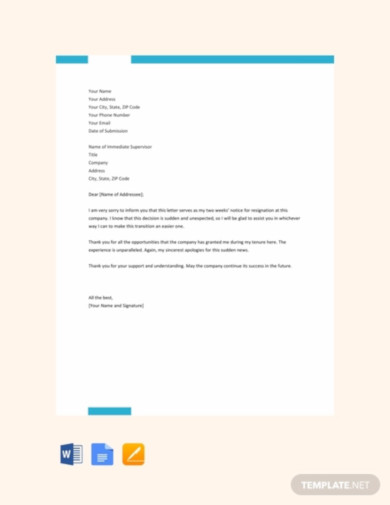 Just two weeks in hand before you leave the job and have loads of work left. The resignation letter should not be a burden on the mind at this situation. It isn't as long as you can draft it easily with our and sample resignation letter templates. Also these can be availed for free .
5. Sample Notice of Resignation
A resignation more often than not is a sudden decision. But in order to put across to the company your intention of resigning your resignation letter has to be perfect. A sample letter will help you understand how exactly a resignation should be written and what should be mentioned. In no time thus you have your resignation drafted and in-hand.
6. Resignation Notice Template in PDF
How good would it be to open up the computer and have a notice of resignation already drafted for you? All you need is to specify your details and boom you have the perfect resignation letter prepared.
7. Administrator Resignation Notice Template
There's always a difference between the roles and responsibilities of an employee and an administrator. So is the case with the resignation. In such a case the notice for resignation has to be more detailed with proper handing over of duties and charges. But you do not need to worry. With a pre-drafted notice of resignation you just need to select the position you hold and fill up your details and in a jiffy you shall have your administration letter prepared.
8. Notice of Resignation for Faculty
Are you considering your decision for resignation and getting a cold feet because you have a lot of responsibilities and do not know how to hand them over after you leave? A notice of resignation for a faculty member is thus much more formal and one can avail this notice template if they are not very sure of how to draft it.
9. Notice of Transfer or Resignation
Resignation becomes a bit complicated when the reason is a shift of place. Resignation notice helps you to do it easily. We have covered all possible reasons for a resignation an all you need is to just choose the correct template and provide your details.
10. Resignation Notice Template
Resignation notice templates has a variety of options for every kind of resignation notices be it no notice or for two weeks. At the click of your mouse get it drafted immaculately in no time and that too for free Notice.
11. Notice of Voluntary Resignation
A voluntary resignation is what you give when you have taken the decision of resignation after considering the pros and cons of it. Using the sample resignation as your backdrop you can draft your voluntary resignation letter specifying your details.
12. Notice of Resignation or Retirement
At the age of finally taking a break from the mundane regular life who would want to sit wrecking their brains on how to tell the company you want to resign. One can use tempaltes that are easily customisable and pre-drafted with categories and easily draft their retirement notices.
13. Resignation Notice in PDF Format
The internet has already given you options to create your perfect resignation notice and made it customisable in PDF format. All you need is to quickly download and fill out the details to get your short notice resignation letter without wasting a penny or two seconds of your life.
14. Formal Notice of Resignation Template
Drafting formal notice of resignation letter sounds like a tough job but isn't. All you need to do is prepare your mind and we will do the rest for you. Formal or informal just select the right template and you get your formal resignation letter customised for you.
15. Basic Format of Resignation Notice
The basic format of a resignation notice includes name of the resignee, date of effect, duties handed over, polite tone, signature, etc. Sample notices on the internet help you draft your perfect resignation notice in a jiffy.
More in Notice Templates