Two weeks' notice template is the usual term used when an employee is passing his letter for leaving a company fourteen days before the said date of resignation. From the present, there is a lot of this kind especially under the resignation notice templates, with different varieties and messages an employee will have an ease in passing his resignation letter.

Notice to Quit Template
Buy Now

Notice to Vacate Template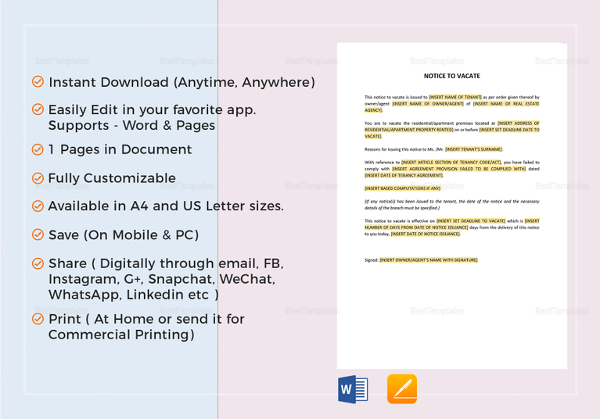 Buy Now
Two Weeks Notice Letter Template
www.wikihow.com
Two Week Notice Word Format
coverlettersandresume.com
Retail Two Weeks Notice Resignation Letter
Simple Two Weeks Notice Template
www.gerardalexander.com
2 Weeks Notice Resignation Letter
www.greatsampleresume.com
Formal Two Weeks Notice Word Download
www.englet.com
Standard Two Weeks Notice Word Doc
www.officemisery.com
Sample Two Weeks Notice Format Download
www.northeastern.edu
Two Weeks Notice Word Download
career-advice.monster.ca
Letter of Resignation with Two Weeks Notice
forums.learnist.org
Resignation Email with Two Weeks Notice
jobsearch.about.com
Two Weeks Notice to Employer Word Doc
It is up to the employee if he or she will add to the notice templates construction but it must only contain positive messages and thankfulness for the employer. You can also make personal note that signifies your willingness for giving up your job so the employer would understand your current situation.