Word Templates
17+ Sample Memo Templates
The success of every company lies on the contribution of every individual in the company. Every person pays a big role, no matter his or her position or how much money he or she earns. If it were not so, the CEO and the General Managers would not be calling them for every meeting, and would leave them out in the "cold" instead. The best thing about a simple memo is that it calls every person to the meeting. It gets every person involved and when prepared, there is no tagline that says "for general managers and CEOs only". You may also see Scope of Work Templates.
Sample Memo Template
Simple Business Memo Template
Meeting Memo Template
Memo Template in Word, Google Docs
Formal Memorandum Template in Pages for Mac
Sample Professional Memo Template in Word
Business Memo Format Template in Google Docs
Sample Strategy Memo Template in iPages
Business Memo Template
Legal Memo Template
Credit Memo Template
Free Simple Meeting Memo Template
Free Meeting Memo Example
Free Business Meeting Memo Template
Free Sample Meeting Memo Template
Memo Casual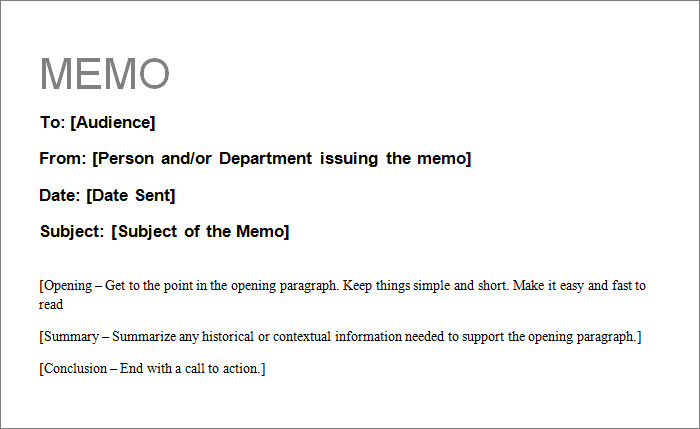 Use Memo Casual Template for writing business memorandums. It can use to send a memo for internal and external company affairs. Write memo body including summary, opening, and conclusion. Download it and get PDF, JPEG, and Ms-Word files for free.
Elegant Simple Memo Sample Template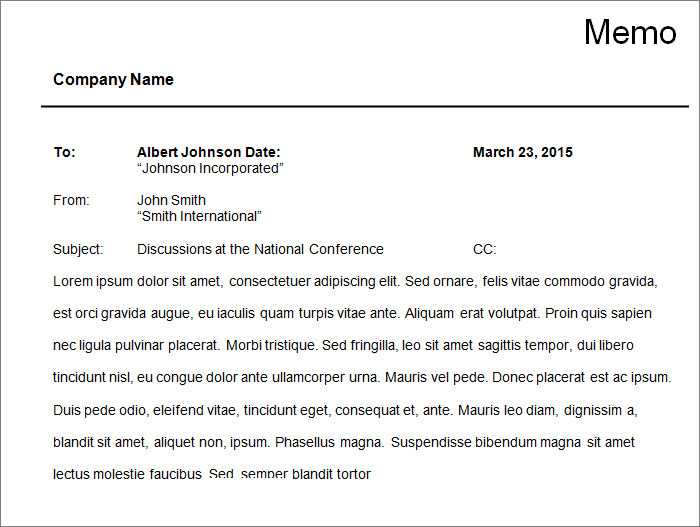 Elegant Simple Memo Sample Template is a basic design with formal structure. The design uses bold fonts for writing receiver's name and address with no styles for sender's name and subject line. Add company name at the top of the memo followed by a black line. It offers a wide space for writing body content.
Brown Sidebar Free Memo Template
Description:
A memo plays the important role of getting every person involved in a meeting. Do not confuse a memo with a minute template. A memo is always short, precise and direct to the point.
It is not a book to outline the names of people welcome in the meeting. It is just a short notice, which informs members in an organization. They pay the big role of getting every person in companies and organizations involved to meetings. You can also see Meeting Minutes Templates.
Using templates:
There are great templates that you can use to write the memo. They are bit more personalized and do not look quite odd like those memos on plain paper. The best thing is that they are available free for download. They are easy to customize, and you can completely personalize them to your company or organization's level.
In fact, feel free to add a logo of your company or organization to the memo if you want to. We deliver Word, PDF, and JPEG file in our zip file. Download it for free to access our templates. You can edit the memo by opening Word file. Also, you can make changes as per your needs. Our detailed guidelines will help you to write perfect memo copy. Thank You.