Word Templates
18+ Swot Analysis Templates – Word, Doc, PPt, Excel
A detailed Strengths, Weaknesses, Opportunities and Threats (SWOT) analysis is somewhat akin to a business blueprint. Small firms, in particular, may benefit from the use of SWOT templates, particularly if they happen to be startups with not much of resources at hand. Let's explore some of the best SWOT analysis templates resources that you can trust to provide the perfect SWOT analysis templates, whenever you need them.
Hospital SWOT Analysis Template
Simple Marketing SWOT Analysis
Blank SWOT Analysis Template in Word
Industry SWOT Analysis Template to Print
Customer Service SWOT Analysis
Sample Healthcare SWOT Analysis Template
Sample Employee SWOT Analysis Template
Simple Student SWOT Analysis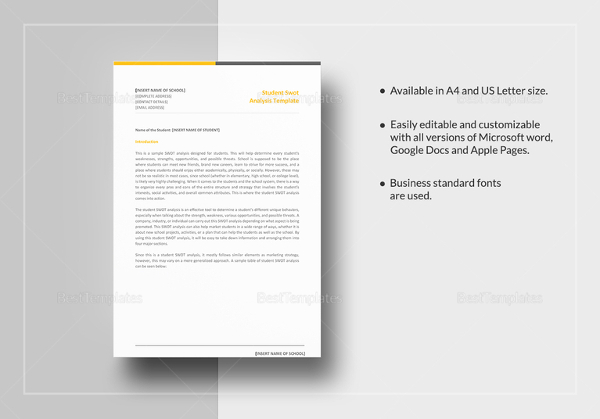 Editable Business SWOT Analysis
1. Plans – Best Ways to create your own Swot Analysis (Download)
The Plans swot analysis templates come with a host of special features designed to make your life easier. Each template is designed by a specialist in the field of design and market analysis, leading to better convenience, ease of use and functionality. The instructions and prompts that come with every section make it easier to identify the relevant steps. The section demarcation allows for individual care towards each topic. The easy-to-view financial dashboard is instrumental to the tool, giving a better overview of a situation. There's no need to run reports or lengthy analytical tools, when you have a SWOT template for use.
2. My SpreadSheet Lab – Guide to use Swot template
Using an Excel-based template, My SpreadSheet Lab comes equipped to handle a little more demanding scenario from every SWOT analysis. By breaking down the process into two simple procedures, the template comes with a list-based spreadsheet format. The two stages of the procedure include inputting all necessary details and then selecting whether or not to display them, leading to what is a spectacularly organized, and even more particularly, relevant SWOT analysis model for every business.
3. SlideModel – Swot Analysis PowerPoint Templates (Download)
The specialty of Slidemodel is that it takes something as basic as PowerPoint, and turns it into a powerful Swot Analysis framework. By offering some exceptionally good templates, it helps interpret the data inputted into the template (strength, weakness, opportunities and threats) in the form of a presentation. Objects like reputation, goodwill, cost benefit analysis and other such subjective key points may be easily represented with the help of these templates. There are multiple templates with different creative designs, functionality levels and individual slide options available on their website.
4. BusinessBalls – Strategic Planning Example (Download)
BusinessBalls offers templates in the multiple categories of matrices, including a 2*2 one that is divided into Internal and External categories. The different applications of the template make it useful for assessing a company's values, product, sales, outsourcing mechanisms and other factors as well.
5. Creately – Swot Templates for Printing (Download)
Providing some simple and clean cut templates for use, Creately offers some familiar diagrams. The templates may be accessed online or downloaded in the form of PDFs, to be accessed at a later time. The online tools allow edits to be made at any time, even on the go or from smartphones and such devices, allowing users greater flexibility. With standardized 2 by 2 matrix templates, Creately also offers some colorful SWOT analyses templates. There are even differently shaped templates, to better suit the need of the users.
6. Classic, Ultimate, Distinctive Swot Templates (Download)
This website has a comprehensive guide that offers the best way of creating SWOT templates. Not only does it discuss each individual aspect of a SWOT analysis, but it also gives some key examples and templates for the benefit of the user. There are three free templates on offer, namely The Classic, The Ultimate, and The Distinctive. Though limited in terms of numbers, they are extremely functional. The first is primarily useful in strategic planning, the second includes more than fifty questions for the benefit of better analysis thanks to a questionnaire pattern, and the third helps isolate or identify specific connections between the many positives and negatives of a business.
7. MindTools – Business Swot Analysis (Download)
This website offers an easy to use SWOT analysis workbook, with a series of questions and answers that help to organize a business better. Some of the questions are as follows:
What are the advantages of an organization?
What are the things that may be improved?
What obstacles are being faced by the company?
What kind of improvements may be possible?
With questions falling under every category of a SWOT analysis, the template covers all the necessary points and figures by drawing out answers from the client. Meant to be used in conjunction with other analytical tools like skill-gap analyses, this is one of the easiest ways available for a business to assess their situation.
8. Entrepreneur Magazine's Free SWOT Analysis Template (Download)
Coming in the form of a PDF, it offers just a one page document that charts out exactly what a business must do in building up the ideal SWOT analysis sheet. The idea is to provide the user with a rough guideline, in the form of pre-set tables that might allow them a better idea of where to start. Coming with different steps to establish the goals of an analysis, as well as to carry out the actual project, it is one of the easiest guides available.
9. Pestle Analysis – Business Plan Swot Template (Download)
Swot templates that work on the basis of establishing certain modes of behavior in a particular business, particularly market analysis, reporting of research, evaluation of the competitors, etc. The website gives an in-depth guide to the functioning of such a framework, which is beneficial for the new user. Managers and business owners generally use this template to better identify key positive and negative features in order to run a business better.
It may be said that SWOT analysis templates negate the trouble of organizing a company's strengths and weaknesses. Not only that, but they prompt responses just so as to help entrepreneurs.
More in Word Templates