Print
8+ Funny Venn Diagram Templates – Free Sample, Example Format Download!
If you think that Venn diagrams are used only by serious students and hardcore corporate sharks, think again. There is nothing funnier than a wittily designed Venn diagram. If you are not really good at coming up with your own jokes, feel free to pick one up from list of numerous funny Venn diagrams. The intelligently designed interactive Venn diagrams are sure to tickle that funny bone.
Venn Diagram Wedding Gifts Template Download

A wonderful diagram template with two overlapping cycles. They are full of graphics each side showing details of each spouse including names and home state and the overlap indicating the wedding date.
Illustrated Funny Venn Diagram of Tastiness Printable

A funny diagram template made of three rings. It illustrates the relationships among different foods and what they make when mixed with another from another cycle. Good for simple recipes.
Funny Clever Venn Diagrams Template Download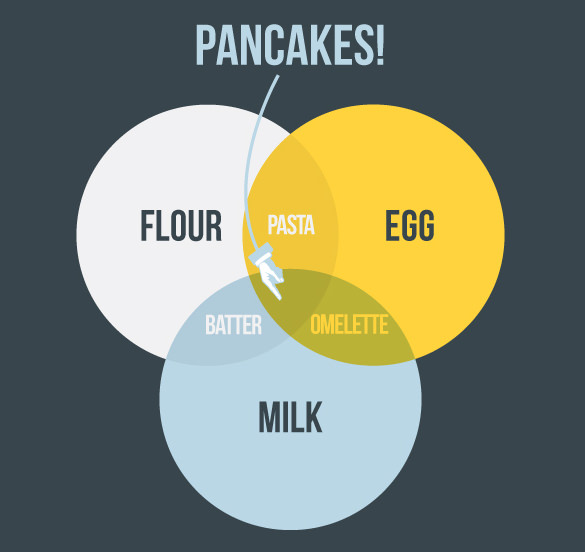 This diagram template has three cycles with different colors overlapping to create four more sections. It is used to illustrate how different ingredients result in simple common foods we eat.
Venn Diagram Template Funny Free Printable Download

This diagram template is made of three overlapping cycles to show similarities and differences of what three different types of people like and what they do with three different items.
T-shirt Funny Venn Diagram Free Download

This is a diagram template of three cycles overlapping to create more sections. This is used to illustrate the materials input for making a t-shirt in a funny but clear way.
If you suddenly come up with an original joke, don't worry, the venn diagram template that you have downloaded for free will give you room to customise as well. Have a look at the plenty of samples that are available in PSD and JPG format to get an idea of funny Venn diagrams.