Website Templates
41+ Portfolio Website Themes & Templates
Gone are the days when you would actually have to run from store to store in order to create a portfolio for yourself. That was nothing but a hassle; more importantly, there was no guarantee that the portfolio you're getting would be of the best quality since it was entirely in the hands of others. You May also See Portfolio Joomla Templates.
And not to mention the fact, hiring a professional to create a portfolio would burn a hole in your pocket. Creating portfolios have become much easier now. All one has to do is start a website now. You can get your hands on the best websites free of cost and use it as a portfolio. These portfolios would serve as proof of your talent. You May also See Portfolio HTML5 Templates.
Retro One Page Portfolio Template
Responsive Portfolio WordPress Theme $75
As the name suggests, the template is mainly for craft and creativity related activities. It is responsive in nature and has a customer support of 24 hours a day and 7 days a week. You May also See Portfolio WordPress Templates.
The display will be fantastic with the retina ready feature.
Menu is customizable
Various slider plugins are provided to choose from.
The template is very much SEO optimized and also features various other options such as the contact form.
Photography Portfolio WordPress Website Theme $39
This particular WordPress theme is for people who are much into creativity such as freelancers, photographers, developers, designers and artists. This easy to use template is also mobile responsive and provides many other features. You May also See Portfolio Drupal Templates.
Clean interface with exclusive designs
More than 500 Google fonts
Short codes and customized widgets
The template offers you 2 different blog style and 5 formats for post.
Professional Portfolio Website Theme $69
If you are an artist, then this is the exact template that you must be searching. Show off your art talent with this versatile theme with minimum designs and maximum customization options.
The template is responsive in nature.
It is a portfolio template with slideshows
Customization is possible for themes, backgrounds and others with ease.
The template offers all the modern features too such as Google fonts, multiple language and retina optimization.
This template is perfect for people who wish to display images as their portfolio. The template is very much SEO friendly, and the main content of such website themes are images only.
The template is responsive in nature and easy to use
It has a lightbox and a slidebar that is full screen.
Customization is the feature that of course is there in the template.
The template is compatible with various browsers and is available in different languages.
Disco Joomla Portfolio Website Template $75
The template is amazing for creating website that is meant for party lovers. With a theme that is engaging and attractive, the template offers to be a great option for people who wish to know about what is happening in town.
The template is of course responsive in nature and also is compatible with al the browsers
Back and top buttons are available with a drop down menu
Other features include Google Map, Google fonts and sortable gallery.
The template along with all these features also provides you with sample content and tools like social options.
Minimal Responsive Portfolio Website Theme $59
The template Vong has been developed for mainly freelancers. It has been built for people and agencies that believe in their passion and wish to do something that is different from others.
The template features smooth interface and display that is retina ready
It supports 3 types of portfolio sizes.
Child theme is included with filters.
The template is responsive in nature and has as many as 21 social sites also.
Grid Portfolio WordPress WebsiteTheme $29
This is a simple to use template with clean typography but still a strong one. It includes a number of features that are modern in nature and are really helpful in creating a strong portfolio.
The template features custom images and unlimited schemes of color.
The layout is grid based for better accessing
Social menu is available with automatic icons
A few plug-INS may be needed such as Jetpack Custom and Toolkit, both of which are free to use.
Photography Portfolio WordPress Website Theme $79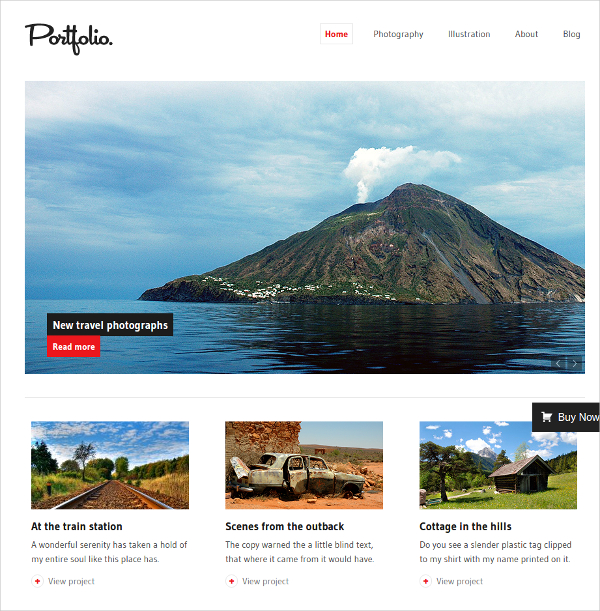 Portfolio WordPress Theme is an amazing template for people who wish to create business portfolios to show their clients and customers. With images, text and videos on this template, there are varied features also to be enjoyed.
Personalize your website with varied colors and fonts.
Customize your homepage with thumbnails
Retina display optimized
The template is created with CSS3 and HTML 5.Almost more than 20 videos are included for the beginners.
Cleaning Company Joomla Portfolio Template $75
If you are about to start a cleaning company, then this template can be the best for your services. Not only cleaning services, but also many blog owners with cleaning topics also use this template.
The template is responsive in nature that is compatible with both computers and smartphone.
Mega Menu allows creating a professional look that is easy to navigate
Numerous Google fonts for customization are available.
The template is also well supported by features like contact form and Google maps.
Premium Portfolio Website Theme $58
Creative is a business portfolio website template that comes with an attractive display and many of the modern features to suit your requirements. The features of the template includes
It is one of the easiest Drupal themes
It provides unlimited options for colors and 3 types of sliders
It features 5 block styles and various layouts.
The template with advanced options such as typography is compatible with various browsers.
Minimal Portfolio Website WordPress Theme $39
Foco is a simple yet powerful portfolio theme that can be either used as a single page as well as with its multiple pages. It is easy to built layout through dragging and dropping of the contents.
It features stunning and clean interface and options
The template is created with twitter bootstrap
It has more than 600 Google fonts and custom widgets
The template is retina ready and of course it is made responsive and compatible with all browsers.
Elegant Portfolio WordPress Website Theme $59
Vimes by WPZoom is mainly a responsive website them that is built for portfolio of creative people such as designers or artists or photographers. The theme with its versatile look is always perfect for your creative site.
The theme includes featured slider and portfolio template
It also includes custom widgets and custom posts
Zoom Framework also allows in customizing the site as per your need
The theme is responsive for not only smartphone devices but for all operating systems.
Blog And eCommerce Website Theme $99
QUA is a perfect theme that can be used for e-commerce site. But at many times, the theme can be also used as a blogging site. Some of the features offered by the theme are:
Easily customization of options
Homepage can be personalized
Slideshow of images from unlimited galleries
The theme gets automatic update from time to time and features other options such as translation and accessibility.
Companies Portfolio Website Theme $75
As the name suggests, the template is for those who wish to get website for advertising. Also at times the template can be used by many bloggers and designers.
The template comes with the option of stick-to-top menu
It features huge images and big typography
Bright colors and ghost buttons are the most attractive features of the template
The responsive website template shows customer feedback with their images and also features Google map.
Fullscreen Deluxe Portfolio Website Theme $59
This is an e-commerce portfolio site theme that is not only designed for business purpose but also at the same time is also attractive to look at.
The theme offers various portfolio layouts to choose from
The portfolio layouts have detailed pages
The WooCommerce option is support by multiple languages and multiple currencies.
Some of the other features of the theme are visual composer, one click installation and revolution slider.
Ecommerce Portfolio Website Theme $75
Bloom is a new e-commerce theme that is not only attractive to look at but also has various user friendly options to work upon. Also the theme is flexible in nature so that you can use it the way you want to.
You can choose from 4 color themes and 3 portfolio layouts
Custom background can be uploaded and used
It is retina ready
The theme comes along with a few plugins such as Responsive Slider jetpack.
Responsive One Page Portfolio Theme
Music Portfolio Website Theme
As the name suggests, this particular theme is for artists musicians. But along with the musicians, the theme is also helpful for other artists such as photographers and designers.
Full width videos as background
Unlimited number of layout designs
Gallery options with demo
The theme features various pages to be personalized such as homepage and music artists and artist 2.
Cricket Club Joomla Portfolio Template $75
This particular theme is perfect for building up a website for cricket club. The responsive site theme offers you with a number of other features to use for your need.
Parallex allow the viewers to have an illusion of cricket environment
Clean page with the help of drop down menu and ghost buttons
Tabs, tables, progress bars and all are there for display.
The template is made on CSS3 and HTML5 along with jQuery. Sliced PSD offers ease in editing.
Clean & Fullscreen Portfolio Website Theme $49
Empire is a simple and niche full-screen wordpress theme for portfolios.
The theme promises to be totally responsive
It also includes Visual Composer, Revolution Slider, and AJAX contact form
Empire also comes with Left Right sidebar options
It also comes with Multiple portfolio options
Perfect Portfolio WordPress Website Theme For Business $69
Venture 2.0 is a premium wordpress theme with professional outlook. It is perfectly apt for business sites.
The theme is totally Responsive and works equally well in tablets and smartphones
The theme also features Built-In Portfolio and Visual Customizer
Venture 2.0 also features Dynamic Home Page Builder
Business Responsive Portfolio Joomla Template $75
Business is a responsive Joomla template that meets the requirement for business sites, blogs, and corporates.
The theme comes with a highly effective website slider that helps in the presentation
The theme also features stick to top menu
It also comes integrated with Google Fonts
Creative Agency Portfolio Multi-purpose Template $17
Modern Portfolio WordPress Website Theme $35
Durango is a truly responsive portfolio theme that is perfectly apt for bloggers, web artists, and freelancers.
It comes with Clever Featured Posts Box
It also includes Preloader for Every page
Durango comes bundled with fully customizable Contact Form 7
It is compatible with WordPress version 4
Leader & Business Ideas WordPress Portfolio Theme $75
Leader is a highly innovative wordpress theme that would have great positive impact on business sites.
It is totally responsive and comes with retina ready display
The theme also provides parallax animation effect
There is also the inclusion of Moto Press editor, Moto Press slider, and Mega Menu
Responsive & Interactive HTML Portfolio $28
Ecommerce Feminine Portfolio Website Theme $65
Shi is a feminine and elegant theme that promises to be excellently useful for photographers, foodies, event planners, lifestyle bloggers, and crafters.
The theme comes with filterable portfolio for easy display of work
It is compatible with mailchimp, feedburner, awber, call to action boxes, and newsletter plugin
Event Planner WordPress Portfolio Website Theme $75
Eplannr is a wordpress theme designed to meet requirements for special events. It is ideal for event planners, organizers, and other corporates.
The theme comes with big fonts and sketchy icons
It also includes PSD layered files
The theme has been developed on the Cherry Framework version 4
Professional Services Portfolio WordPress Website Theme $69
Angle is a niche responsive template that comes with minimal designing effects and maximum functionality. The theme is ideal for portfolio sites, blogs, and corporate presentation purpose.
It comes with Dynamic Home Page Builder
The theme feature retina ready graphics
It also includes visual composer, page header, and theme options panel
Health Care Agency Drupal Website Portfolio Template $75
Home Health Care Agency is a perfectly professional and polished Drupal template that would provide a solid web presence.
It comes with lazy load effect,
The theme promises advanced parallax effect at home page
The layout is truly responsive and cross-browser friendly
WooCommerce Portfolio WordPress Website Theme $69
WP Zoom is a niche responsive theme that promises a truly brilliant interface and perfectly effective designing layout for displaying products and services.
The presence of Theme Options Panel makes it easy to customize the elements of the site as per the needs
Personal Portfolio Website Theme
Full Pane has been developed using latest CSS3 version. It is ideal for videographers, photographers, agency websites, and personal blogs.
Full Pane includes Drag and Drop Themify builder
It also comes with multiple pages and page layouts
The theme also offers full section scrolling functionality
If you have been looking for ways to showcase your talent, a portfolio website is the way to go. You can customize the website any way you want since it is your personal website. Then, you can add some of your best works there to display them. If you want to bring your talent to the forefront, and flaunt it to the others, you need a well functioning website. That is precisely why you need Portfolio Website Templates.
> Types of Portfolio Website Templates
If you thought that there was only one type of portfolio, well think again. As a result, there are several types of free portfolio website templates online –
Artist portfolio website templates – All aspiring artists have to create portfolios to showcase their talent. If they want to get a job, or apply to art school, a portfolio is a must. Such portfolio websites would be a great way of doing that.
Photography portfolio website templates – Photographers need to display their work and prove their talent if they want to make it big. Otherwise how will prospective customers judge the photographer? This is where portfolio websites could come in handy.
Miscellaneous portfolio website templates – People create portfolios for a number of reasons. Sometimes they might have to create portfolios for work purposes as well. In these cases, portfolio websites could be of great help.
> Uses of Portfolio Website Templates
Most fields of work require you to create portfolios in this day and age. Even if you're applying for a job, a portfolio would help the employers in distinguishing you from everyone else. A well made portfolio could go a long way in helping you reach new heights. Isn't that what you want? In that case, you need to look up sample portfolio website templates. Plus these are really easy to edit and use! You May also See Portfolio Bootstrap Templates.
> Tips While Using Portfolio Website Templates
While using downloadable portfolio website templates, there are few things you should keep in mind-
Make sure you keep in mind the purpose while selecting the template. For example, an artist's portfolio will be very different from the portfolio of a photographer.
A portfolio must depict your artistic taste. Hence, you need to be very cautious while deciding the design. There is no need to rush into the downloading of the template.
Only choose customizable portfolio website templates. You will have to edit your portfolio every now and then; hence you need templates which can be customized.
> We Can Help You Out!
At template.net, we have an amazing collection of the best portfolio templates. So if you're planning to download portfolio website templates, you really cannot afford to miss out on our fantastic collection here! You May also See Portfolio Blog Templates.
Portfolio is the most important aspect of any business that everyone need to highlight effectively in order to gain attention from customers. Various portfolio website templates gives you an elegant way to give a boost to your online portfolio website thus attracting more prospects towards your business. These portfolio website templates come with a wide range of features like:
Responsive layout
Multiple color schemes
Easy customization options
SEO optimized, retina ready, translation ready and more
These templates are ideal for photographers, artists, graphic designers and travel businesses.
More in Website Templates